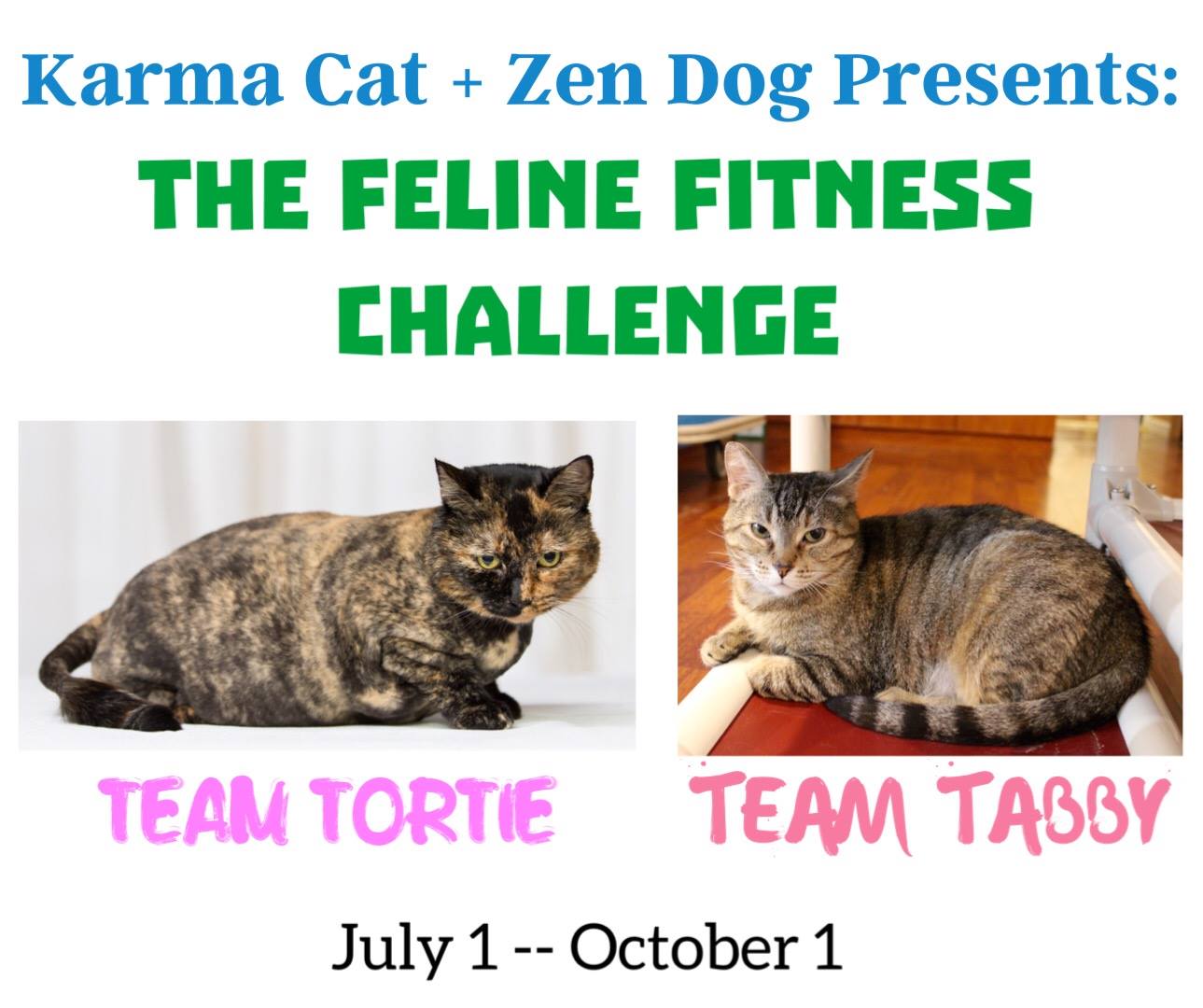 You can call them curvy, rubenesque, or extra fluffy, but the fact of the matter is that some kitties have some extra chub and it can wreak havoc on their health. The Association for Pet Obesity Prevention put the overweight figure at a staggering 58% for cats and 54% for dogs, and these extra pounds have real consequences.
That's why Petcube for Shelters' newest partner, Karma Cat + Zen Dog Society, is enlisting Petcube users to act as personal trainers, and aerobics instructors for some fat cats. The best part is, you can do it from home - no legwarmers or sweatbands needed.
It's a kitty version of The Biggest Loser where everyone wins. Representing Team Tabby is the ironically-named Little Silver, a 11.52 lb chubber who's ready to get in shape for bikini season. Unfortunately (and also awesomely) the shelter's second curvy contender was recently adopted after the contest announcement, but with the large number of fatty felines in the world the shelter expects a new competitor to arrive soon.
Are you ready to whip these pets into shape?
Every day from 11 a.m. EST – 6 p.m. EST, the shelter's newly installed Petcube Camera is live and available for you to play with using the Petcube app (download now for iOS or Android). Put that kitty through the wringer with the laser pointer, performing some high impact pounces and leaps and help Team Tabby take an early lead.
You can find previous play videos here, and we encourage trainers to record their own play sessions using the app and share it with Karma Cat + Zen Dog Society (and us) on Facebook.
The Challenge will run from July 1 to October 1, when a final weigh-in will take place. For the latest updates, please visit the 2016 Feline Fitness Challenge Facebookevent page .
The mission of the Karma Cat + Zen Dog Rescue Society is to provide a safe and peaceful haven for homeless, abandoned or abused animals. They help decrease the number of cats and dogs being destroyed in kill shelters through the work of our foster, spay/neuter, trap-neuter-return, and education programs. The vision of the Karma Cat + Zen Dog Rescue Society is a world where every companion animal is respected, fed, warm, happy, and not in danger of being killed because it is temporarily homeless.
Get social with Karma Cat + Zen Dog Rescue Society:
Partners in the Petcube for Shelters program can get their stories featured by e-mailing shelters@petcube.com. If you're interested in becoming a partner, learn more by visiting our website. Get the word out, and share our story.