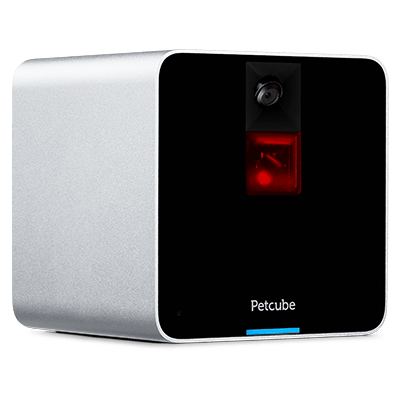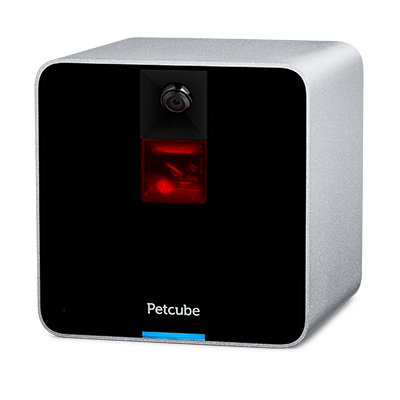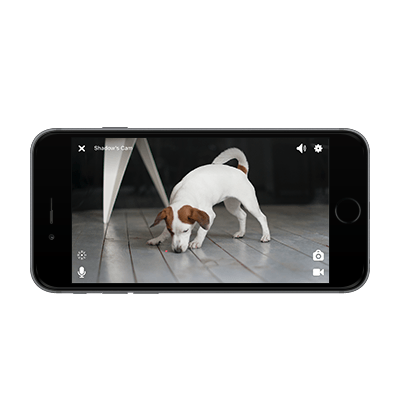 Petcube Camera
199,00 €
---
Kostenloser Standardversand

45-Tage-zurück-Garantie

2 Jahre Garantie
Kundenrezensionen
I love seeing my pets anytime
Really love this. Works well everywhere. We recently took a trip and had a pet sitter stay with the pets. We could check on the pets often and see what was happening at home. Also has night vision which is great in dim light. My pets don't seem to care too much about the laser. It's a great idea and i love seeing my pets anytime. You can also take video or photos of them on your phone from the Petcube play. Highly recommend.
I have used it almost everyday to check-in on our kitties for about 1 year now
I absolutely love the new night vision feature and the 1080p is a bonus on the Petcube Play! My cats are the most active at night. The night vision feature makes checking in and playing with my cats at night possible when I'm not home... Also, the laser pointer is fun to play with the cats, whether we're home or not.
Very sleek and fancy on your shelf
This is such a great camera for watching your pet if you want a simple user friendly camera made for exactly that reason! I ordered the rose gold and it is a really nice finish while still looking cute! I really love that this is something that not only works well, but is designed to look very sleek and fancy on your shelf.Setup is 10/10 very very easy to do, they really did a good job making it very painless which I appreciate.
How are Petcube Play and Petcube Camera different?
Petcube Play is the next-gen version of our original best selling Petcube Camera. Both come with 2-way audio, an interactive laser you control from your phone, and autoplay mode. Petcube Play's camera has been upgraded from 780p to 1080p, and include night vision. It's also 58% smaller than its predecessor and comes with easy Bluetooth setup.
Is the laser pointer safe for pets and humans?
Yes, the built-in 5mW 3R safe laser is certified and safe for humans and pets. You're in control of the laser pointer. When playing with your pet, wherever you place your finger on the app screen is where the laser pointer will land. It's only activated when you play with your pet and choose the laser pointer option, or if you schedule play. We recommend you avoid pointing the laser directly into your pet's eyes.
What are the benefits of the interactive laser pointer?
The laser pointer provides a level of interactivity that engages your pets, so they don't get bored when they're alone. It's great for providing stimulus for your pets, and engages them in playtime and exercise. You can talk to and praise your pets while playing with them remotely.
Should I be concerned about the frequency of laser play?
Each animal has a unique personality, disposition and temperament and will respond differently to stimulus such as laser pointers. The laser pointer is designed to be a fun interactive toy, which you can use in conjunction to talking to your pets while engaging them in laser play. You can talk to and praise your pets while playing with them remotely. You understand your pet's temperament best. As with any stimulus or activity, we recommend moderation and observing your pet's individual response.
How is Petcube Bites different from Petcube Play?
Petcube Bites and Petcube Play both products come with 1080p HD streaming video, 24/7 video capture, night vision, and 3x digital zoom. Where they differ is in the core engagement interactions. Petcube Bites dispenses treats on-demand and via a schedule. Petcube Play is designed for play interaction with a built-in laser toy.
What kind of treats work with Petcube Bites?
Circular shaped biscuit treats up to 1-inch in diameter work best. Crunchy biscuit treats (low moisture) recommended. The container will hold up to 2 lbs of treats.
How does the Amazon Dash Replenishment work?
Amazon Dash Replenishment uses your Amazon account to enable Petcube Bites to automatically reorder treats when you're running low. Users may register their device by simply connecting the device to their home Wi-Fi network and signing up for Amazon Dash Replenishment using their Amazon account within the Petcube Bites app.
How does Petcube Bites dispense treats?
To fling a treat, tap the treat icon on the app. Feeling generous? Choose the option to dispense treats when triggered by motion or sound detection.
Wie kann ich auf meine Petcube-Kamera zugreifen und diese steuern?
Sie steuern alles mit der kostenlosen Petcube-App, die mit iOS- und Android-Smartphones kompatibel ist. Die App ist einfach zu verwenden.
Kann ich über die App Videostreams in Echtzeit ansehen?
Ja, da die Petcube-Kamera für die Echtzeit-Interaktion mit Ihren Haustieren entworfen wurde. Das Video ist ein 720p-HD-Stream über die App auf Ihrem Smartphone.
Kann ich die Petcube-App auch dann verwenden, wenn ich keine Petcube-Kamera besitze?
Ja, die Petcube-App kann als unabhängige Erfahrung oder zur Fernsteuerung Ihrer Petcube-Kamera verwendet werden. Über die App können Sie mit echten Haustieren interagieren und Laserspiele spielen. Wenn Sie keine Kamera besitzen, können Sie den Spielereiter aufrufen und mit bestimmten öffentlichen Petcube-Kameras spielen. Der App-Feed ist wie Instagram für Haustiere. Mitglieder machen Fotos und teilen ihre Lieblingsbilder, damit Sie diese liken/kommentieren können.
Welches sind die Hauptfunktionen der Petcube-Kamera?
Die Petcube-Kamera verfügt über eine 138°-Weitwinkellense, einen 720p HD-Videostream, einen eingebauten, sicheren <1mW-Laser Klasse 2 (zertifiziert & sicher), 2-Wege-Audiostream über ein eingebautes Mikrofon und einen Lautsprecher, damit Sie Ihren Haustieren zuhören und mit ihnen reden können.
Ist die Petcube-Kamera ein unabhängiges Gerät?
Ja, sie ist ein unabhängiges Gerät.
Erfordert sie eine Internetverbindung?
Ja, Sie müssen über WLAN mit dem Internet verbunden sein (2,4 GHz).
Ist die Petcube-Kamera nur für den Innenbereich geeignet?
Die Petcube-Kamera eignet sich ausschließlich für den Gebrauch im Innenbereich, nicht im Außenbereich.
Dreht, schwenkt oder neigt sich die Petcube-Kamera?
Petcube verfügt über eine 138°-Weitwinkelkameralinse, die einen breiten Bereich abdeckt. Sie wurde als stationäre Einheit entwickelt und kann sich nicht mechanisch drehen, schwenken oder neigen.
Ist die Einrichtung der Petcube-Kamera einfach?
Es ist einfach, Ihre Petcube-Kamera einzurichten. Laden Sie die kostenlose Petcube-App herunter, befolgen Sie die Kurzanleitung / die Anweisungen auf dem Bildschirm in Ihrer App. Sie sollten außerdem eine Willkommens-Email erhalten, um beginnen zu können.
Welches ist der beste Ort, um meine Petcube-Kamera aufzustellen?
Die Petcube-Kamera kann überall in Ihrem Haus aufgestellt werden. Sie verfügt über eine Anti-Rutsch-Oberfläche auf der Unterseite und einen normierten Stativanschluss. Wir empfehlen, Ihre Petcube in einem zentralen Bereich aufzustellen, in dem Ihre Haustiere viel Zeit verbringen.
Verlangen Sie eine monatliche Gebühr?
Es gibt keine monatlichen Gebühren für die Petcube-Kamera.
Was ist Ihre Erstattungs-/Rückgabepolitik?
Wir bieten eine problemlose 45-Tage-Rückgabegarantie an, wenn Sie eine Petcube-Kamera über unseren Store auf Petcube.com kaufen.
Wie viele Petcube-Kameras brauche ich?
Dies liegt ganz an Ihnen und hängt vom persönlichen Geschmack ab. Je nach der Größe Ihres Hauses oder Wohnbereichs können Sie mehrere Kameras in Ihrem Haus installieren. Sie können über Ihr Konto auf mehrere Kameras zugreifen.
Kann ich diese Kamera anstelle meiner WLAN-Kamera zuhause nutzen?
Die Petcube-Kamera verfügt über viele der Funktionen einer WLAN-Kamera. Unsere wurde speziell für Haustierbesitzer entwickelt. Es liegt ganz an Ihnen, da Sie die Petcube-Kamera als unabhängige Kamera oder als Ergänzung zu bestehenden Geräten nutzen können.
Kann ich meine Petcube-Kamera mit Familie und Freunden teilen?
Über die Petcube-App können Sie Ihre Kamera mit Familie und Freunden teilen. Sie haben stets die volle Kontrolle über Ihren Kamerazugriff und den Berechtigungstyp, den Sie für Ihre Liebsten auswählen. Besuchen Sie in der App die Einstellungen zum Teilen der Kamera und wählen Sie eine passende Option zum Teilen aus. Personen, die Zugriff auf Ihre Petcube-Kamera erhalten, müssen die Petcube-App herunterladen, um mit der Kamera und Ihren Haustieren zu interagieren.