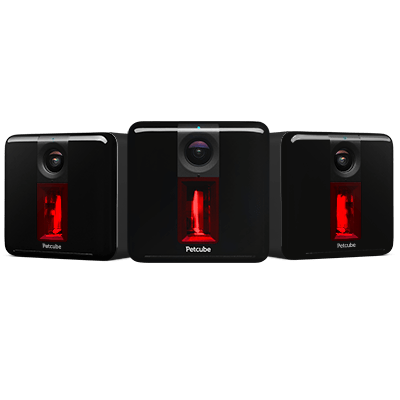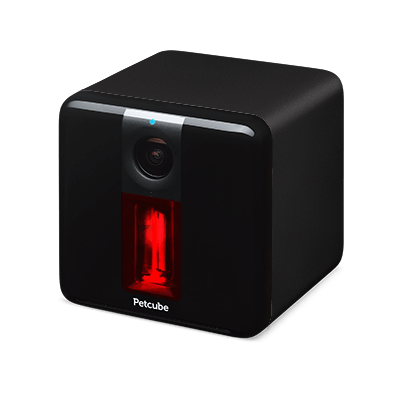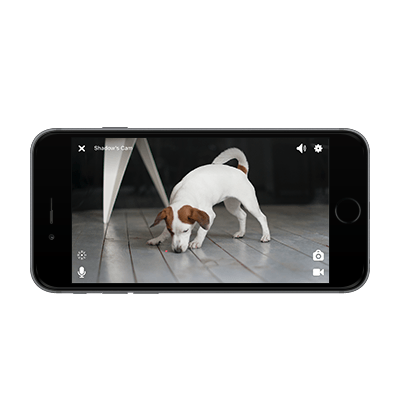 Petcube Play 3-Pack
507,00 €417,00 €
Save 90,00 € on this deal.
---
Livraison standard gratuite

Remboursement sous 45 jours

Garantie 2 ans
Remboursement sous 45 jours
Garantie 2 ans
Livraison standard gratuite
PETCUBE CARE
Video History
Sound & Motion Detection
Awake, Quiet and Sleep Modes
Private and Secure
Commentaires des clients
Fun and effective!
By Kristin
So far, I'm really enjoying the PetCube Play! Initially, I had trouble getting it to connect to my Wi-Fi (my firewall was the issue), but the customer service team was able to efficiently talk me through adjusting the settings on my router so the PetCube could connect. I love being able to check in on my dog while I'm gone at work, as well as confirming my suspicions that he likes to bark at the window when other dogs go by (see image). Thanks to the 2-way audio feature, I can get his attention and stop the unwanted behavior. He is still figuring out the laser pointer, but I haven't tried calibrating it yet, so we'll see how things go once I take care of that.
Peace of mind
By Leigh
This is purrfect for me to check in on my foster kittens!! I got to see what shenanigans they were up to at night, and could monitor how much each shy kitten wa eating when I wasn't around. So fun to see them interact with the laser pointer!
Fun Times!
By Franny Fro
OMG, this is soooo much fun! We have both cats and dogs. The cats love the laser light. The dogs ignore it, BUT I can watch all of them from anywhere! The dogs really freak when they hear my voice! lol
How are Petcube Play and Petcube Camera different?
Petcube Play is the next-gen version of our original best selling Petcube Camera. Both come with 2-way audio, an interactive laser you control from your phone, and autoplay mode. Petcube Play's camera has been upgraded from 780p to 1080p, and include night vision. It's also 58% smaller than its predecessor and comes with easy Bluetooth setup.
Is the laser pointer safe for pets and humans?
Yes, the built-in 5mW 3R safe laser is certified and safe for humans and pets. You're in control of the laser pointer. When playing with your pet, wherever you place your finger on the app screen is where the laser pointer will land. It's only activated when you play with your pet and choose the laser pointer option, or if you schedule play. We recommend you avoid pointing the laser directly into your pet's eyes.
What are the benefits of the interactive laser pointer?
The laser pointer provides a level of interactivity that engages your pets, so they don't get bored when they're alone. It's great for providing stimulus for your pets, and engages them in playtime and exercise. You can talk to and praise your pets while playing with them remotely.
Should I be concerned about the frequency of laser play?
Each animal has a unique personality, disposition and temperament and will respond differently to stimulus such as laser pointers. The laser pointer is designed to be a fun interactive toy, which you can use in conjunction to talking to your pets while engaging them in laser play. You can talk to and praise your pets while playing with them remotely. You understand your pet's temperament best. As with any stimulus or activity, we recommend moderation and observing your pet's individual response.
How is Petcube Bites different from Petcube Play?
Petcube Bites and Petcube Play both products come with 1080p HD streaming video, 24/7 video capture, night vision, and 3x digital zoom. Where they differ is in the core engagement interactions. Petcube Bites dispenses treats on-demand and via a schedule. Petcube Play is designed for play interaction with a built-in laser toy.
What kind of treats work with Petcube Bites?
Circular shaped biscuit treats up to 1-inch in diameter work best. Crunchy biscuit treats (low moisture) recommended. The container will hold up to 2 lbs of treats.
How does the Amazon Dash Replenishment work?
Amazon Dash Replenishment uses your Amazon account to enable Petcube Bites to automatically reorder treats when you're running low. Users may register their device by simply connecting the device to their home Wi-Fi network and signing up for Amazon Dash Replenishment using their Amazon account within the Petcube Bites app.
How does Petcube Bites dispense treats?
To fling a treat, tap the treat icon on the app. Feeling generous? Choose the option to dispense treats when triggered by motion or sound detection.
Comment puis-je accéder et contrôler ma caméra Petcube ?
Vous pouvez tout faire à partir de l'appli Petcube, compatible smartphones iOS et Android. L'appli est facile à utiliser.
Puis-je voir des diffusions en direct à partir de l'appli ?
Oui, parce que la caméra Petcube a été conçue pour les interactions en temps réel avec vos animaux. La vidéo est diffusée en direct et en HD 720p via l'appli de votre smartphone.
Puis-je utiliser l'appli Petcube même si je ne dispose pas de caméra ?
Oui, l'appli Petcube peut être utilisée toute seule ou pour contrôler à distance votre caméra Petcube. Grâce à l'appli vous pouvez interagir et jouer au pointeur laser avec de vrais animaux. Si vous ne possédez pas la caméra, vous pouvez aller sous l'onglet Jouer et utiliser les caméras Petcube publiques. Le flux de l'appli est une sorte d'Instagram pour animaux. Les utilisateurs capturent et partagent leurs images préférées, et vous pouvez commenter et aimer.
Quelles sont les principales fonctionnalités de la caméra Petcube ?
La caméra Petcube propose une lentille à angle large 138°, une diffusion de vidéos HD 720p, un laser <1mW intégré (certifié et sécurisé), une diffusion audio bidirectionnelle via micro et haut-parleurs intégrés pour vous permettre de discuter avec vos animaux.
La caméra Petcube se suffit-elle à elle-même ?
Oui, elle se suffit a elle-même.
Une connexion internet est-elle nécessaire ?
Oui, vous devez disposer d'une connexion à internet avec Wi-Fi (2.4 GHz).
La caméra Petcube ne peut être utilisée qu'en intérieur ?
La caméra Petcube est prévue pour n'être utilisée qu'en intérieur, pas en extérieur.
La caméra Petcube peut-elle tourner ou se pencher ?
La caméra Petcube dispose d'une lentille à angle large 138° pour couvrir une large zone. Elle a été conçue pour être stationnaire et ne peut ni tourner ni se pencher mécaniquement.
La caméra Petcube est-elle facile à mettre en place ?
La caméra Petcube est facile à mettre en place. Téléchargez l'appli Petcube gratuite, suivez le guide de démarrage rapide ou les instructions à l'écran de l'appli. Vous devriez recevoir un e-mail de bienvenue pour vous aider à vous lancer.
Quel est l'endroit idéal pour placer ma caméra Petcube ?
La caméra Petcube peut être placée où vous voulez dans votre maison. Elle est équipé d'une face antidérapante et d'un support trépied standard. Nous vous recommandons de mettre votre Petcube dans une zone centrale où vos animaux aiment passer du temps.
Faites-vous payer un abonnement mensuel ?
La caméra Petcube n'a pas d'abonnement mensuel.
Avez-vous une politique de retour/remboursement ?
Nous proposons une politique de retour sans question sous 30 jours si vous avez acheté votre caméra Petcube dans notre boutique Petcube.com.
De combien de caméra Petcube ai-je besoin ?
C'est comme vous voulez et cela ne dépend que de vos goûts et habitudes. En fonction de la taille de votre maison ou de votre lieu de résidence, plusieurs caméras peuvent être utiles. Vous pouvez accéder à chacune d'entre elles depuis votre compte.
Puis-je l'utiliser à la place de ma caméra Wi-Fi domestique habituelle ?
La caméra Petcube dispose de nombreuses fonctionnalités classiques des caméras Wi-Fi domestiques. Nous l'avons conçue spécialement pour les propriétaires d'animaux, mais c'est comme vous voulez. Vous pouvez l'utiliser comme caméra seule ou en complément de votre système.
Puis-je partager l'accès à ma caméra avec ma famille et mes amis ?
L'appli Petcube vous permet de partager l'accès à votre caméra avec votre famille et vos amis. Vous aurez toujours un contrôle total des accès et des niveaux de permissions que vous souhaitez accorder à vos proches. Dans l'appli, allez dans les Paramètres du partage de la caméra et sélectionnez l'option de partage. Les personnes ayant accès à votre caméra Petcube devront télécharger l'appli pour interagir avec votre caméra et vos animaux.
Buy now, pay later
Petcube and Affirm have teamed up to provide easy financing with no hidden fees on interactive pet cameras.
Quick
approval
Provide your basic
information and

get an instant
approval decision
Easy monthly
payments
Split your purchase
into 3, 6, or 12
monthly payments
Flexible
payment
Pay your monthly

bill using a bank
transfer, check,

or debit card
What is Petcube Care?
Petcube Care is a membership for pet parents. Monitor your pet with 24/7 video 
history and smart alerts. Plus, get exclusive savings from pet care partners.
What do I get with my 
Petcube Care membership?
Complete 24/7 video history over 3, 10, or 30 days, saved on the cloud. 
Extended video recordings, and 2-year device warranty.

PLUS members-only access to savings on a range of pet care services.
Features
Without Petcube Care
With Petcube Care
Access to Past Video History
4 Hours
3, 10 or 30 Days
Members-only Pet Care Benefits
Video Recordings of your Pet
10 Second Clips
Up to 30 Second Videos
2-Year Extended Warranty on your Devices