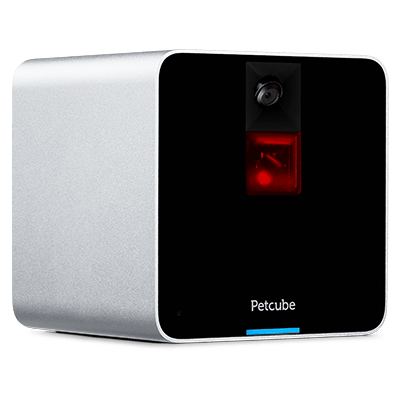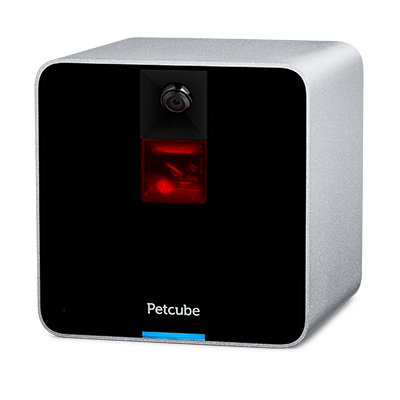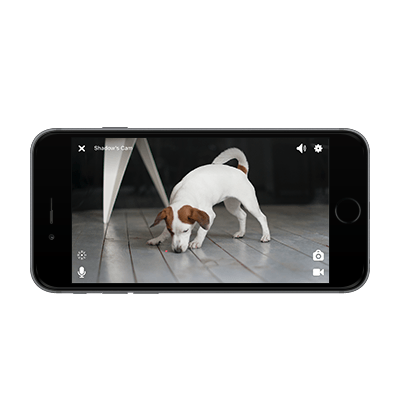 Petcube Camera
199,00 €
---

Reembolso em 45 dias

2 anos de garantia
How are Petcube Play and Petcube Camera different?
Petcube Play is the next-gen version of our original best selling Petcube Camera. Both come with 2-way audio, an interactive laser you control from your phone, and autoplay mode. Petcube Play's camera has been upgraded from 780p to 1080p, and include night vision. It's also 58% smaller than its predecessor and comes with easy Bluetooth setup.
Is the laser pointer safe for pets and humans?
Yes, the built-in 5mW 3R safe laser is certified and safe for humans and pets. You're in control of the laser pointer. When playing with your pet, wherever you place your finger on the app screen is where the laser pointer will land. It's only activated when you play with your pet and choose the laser pointer option, or if you schedule play. We recommend you avoid pointing the laser directly into your pet's eyes.
What are the benefits of the interactive laser pointer?
The laser pointer provides a level of interactivity that engages your pets, so they don't get bored when they're alone. It's great for providing stimulus for your pets, and engages them in playtime and exercise. You can talk to and praise your pets while playing with them remotely.
Should I be concerned about the frequency of laser play?
Each animal has a unique personality, disposition and temperament and will respond differently to stimulus such as laser pointers. The laser pointer is designed to be a fun interactive toy, which you can use in conjunction to talking to your pets while engaging them in laser play. You can talk to and praise your pets while playing with them remotely. You understand your pet's temperament best. As with any stimulus or activity, we recommend moderation and observing your pet's individual response.
How is Petcube Bites different from Petcube Play?
Petcube Bites and Petcube Play both products come with 1080p HD streaming video, 24/7 video capture, night vision, and 3x digital zoom. Where they differ is in the core engagement interactions. Petcube Bites dispenses treats on-demand and via a schedule. Petcube Play is designed for play interaction with a built-in laser toy.
What kind of treats work with Petcube Bites?
Circular shaped biscuit treats up to 1-inch in diameter work best. Crunchy biscuit treats (low moisture) recommended. The container will hold up to 2 lbs of treats.
How does the Amazon Dash Replenishment work?
Amazon Dash Replenishment uses your Amazon account to enable Petcube Bites to automatically reorder treats when you're running low. Users may register their device by simply connecting the device to their home Wi-Fi network and signing up for Amazon Dash Replenishment using their Amazon account within the Petcube Bites app.
How does Petcube Bites dispense treats?
To fling a treat, tap the treat icon on the app. Feeling generous? Choose the option to dispense treats when triggered by motion or sound detection.
Como posso aceder e controlar a minha Câmara Petcube?
Pode fazer tudo com a aplicação Petcube grátis, compatível com smartphones iOS e Android. A aplicação é fácil de utilizar.
Posso ver vídeo ao vivo com a aplicação?
Sim, a Câmara Petcube foi desenhada para interação em tempo real com os seus animais de estimação. O vídeo é transmitido ao vivo com qualidade HD 720p através da aplicação no seu smartphone.
Posso usar a aplicação Petcube se não tiver uma Câmara Petcube?
Sim, pode desfrutar de forma autónoma da aplicação Petcube, ou utilizá-la para controlar a sua Câmara Petcube. A aplicação permite-lhe interagir e jogar jogos de laser com animais reais. Se não tem uma Câmara, pode visitar o separador Brincar e brincar com Câmaras Petcube Públicas. O feed da Aplicação é uma espécie de Instagram para animais de estimação. Os membros tiram fotos e partilham as suas favoritas. Os outros membros podem gostar das fotos e comentá-las.
Quais são as principais funcionalidades da Câmara Petcube?
A Câmara Petcube tem uma lente grande angular de 138°, transmite vídeo HD 720p, tem um laser seguro de classe 2 e potência <1mW (certificado e seguro), transmissão bidirecional de áudio através do microfone incorporado e um altifalante para que possa ouvir os seus animais e falar com eles.
A Câmara Petcube é um dispositivo autónomo?
Sim, é um dispositivo autónomo.
Requer uma ligação à Internet?
Sim, tem de estar ligado à Internet através de Wi-Fi (2,4 GHz).
A Câmara Petcube deve ser utilizada apenas em interiores?
A Câmara Petcube foi pensada para uso em interiores e não em exteriores.
É possível inclinar ou rodar a Câmara Petcube horizontal ou verticalmente?
A Petcube tem uma lente grande angular de 138° e cobre uma área grande. Foi desenhada como uma unidade estacionária e não roda ou inclina mecanicamente.
A Câmara Petcube é fácil de configurar?
É fácil configurar a sua Câmara Petcube. Transfira a aplicação Petcube grátis, siga o guia de Introdução e as instruções fornecidas no ecrã do seu smartphone. Irá também receber um e-mail de boas-vindas para o ajudar a começar.
Qual é o melhor local para colocar a minha Câmara Petcube?
A Câmara Petcube pode ser colocada em qualquer local da sua casa. A câmara tem um fundo antiderrapante e um suporte de montagem padrão para tripé. Recomendamos que coloque a sua Petcube numa área central da casa onde os seus animais de estimação passam muito tempo.
Existe alguma mensalidade?
Não existe nenhuma mensalidade associada à Câmara Petcube.
Qual é a vossa política de reembolso/devolução?
Se comprar uma Câmara Petcube através da nossa loja em Petcube.com e não ficar totalmente satisfeito, pode devolver o produto no prazo de 30 dias e devolveremos o seu dinheiro.
De quantas Câmaras Petcube preciso?
Depende totalmente de si. É uma questão de preferência pessoal. Dependendo do tamanho da sua casa ou área útil, poderá ter várias Câmaras em sua casa. Com a sua conta, pode aceder a várias câmaras.
Posso usar a Petcube em vez da minha câmara Wi-Fi atual?
A Câmara Petcube oferece muitas das funcionalidades das câmaras Wi-Fi domésticas. A nossa foi desenhada especificamente para donos de animais de estimação. Tudo depende de si, pode usar a Câmara Petcube como uma câmara doméstica autónoma ou como um complemento à que já tem.
Posso partilhar a minha Câmara Petcube com a família e os amigos?
Através da aplicação Petcube, pode partilhar a sua câmara com a família e os amigos. Detém sempre o controlo completo da sua câmara e os níveis de permissões que escolhe conceder a outras pessoas. Na aplicação, aceda às Definições de Partilha da Câmara e selecione a opção de partilha que pretende. As pessoas com acesso à sua Câmara Petcube terão de transferir a aplicação Petcube para interagir com a câmara e com os seus animais de estimação.