Canadian pet parents can now buy Petcube smart HD cameras on Amazon.ca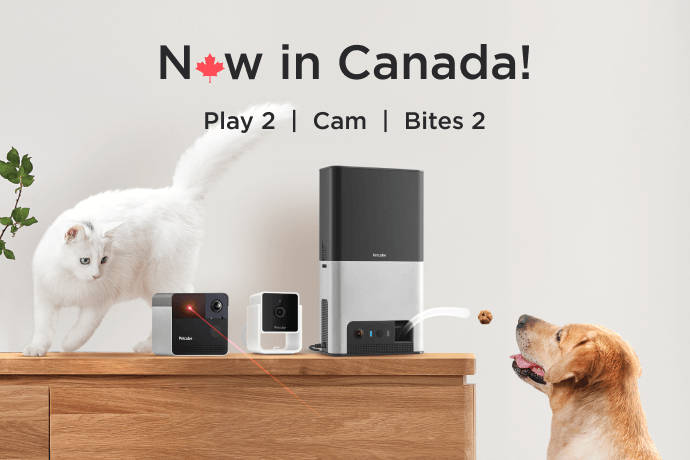 Petcube is officially launching its cameras in Canada. The whole product line is available for purchase on Amazon.ca.
"Canadian pet parenting culture is highly developed. Naturally, pet owners take more interest in technological products, and this is a great fit for us, — says Yaroslav Azhnyuk, Petcube's CEO and Co-Founder. — Despite numerous logistics challenges during the pandemic we are thrilled for the official launch in Canada. Our team is dedicated to extending the geography of the Petcube community, pet parents all over the globe deserve well-designed innovative products to care for their furry friends".
Petcube products include Petcube Cam, the newly-launched affordable compact pet camera with a built-in Vet Chat; Petcube Play 2, an interactive pet camera with a built-in laser toy; and Petcube Bites 2, a smart camera for pets with a treat dispenser.
All cameras come with 1080p HD video, 2-way audio, night vision mode, and plenty of other features making them the best assistants for modern pet parents. Petcube Play 2 and Petcube Bites 2 feature Alexa Built-In, 5GHz Wi-Fi support, and 3 Red Dot Awards for design.
Petcube Cam, Petcube Play 2, and Petcube Bites 2 can be purchased on Amazon Canada for 49.99 CAD, 229.99 CAD, and 249.99 CAD.
About Petcube
Petcube is a worldwide leader in connected pet cameras and software. It allows people to take care of their pets remotely, by seeing, talking, playing, and treating them. Petcube connects pets to the internet, understands them through machine learning, and provides a platform for other pet products and services.
Learn more at petcube.com, and follow us on Twitter, Facebook, Instagram and YouTube.
For Media
Online Media Kit: https://petcube.com/mediakit/
Press Inquiries: media@petcube.com