You recently adopted a cat and did all the vaccinations for them. You bought all the important things for the comfort of your pet, and you finally became friends. But suddenly, your parents invite you to visit them or you are going on vacation to another country, so a new challenge is starting.
How to travel with the cat effortlessly? Don't worry. You can manage it. Keep reading this article to find out how to do it and plan your travel.
How to Travel Comfortably by Plane with a Cat
This is the most difficult kind of travel for cats. Also, the largest number of documents are required. You should prepare for a "cat road trip" as seriously as you would for yours.
Stop Googling - Ask a Real Vet
Making Arrangements with the Airline
First of all, check the airline's website and read their policies. For example, most airlines have rules about the dimensions of pet carriers. And generally, your cat and carrier must weigh no more than 20 pounds combined.
Then call the airline you are flying with to confirm their requirements and reserve space for your pet. Airlines generally limit the number of pets allowed to fly in the cabin. So reserve your spot as soon as possible.
Making an appointment with the vet
Now you are sure that you can go with the airline of your choice and know their requirements. The next step is visiting the vet. Your vet can help you get your cat ready for the journey. It's better not to postpone an appointment and book your time in advance.
Your cat will need a microchip and must be current on all vaccinations. The airline will want a vet's certification that your cat is healthy. And your destination country will likely have its requirements.
Especially if traveling outside the United States, each country has its own rules. Research each country's requirements for arriving with a cat at the US State Department website.
The procedure is as follows:
An international health certificate completed within 10 days of your departure date might be required by many countries. You will need to send it to your local USDA office to be endorsed before you leave.
If you are afraid that your cat will be stressed, ask your vet about medication for the trip. Medicine should be chosen only by a qualified specialist. Because sedition is usually not recommended for pets flying in cargo as it may cause heart or respiratory problems.
Preparing Your Cat And You
When the paperwork is done, let's prepare your cat and yourself. Take care of your pet's comfort and buy a comfortable carrier. If they are going to travel in cargo, the airline allows only a hard crate. But if your cat is in the cabin with you, they might find a soft-sided carrier more comfortable.
It's better to buy a carrier in advance and put it in an apartment in a place where your cat can access it easily. Give them time to get used to the carrier. Let them hang out or eat inside it. So when you put a cat in the carrier on the day of the trip, they will not be so scared. Because they already have positive associations with it.
And no breakfast before flying. Traveling on an empty stomach minimizes the risk of nausea and vomiting. You don't want to spend the flight with a dirty carrier and an anxious cat.
All this advice can make flying with a cat for the first time much easier. Good luck!
How to Travel Comfortably By Train With a Cat
In this case, the owners have the same responsibilities as when traveling by plane.
You will have to provide proof that your cat has all her vaccinations and is perfectly healthy before you board the train. Try to take care of a comfortable carrier because a cat has to be kept inside the whole trip.
Amtrak is the most common passenger railroad service that provides medium- and long-distance intercity service in the contiguous United States and to nine Canadian cities. Amtrak is a pet-friendly railroad for dogs and cats up to 20 pounds (combined weight of pet and carrier) for trips up to seven hours on most routes.
Pets are permitted in Coach Class and Acela Business Class (pets are not allowed in Sleeping cars, non-Acela Business Class, food service cars, or other accommodations). Reservations with pets are limited to seven hours of total travel time, including transfer time between trains on multiple-segment trips.
Check the rules well on the railroad service's website and have a nice trip!
How to Travel Comfortably By Car with a Cat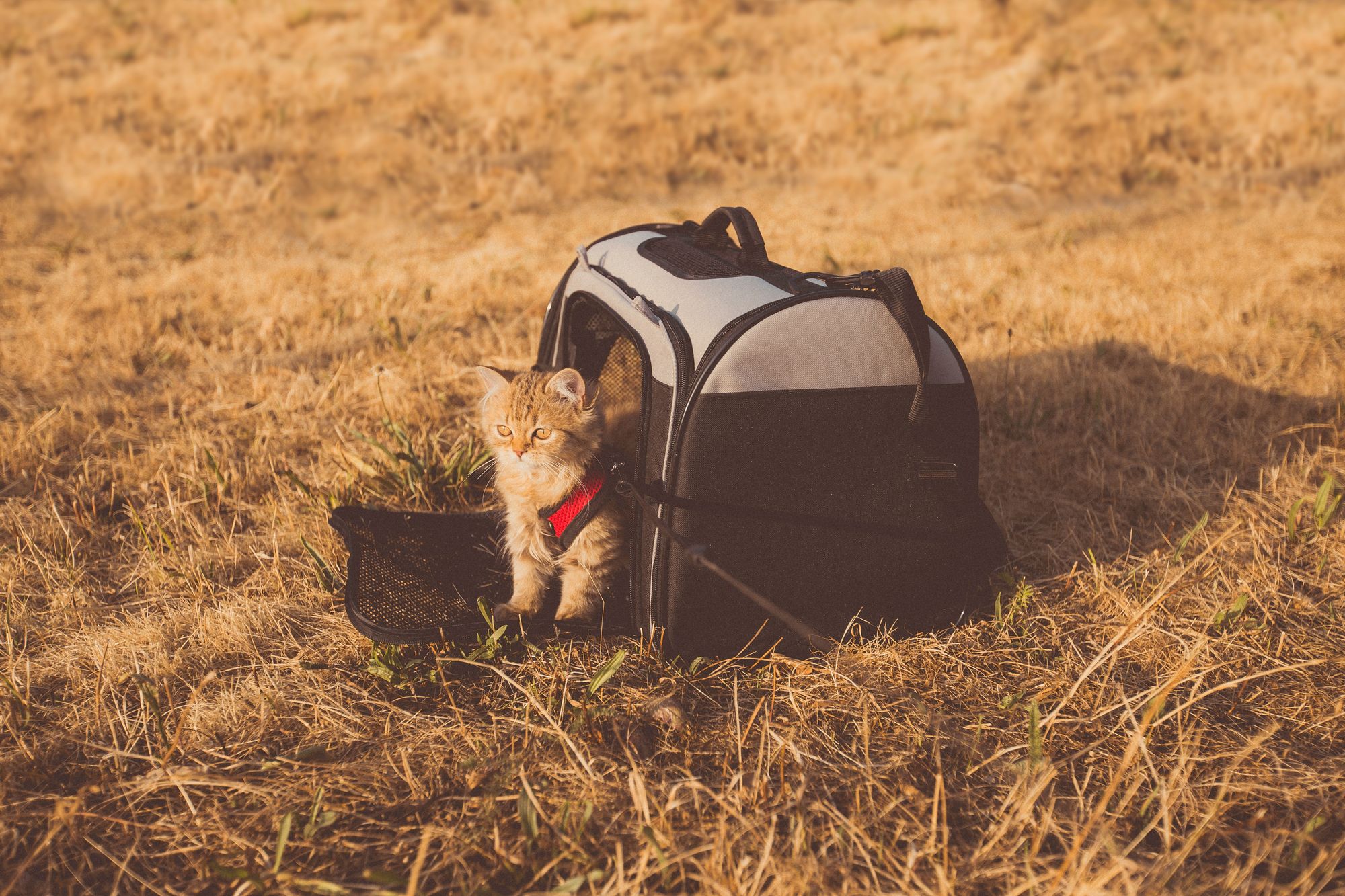 Traveling by car is much easier. Because your car - your rules. You have enough space and there are no strangers around. You can also stop the car at any time to feed your cat or calm them down. But don't neglect your cat's safety.
Yes, you can let them wander free in a car. However, it is dangerous for the driver and the cat. The cat may distract the driver or fall and injure themselves. So it's better to prepare a cat car seat for the trip. You can also put inside a toy or two if you want to as well.
If you're going on a long-distance car trip with your cat, take some shorter test drives before the long trip to get your cat familiar with traveling in the car. Then the journey will be less stressful for pets. And don't forget all the necessary vaccination documents if you are going abroad.
What Extra Cat Supplies Might I Need
Your cat's bedding, food, and toys. Let them feel at home.
A portable water bottle that will help to easily quench your pet's thirst.
Petcube Camera. So you will have a unique opportunity to connect with your kid anyway and anytime. For example, you left your cat in a hotel or apartment and worried about them. Then the Petcube Camera will help you see how your cat is feeling and calm down.
Cat sedative for travel. If you know exactly that your cat hates to travel but you are going to, it's better to ask the veterinarian about sedatives. Be careful when using them, and don't increase the dose without the permission of a specialist.
Pet insurance is like Emergency Fund for emergencies. Emergency Fund is an affordable pet insurance alternative available only in the US, it's cheap but has its limitations. Subscription is less than 1 per day for membership and you will be able to chat with licensed vets 24/7 wherever you are and whenever you need. Also in one subscription, you can include 6 animals... And the most important thing is that this insurance can cover part or all of the cost in an emergency with your pet.
FAQ
What are the pet-friendly trains in the USA?
We have prepared for you a list of all pet-friendly trains in the USA. But always check the website of the railroad before your trip because they have different policies. So requirements and rules for transporting pets may vary.
| State | Train Operator |
| --- | --- |
| Alabama | Amtrak |
| Alaska | Alaska Railroad, White Pass&Yukon Route |
| Arizona | Phoenix Valley Metro Rail, Sun Link, Amtrak |
| Arkansas | Amtrak |
| California | Amtrak, California Metrolink, Los Angeles Metro, San Diego Coaster, San Diego Trolley, San Diego MTS, San Francisco BART, San Francisco Muni |
| Colorado | Amtrak, Denver RTD |
| Connecticut | Amtrak, Connecticut CT Rail Shore Line East, Connecticut CT Rail Hartford Line |
| Delaware | Amtrak |
| Florida | Amtrak, Florida Tri-Rail, Florida Brightline, Miami Metromover, Orlando Sunrail |
| Georgia | Amtrak, Atlanta MARTA |
| Idaho | Amtrak |
| Illinois | Amtrak,Chicago CTA,Chicago METRA, South Shore Line |
| Iowa | Amtrak |
| Kansas | Amtrak |
| Kentucky | Amtrak |
| Louisiana | Amtrak, New Orleans Streetcar |
| Maine | Amtrak |
| Maryland | Amtrak, Maryland MARC, Baltimore Metro |
| Massachusetts | Amtrak, Massachusetts Bay MBTA Commuter Rail, Massachusetts Bay MBTA Subway, CapeFLYER |
| Michigan | Amtrak |
| Minnesota | Amtrak, Minneapolis Metro |
| Mississippi | Amtrak |
| Missouri | Amtrak, Kansas City Streetcar |
| Montana | Amtrak |
| Nebraska | Amtrak |
| Nevada | Amtrak |
| New Hampshire | Amtrak |
| New Jersey | Amtrak, New Jersey Transit, Port Authority Trans-Hudson |
| New Mexico | Amtrak |
| New York | Amtrak, Long Island Railroad, Metro North Railroad, New York Subway |
| North Carolina | Amtrak |
| North Dakota | Amtrak |
| Ohio | Amtrak, Cleveland RTA |
| Oklahoma | Amtrak |
| Oregon | Amtrak, Portland TriMet |
| Pennsylvania | Amtrak, Philadelphia SEPTA (trolley/trains), New Jersey Transit, PATCO Speedline |
| Rhode Island | Amtrak |
| South Carolina | Amtrak |
| Tennessee | Amtrak, Nashville's Music City Commuter Rail |
| Texas | Amtrak, Houston METRORail, Dallas DART,Dallas M-Line Trolly, El Paso Streetcar |
| Utah | Amtrak, Salt Lake City FrontRunne, Salt Lake City TRAX |
| Vermont | Amtrak |
| Virginia | Amtrak, Virginia Railway Express (VRE) |
| Washington | Amtrak, Seattle Sound Transit's Link light rail |
| West Virginia | Amtrak |
| Wisconsin | Amtrak |
How long can a cat stay in a carrier?
There is no clear answer because it depends on the personality, age, and health of the cat. The issue with keeping a cat inside a carrier for long periods is eating, drinking, and toileting. A cat can refuse to eat or go to the toilet due to stress. They will wait for more usual conditions.
Therefore, it is very individual. Some cats can only stay in a carrier for an hour, and some are used to long trips like 8 hours. But answering the question "How long can a cat be in a carrier?", most cats will be fine in carriers for up to 8 hours.
Owners don't often have another choice. So just try to make the best conditions for your pet.
How long can a cat travel without peeing?
Most cats pee around 2-3 times each day.
When they're feeling stressed out it could be much less often. Cats can hold their pee for anywhere between 24-48 hours but this sounds like it would be very uncomfortable. It means that it is better not to use this cat's skill often.
How to tell if your cat likes car rides?
The best way is to do a test drive with the cat in the car for a short distance. We mentioned this method above in the article. Get to know your cat step by step with cars and driving. And then you know for sure whether your cat likes to do it.
Can you put two cats in one carrier?
Yes, it's possible to have two average-sized cats or kittens inside one carrier. But you should buy a good quality spacious carrier and the cats must not be in the carrier for more than 2-4 hours. Also, they should both be friendly to each other as you don't want fights on the road.
Conclusion
To sum up, most cats don't like to travel because they like to follow their daily routine and can get stressed out by sudden changes to their environments. On the other hand, you can make the trip comfortable and thoughtful for your pet and instill a love for traveling. You should only follow these tips. Have a nice journey!
Was this article helpful?
Help us make our articles even better