What is a Pet Treat Camera?
Pet treat cameras have two core features: the treat dispenser and the pet camera. Duh! Both allow you to connect with your pet while you're out of the house, whether you're just doing yardwork or halfway around the world. It's impossible to stay home all the time and to take your pet everywhere with you - so these devices allow you to continue to care for your cat or dog remotely, all from your smartphone.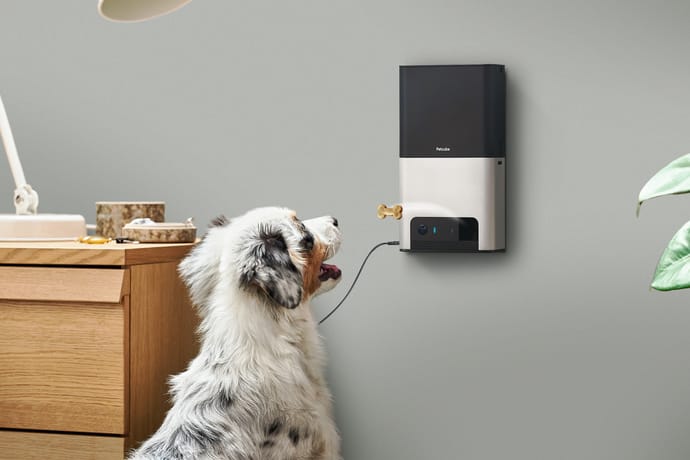 The pet camera that gives treats also provides you a window through which at any time you can get a live feed of what they've been up to. Cloud video recording services like Petcube Care can give you video history of everything your pet's been up to, which can be instrumental in solving mysteries (which pet is tearing up your furniture) or assisting in training (determining behavioral triggers).

The treat dispenser gives you an interactive element, to reward and satisfy them with treats, even though you can't physically be there. Reward them for good behavior or get them a few extra bites if you're running late to tide them over until you get home.
Are treat cameras safe for pets?
Pet cameras that give treats can be perfectly safe for your pets, whether it is a cat, dog, or another small animal when used responsibly and in accordance with the user manual.
Pay attention to the construction of the device - some, like Petcube Bites, are made of sturdy metal and hard plastic, while others are more flimsy. Ensure your pet treat camera is durable, won't get knocked over or opened or even damaged by your furry family member.
Check placement and mounting options. Petcube Bites has a no-skid surface on the bottom so it won't move around much or tip easily. It also comes with a wall-mounting kit - so you can place it on the wall and safely out of the range of your pet.


Ensure treats are familiar. Many like Petcube Bites do allow you to dispense any treats (as long as the size allows) that you already use with your pet, so the choking hazard is less.
Dispense treats with care. Always use caution when distributing treats via the app. Watch where your pet is and what they are doing so they do not get hit unexpectedly with an errant treat.
Be diligent. As with any product, exercise caution and ensure that it's a fit for you and your pet. There are no universal solutions, especially when you are deal with pet personalities and preferences.
Why else would I want to get Petcube Bites?
Beyond the pet camera and treat dispenser, you get a lot more features already baked into the device:
Listen & Talk to Your Pets. Have a heart-to-heart with your pet from anywhere in the world. Using the push-to-talk feature in the Petcube app, chat with your pets as if you're in the same room.


Snap & Share Pet Selfies. We know how much you love pet selfies. Using the Petcube app, capture images from the live video stream, which you can share. A 'selfie' snapshot can be taken automatically if the camera detects your pet in front of the camera.


See in the dark. Petcube Bites' night vision allows you to see what your pet is doing 24/7, giving you constant peace of mind that your pet and your home are safe.


Set-up is as Easy as 1-2-3. You'll be guided through the Petcube app with bluetooth setup and connection with your home WiFi network.


Do cat owners need a treat camera?
Of course! Cats love treats too! Petcube Bites works just as great with cat treats as with dog treats.
How big is Petcube Bites? Where should I place it?
Petcube Bites looks beautiful in any setting. You just have to decide on the most convenient spot to place or mount it. You can place it on any flat surface (table, shelf) or choose to mount it on the wall using the two drywall anchor screws included in the mounting kit.
What types of treats may be placed in treat dispenser? How big is the dispenser?
The all-in-one Petcube Bites pet treat cam supports any treats that are up to 1 inch in size. The planned capacity is 3 lbs of treats or no less than 100 treat pieces.
Brief overview of Petcube Bites
1080p HD live video;
24/7 video capture;
160-degree wide angle lens;
talk and listen (2-way audio);
fling treats on-demand or schedule;
record and play personal messages;
built-in Alexa;
quick 2-minute setup;
4x digital zoom;
night vision and motion/sound alerts.
---
For more information, visit the Petcube Bites product page.