Petcube Care members get exclusive partner offers from Trupanion, Rover, DOGTV, Audible for Dogs, Vetted, and other leading products and services
San Francisco, CA — March 6, 2018 — Petcube announced today it has launched a partner benefits program with its Petcube Care membership plans. Members can now unlock exclusive savings on a range of valuable pet care services from Trupanion, Rover.com, DOGTV, Audible and Vetted. Petcube Care users now have options to save hundreds of dollars a year in pet care related costs.
Available to new and existing subscribers of Petcube Care (https://petcube.com/care), eligible members can access benefits for pet medical insurance, pet sitting and walking, vet consultations, audio-visual entertainment for pets, and pet products.
"We listened to our community to understand the unique challenges faced by first-time and seasoned pet parents. With Petcube, users deepen their relationships with their pets, and now through benefits from leading partners, they can tap into the best care options," said Yaroslav Azhnyuk, CEO and co-founder of Petcube. "Petcube is making it easier for pet parents to make the best choices, and help them save money and time along the way. We're curating the best products and services, so membership provides fantastic savings for any pet parent."
In the US, 68 percent of households own at least one pet, equating to 84.6 million homes, and globally over $110 billion was spent on pets last year, as reported by APPA and Euromonitor, respectively. The cost of pet care is higher than ever with some estimates showing the average pet parents spends over $2,000 a year on a pet.
With a variety of cameras that give owners the ability to monitor, watch, interact, and treat their pets, Petcube continues to help people connect with and care for their pets through technology. It offers three membership plans for its popular Petcube Bites and Play cameras. Plans are based on a Petcube device owners' preference of 3, 10, or 30-days of cloud recorded history. Each plan comes with 24/7 recorded timeline history, extended video clips and 2-year device warranty.
The most popular Petcube 10-day history plan and best-value 30-day history plan unlock the most member benefits. Member savings include medical insurance for their pets through Trupanion, credits on Rover.com, free audiobooks designed to foster calm, relaxed behavior in dogs from the Audible for Dogs service, 2 months of DOGTV, and vet technician Q&A powered by Vetted. Petcube Care members can unlock new and ongoing benefits as long as they are a subscriber.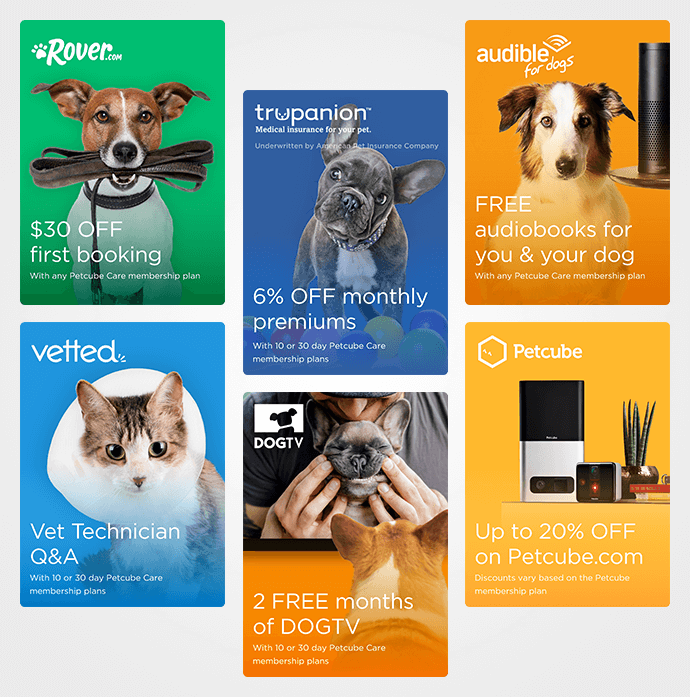 Membership plans range in cost from $4.99/month to $24.99/month, with discounts on annual plans. Without a subscription, all Petcube camera owners get sound and motion-triggered video recording, with the last 4 hours of recorded activity continuously refreshed on the cloud, and viewable via the Petcube app. Users can learn more about Petcube Care and sign up at petcube.com/care.
Petcube continues to drive innovation in pet care. The company's bestselling camera products are the Petcube Bites treat camera and Petcube Play camera. All come in three colors: carbon black, matte silver, and rose gold. Later this spring, Petcube will launch a major app update with an improved social feed experience, enabling users to discover media content based on their interests and to play with publicly available pets with a single tap. The standalone app experience will also provide the best mobile platform for pet content creators.
Announced at CES, Petcube plans to roll out AI-powered pet recognition, pet selfies, and pet-initiated video calling in the next major software coming soon. Petcube will be rolling out advancements in pet behavior diagnostics later this year, helping its owners take proactive steps to support their pet's wellbeing.
About Petcube
Petcube is reimagining pet care, and makes the best-selling pet cameras and software, connecting people to their pets. Their products enable people to see, talk, play, and treat pets remotely while keeping pets safe and healthy. Petcube products are available in 18 countries and sold in 5,000 retail locations. The company is headquartered in San Francisco, CA. For more information visit the Petcube website, and follow us on Twitter, Facebook, Instagram and YouTube.
For Media
Online Media Kit: https://petcube.com/mediakit/
Press Inquiries: media@petcube.com