Users can play with shared live cameras, engage with popular accounts like Nala the Cat and Orphan Angels, and find the best pet content -- all through a single feed.
San Francisco, CA — May 2nd, 2018 — Petcube just released app version 4.0 in the App Store, bringing online pet sharing to the masses. This latest update is redesigned to deliver a unified experience for both standalone app users and Petcube camera owners.
The app features a simplified user interface with a single feed where users can access all key elements from the home screen. From the feed, camera users can access their Petcube devices, recorded videos, and share media instantly. App users can select their favorite interests: rescues, dogs, cats, fun, and lifestyle. Social sharing has been made easier for all. Users can now link their Instagram account, and broadcast anytime to their Facebook page.
Over 20% of Petcube device owners share their device with a close family member or partner, and the Petcube community has been built on a shared love of pets. As the bestselling pet camera brand and leading platform for pet videos, Petcube is personalizing discovery. If a user is into rescues, they can follow and engage with Petcubes from organizations like Hopalong Animal Rescue, My Foster Kittens, Kelly Foster Kittens, and Orphan Angels.
Dog lovers can follow design-centric Architecture for Dogs, Anuko the Husky (UK's grumpy dog), and pet channel DOGTV. For cat interests, there are Petcubes from famed Nala the Cat, Cat Cafe SD, and La Casa de Los Gatos in Ecuador. For fun and lifestyle, Petcube has partnered with pet care brands like Trupanion, Rover.com, Vetted, Basepaws, and canine meal delivery service Ollie.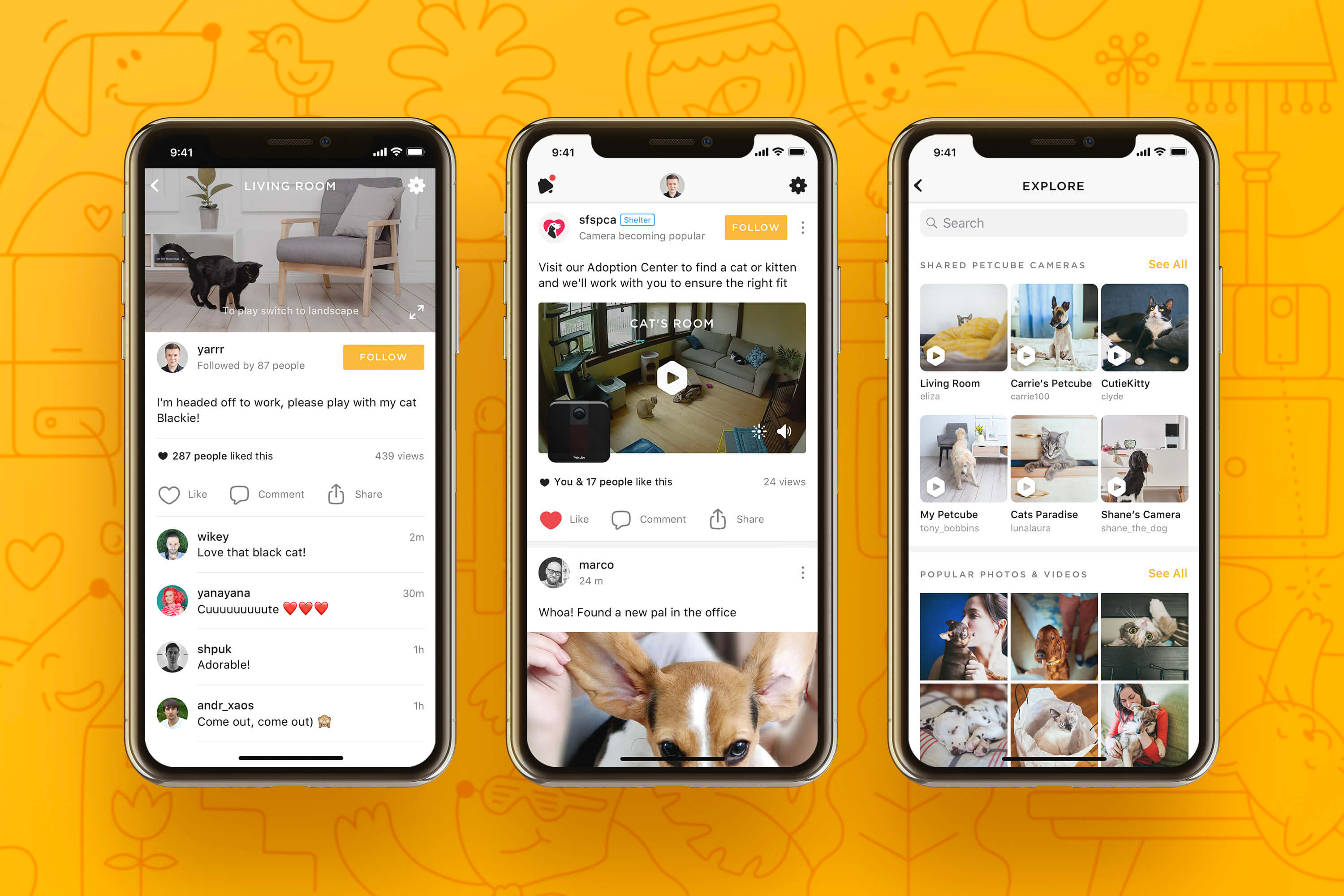 "Today we're launching the app we always wanted to build, enabling millions of pet parents, pet personalities, and brands around the world to connect in new, meaningful ways," said Yaroslav Azynyuk, CEO and co-founder of Petcube. "When my co-founder Alex Neskin built our first Petcube prototype, we quickly realized that family and friends could easily connect and play with his dog Rocky. Petcube has taken this mission of connecting pets to the internet a step further with Petcube App 4.0."
The free Petcube app is available in the App Store and Google Play Store. A major update to Android will be released later.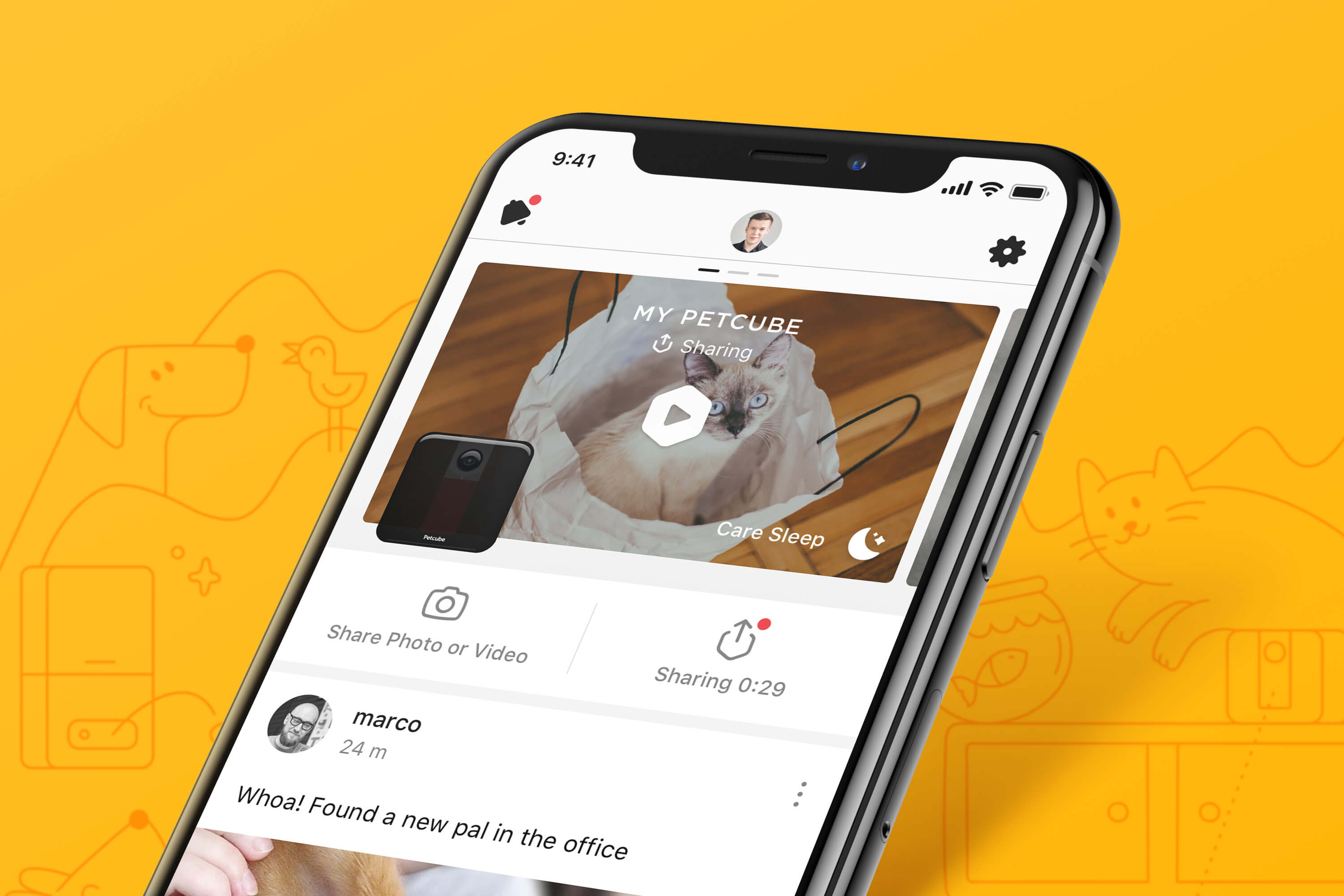 The company's best-selling Petcube Bites and Petcube Play pet cameras give owners the ability to see, talk to, play and treat their pets. Optional Petcube Care membership plans offer multi-day video cloud history of 3, 10, or 30-days, along with member-only pet care perks from brands like Trupanion, Rover.com, DOGTV, Audible, Vetted, and more.
Petcube is also kicking off a month-long celebration of its 6th birthday in May with a series of weekly livestreams and yappy hour events. For more information, download the app now, or visit petcube.com.
About Petcube
Petcube is reimagining pet care, and makes the best-selling pet cameras and software, connecting people to their pets. Their products enable people to see, talk, play, and treat pets remotely while keeping pets safe and healthy. Petcube products are available in 18 countries and sold in 5,000 retail locations. The company is headquartered in San Francisco, CA. For more information visit the Petcube website, and follow us on Twitter, Facebook, Instagram and YouTube.
For Media
Online Media Kit: https://petcube.com/mediakit/
Press Inquiries: media@petcube.com