Users can now access video history, filter and download their pet's action clips directly from a browser
San Francisco, CA — January 21, 2020 — Petcube Care is getting a big expansion today with an addition of the long-requested web version. Petcube Care members can now browse video history, set smart filters, and download video clips in the updated web interface of their petcube.com account on a desktop or laptop. The new feature is available for free to all existing Petcube Care subscribers.
"We listened to our community and designed the web version of the Petcube app to make it even more convenient to monitor your furry companions when away. — said Yaroslav Azhnyuk, CEO and co-founder of Petcube. — While working on a desktop or laptop, you don't want to keep looking at your phone. No matter what device Petcube users are on, they can now check on their pets regularly."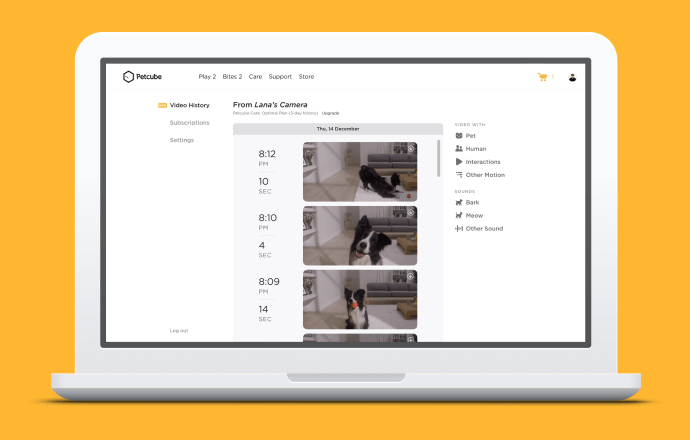 The new web interface now opens straight to the user's timeline history where they can watch and download their pet's action videos. For easier navigation between the recorded clips, there are smart filters on the right that allow to quickly view videos with sounds or actions. Users can also update their profile and billing info, manage subscription, and access exclusive pet care deals from partners in their account.
The live streaming feature and notifications will become available on the web later on. Petcube users will still need to download the Petcube app to connect their devices.
Petcube Care is an optional membership for Petcube users that helps watch after your pets and home when everyone is away, capturing action videos, triggered by sound and motion. Using powerful AI technology, Care understands what pets are doing, registering important events like cat, dog or human movements, barks or meows, and helps to discover any abnormal behaviors.
Care membership offers two plans, Optimal and Premium, on a monthly or annual basis. Plans are based on device owners' preference of 3 or 90 days of event-based cloud video recording. Each plan comes with 24/7 timeline history, captured as 30-second video clips and smart alerts.
Petcube Care connects dozens of services a modern pet parent needs, like dog walking, entertainment, vet services, and more, bringing pet care full cycle. Petcube Care members enjoy exclusive deals from leading brands like Rover, Wag!, Audible, BISSELL, Vetted, and many others, saving on average over $500 per year on pet care. Subscriptions start as low as $3.99 a month. There's also a 14-day free trial for the service.
About Petcube
Petcube is a worldwide leader in connected pet cameras and software. It allows people to take care of their pets remotely, by seeing, talking, playing, and treating them. Petcube connects pets to the internet, understands them through machine learning, and provides a platform for other pet products and services.
Learn more at petcube.com, and follow us on Twitter, Facebook, Instagram and YouTube.
For Media
Online Media Kit: https://petcube.com/mediakit/
Press Inquiries: media@petcube.com