Nuts contain fats, proteins, fibers, and other nutrients, making them superb for a human diet. But is it so for cats? Felines are natural carnivores, relying on lean meats and low-fat diets. That means cats are unlikely to get enough nutrition by depending upon high-fat meals, such as nuts.
Can cats eat nuts? | Almonds | Brazil nuts | Cashews | Chestnuts | Hazelnuts | Macadamia nuts | Pecans | Pine nuts | Pistachios | Walnuts | Peanuts | Can cats eat seeds? | Chia seeds | Pumpkin seeds | Quinoa | Flaxseed | Sunflower seeds | Poppy seeds | Sesame seeds
Can cats eat nuts?
A few nuts are perfectly fine for your cat, but large amounts could be a choking hazard and cause gastrointestinal problems. You see, the main problem with nuts is that they are high in fat. Too much fat in the feline diet can cause weight gain and increase the risk of diabetes and pancreatitis.
Even though most nuts are safe for cats, you should still need to know what types are recommended and in what amounts.
Almonds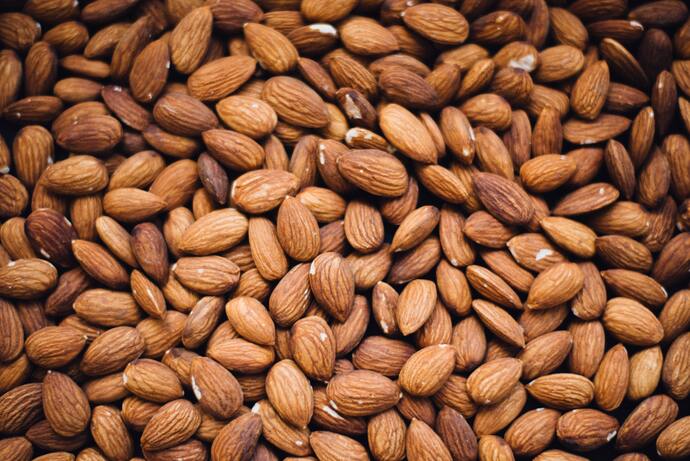 Almonds contain healthy fats, protein, magnesium, and vitamin E. But can cats eat almonds safely? According to ASPCA, almonds are entirely safe, contrary to dozens of myths surrounding these nuts. Being carnivores, cats rely on low-fat meals, meaning that almonds might cause digestive issues.
What's more, these problems, especially stomach upset or vomiting, might occur after eating a solid amount of almonds. What's the takeaway? Giving an almond or two is harmless, but don't expect them to be of great nutritional value for your cat.
Brazil nuts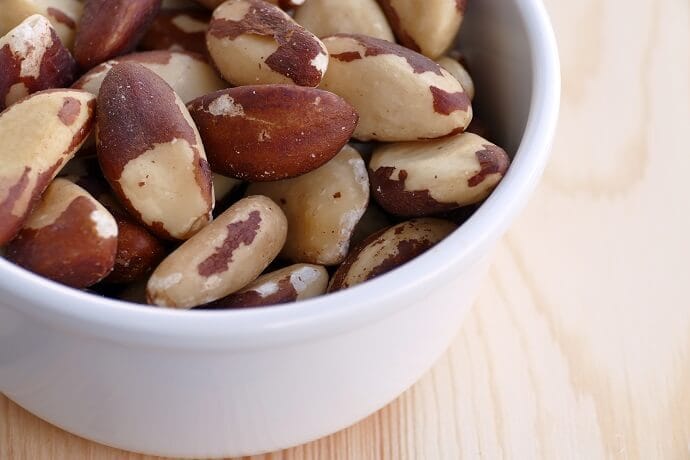 Brazil nuts, except for their high-fat content, are deemed nutritional powerhouses for humans. They contain antioxidants, vitamins, and minerals. For cats, eating an occasional Brazil nut won't cause any significant problems, neither a considerable positive impact. Although Brazil nuts are rich in healthy fats, they might irritate your kitten's stomach.
Cashews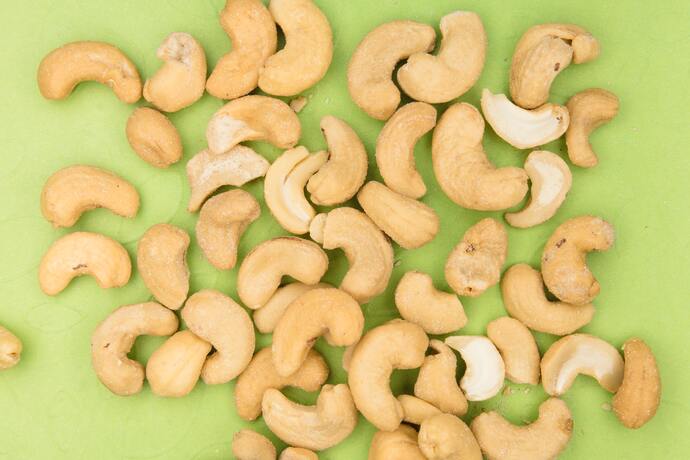 Can cats eat cashews? That's a question that interests cat owners, but no studies prove that they are harmful to felines. Overall, cashews are safe for cats to eat, but it is best to serve them in small amounts. It's because they are high in fat and can cause upset stomachs and diarrhea in cats.
Cats and cashews are also not the best friends because these nuts are high in sodium. In a balanced and well-rounded diet, your kitty doesn't need sodium in such quantities.
Don't forget that high-fat nuts, including cashews, can cause pancreatitis in cats. It inevitably requires medical treatment, so the best way to omit such side-effects is to moderate how much cashews you offer to a cat.
Chestnuts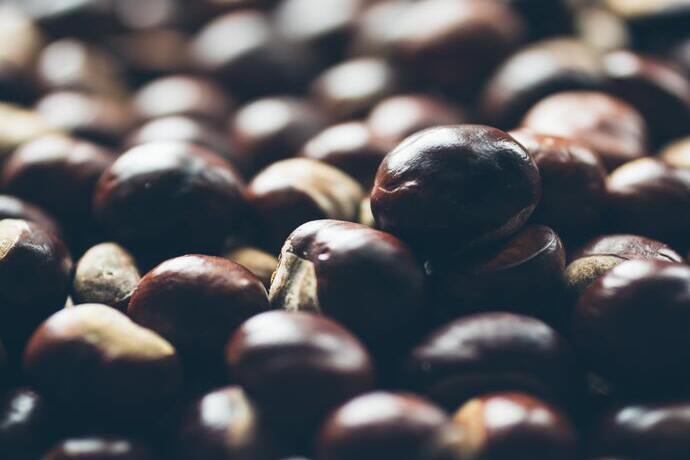 Chestnuts are somewhat tricky to give to cats for a particular reason. These nuts are known to be safe for cats, but no valid studies dive deep into this topic. Based on the vets' recommendations, chestnuts are not toxic, but they offer no nutritional value for felines.
While chestnuts improve digestion in humans, they have little to no effect on cats. Please note that these nuts are also incredibly high in calories, a number you should track to maintain your furkid's well-being.
Hazelnuts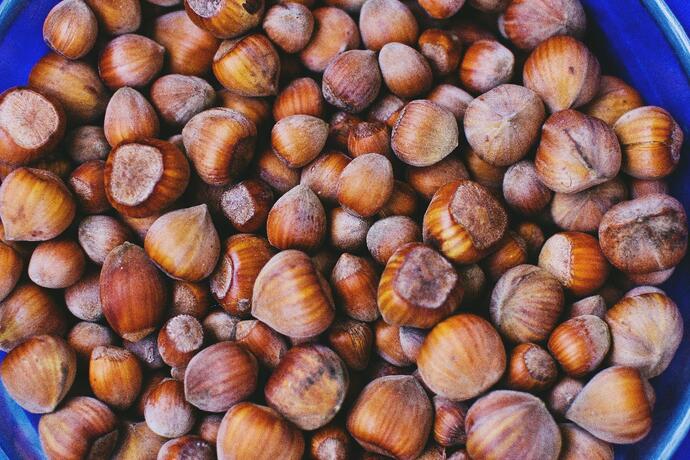 It is no surprise that hoomans enjoy hazelnuts in desserts and chocolate bars. Technically, you can share hazelnuts with your cat, but not as a dietary staple. This nut is generally regarded as safe for felines, but it fails to meet your cat's nutritional needs.
Although you won't need to call a vet after your furball ate a hazelnut, a specific precaution is still advised. While not poisonous, hazelnuts, much like most nuts, are nutritionally empty for felines.
Macadamia nuts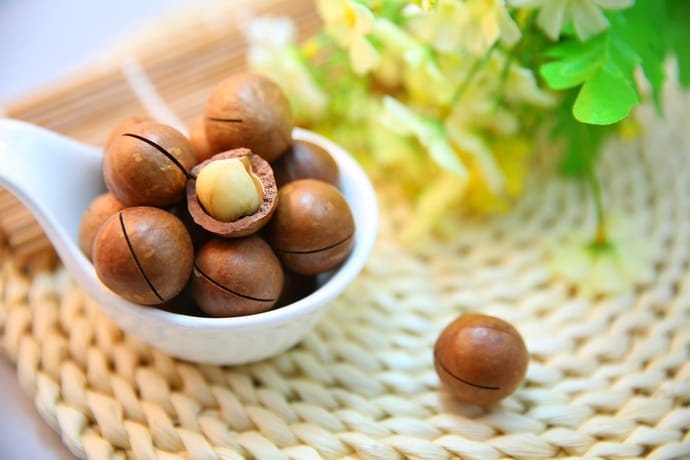 Dogs are known to have severe issues after eating macadamia nuts, often requiring pet owners to induce vomiting and immediately call a vet. Is it so when it comes to cats? The problem with these nuts is that there's not enough data to prove that they're harmful.
Even though no empirical studies prove the toxicity of macadamias to cats, it's better to hide them as of now. It's safe to assume that some cats incidentally had eaten macadamia nuts without any consequences. But you shouldn't experiment since the risk is too high, while the nutritional value is insufficient.
Pecans
Pecans are decent sources of omega-6 fatty acids, making them superb additions to the human's diet. For cats, pecans are proven to be safe, but once again, only if eaten moderately. Because of the high-fat content, pecans have zero nutritional value for felines.
If your kitten ingested just a few pecans, you shouldn't worry too much. After all, make sure to exclude pecans from a regular cat's diet to avoid pancreatitis or digestive issues.
Pine nuts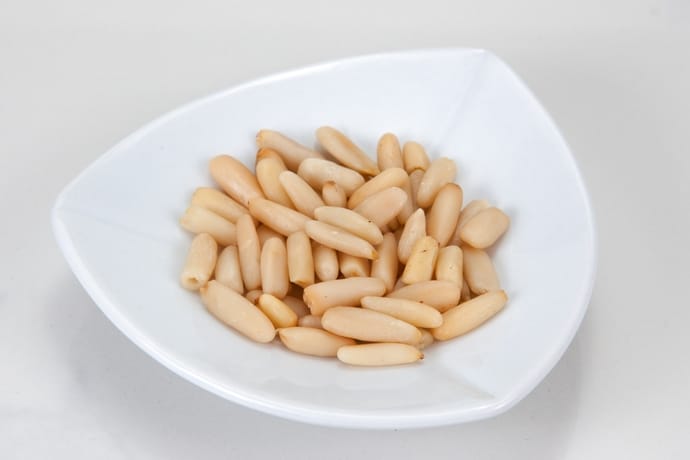 Although no study proves that pine nuts are harmful to felines, they are not suitable for proper digestion. They're high in fats and sodium, making them unwanted additions to the regular feline diet.
Pine nuts might also irritate your cat's stomach, mainly when eaten in large quantities. Pancreatitis is also possible if they are a routine in a diet, so you should be careful and avoid offering them to your kitty for no reason.
Pistachios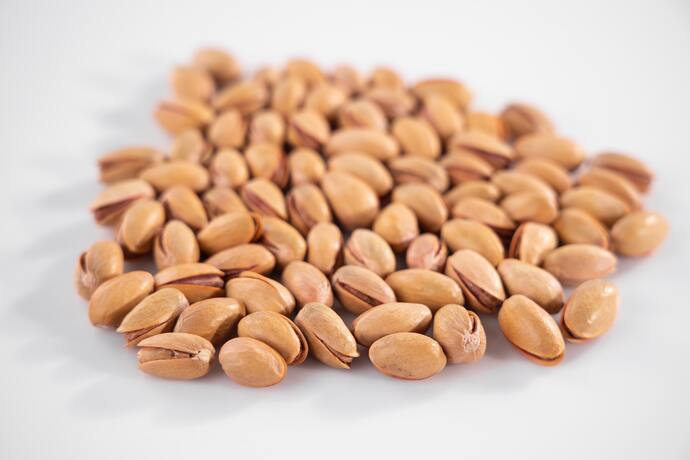 While humans widely enjoy salty pistachios, you might wonder can cats eat pistachios at all? Technically, these nuts are not poisonous nor toxic to felines. Like all nuts, pistachios are high in fat, which is harmful to your companion's diet. Pistachios are usually packaged with salt or artificial flavors. These are big no-nos for your cat.
Don't forget about pistachio shells, which pose even more dangers than nuts themselves. These shells, if eaten, can cause blockages of the intestinal tract, requiring immediate veterinary intervention. Even if you are so willing to share pistachio with your cat, make sure it comes without a shell, salt, or extra flavors.
Walnuts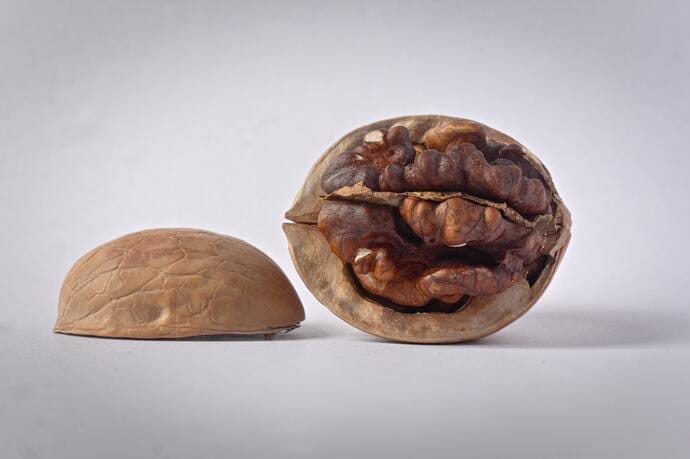 Walnuts are also of questionable nutritional value for cats. But are walnuts toxic to cats? Well, not really. Eating part of a single walnut won't cause any significant reactions nor inflict digestion problems. But walnuts don't seem to be great snacks or meal substitutes for cats.
Because of an incredibly high-fat content, more than a fraction of walnut can cause vomiting and diarrhea. Since salt also negatively affects a cat's digestion, you mustn't feed your kitty with a salted walnut. All in all, your kitten might technically eat a walnut, but offering this nut on purpose is not the best idea regarding the nutritional value.
Peanuts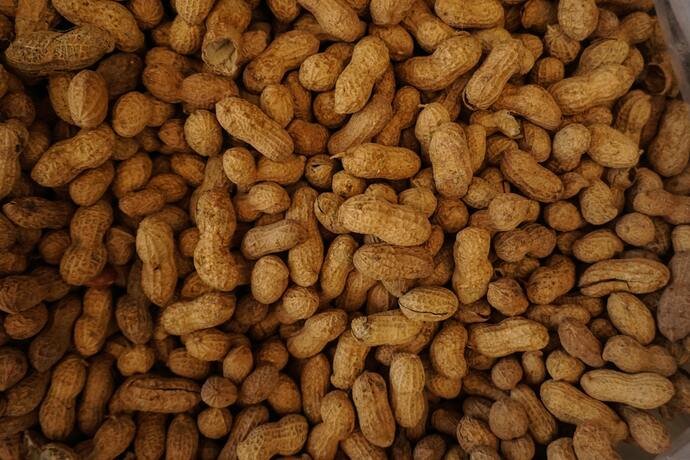 Alright, but can cats eat peanuts? While technically peanuts aren't toxic for felines, that doesn't mean they are any good. As with plenty of other nuts, peanuts are significantly high in fat, making it problematic for cats to digest them. What's more, getting rid of a shell is necessary to omit a potential blockage of the intestinal tract.
Another issue with peanuts is that cats can have peanuts only if they have no allergic reactions. Although allergy cases are not widespread, being careful with these nuts is a must. Peanuts are also loaded with arginine proteins, which are not the ones your kitty needs.
Can cats eat seeds?
Seeds contain several vitamins and minerals that are essential for your cat's overall health. They contain many vitamins, including vitamin B5 (pantothenic acid), vitamin E (tocopherol), and vitamin B9 (folic acid). They also are full of minerals like calcium, iron, and magnesium. Magnesium helps maintain blood sugar levels and energy levels, while vitamin E is an antioxidant that helps prevent oxidative stress and cell damage.
In addition to these nutrients, seeds also provide fiber to your cat's diet. Fiber is essential for helping your cat's digestive system function properly. It's also crucial for preventing constipation, diarrhea, and other issues that can cause pain or discomfort in your cat.
While the situation with nuts is trickier than you could imagine, seeds are generally beneficial for your kittie. Cats are curious creatures and will eat anything that smells interesting to them. So it's pretty standard for your furball to try and eat seeds. You should still be careful and get educated about them, as follows.
Chia seeds
Chia seeds, still being widely unknown for some people, are prominent nutritional supplements. They're high in amino acids, fiber, and carbs while having low-fat content. The most significant benefit of adding chia seeds to your cat's diet is an abundant boost to the immune system. It has also been speculated that chia seeds strengthen the cat's bones and furs.
Since chia seeds are not toxic nor poisonous, they still should be shared in moderate amounts. A general rule of thumb is to give ¼ teaspoon for every 10 pounds of your cat's weight. You should also be careful when it comes to the way you serve chia seeds. They're best suited for cats when blended to avoid damage to the intestinal tract.
Pumpkin seeds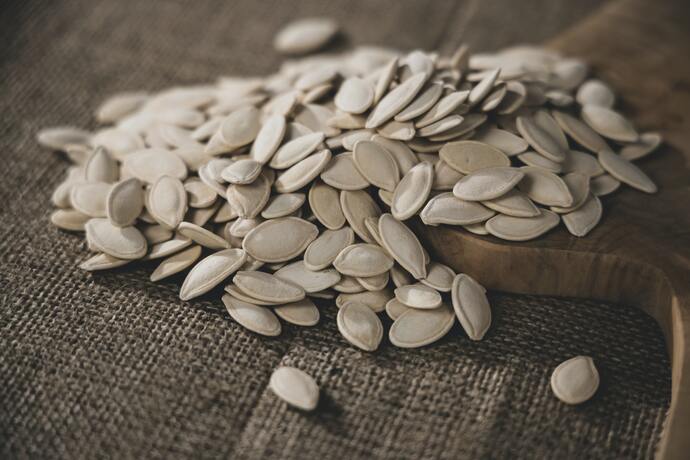 While some pet owners wonder if cats can eat pumpkin seeds at all, others eagerly share them with cats. They are high in iron, vitamins, minerals, fiber, calcium, and zinc, making them nutritional powerhouses. Contrary to some beliefs, pumpkin seeds are safe and helpful for a well-rounded dietary balance. Thanks to rich fiber content, these seeds help to digest carnivorous products properly.
Pumpkin seeds also serve as a remedy and a preventive measure against worms. Eliminating intestinal worms might be possible with these seeds, but be sure to grind them properly. They are also great snacks for your kitten. Feel free to experiment with baking and grinding, but without any salt or artificial flavors.
Quinoa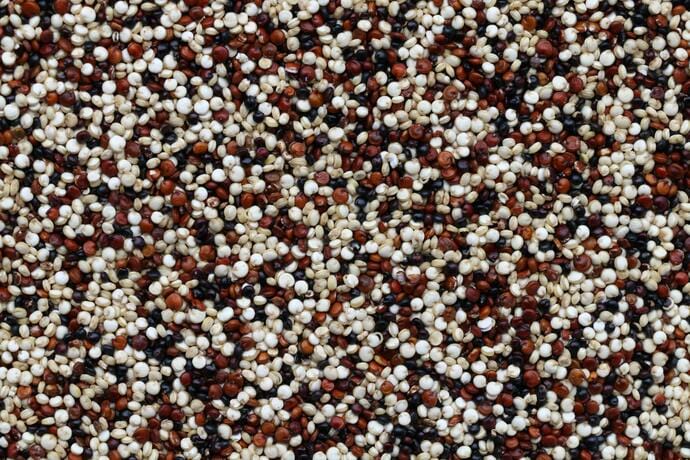 Quinoa is undoubtedly increasing in popularity across the United States and Europe. But have you ever thought that it's actually a seed that cats can consume? While few empirical studies research such a topic in detail, it seems that quinoa is entirely safe for felines. Quinoa is rich in protein, fiber, magnesium, and copper, making it a great addition to lamb, chicken, or fish products.
As with other seeds, you should control the amount you give to your cat. If you made up your mind to share some quinoa with your cat, the way you serve it plays a huge role. Even though it doesn't sound that appetizing for humans, serving it plain and boiled is the only option. Uncooked quinoa can irritate your cat's intestinal tract, while a cooked one without any additives or flavors makes an excellent supplementary meal.
Flaxseed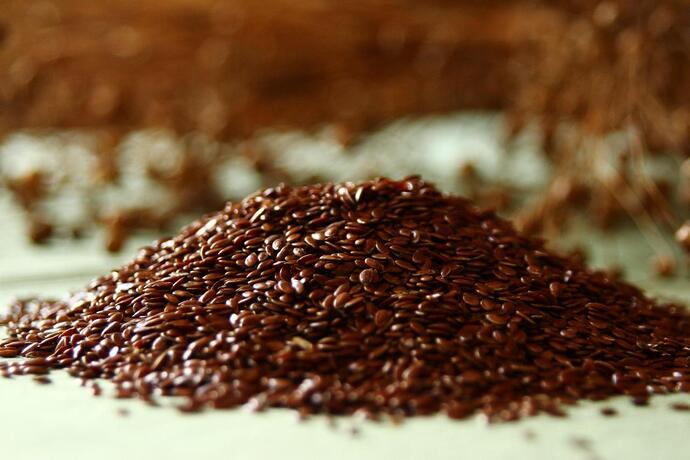 Another emerging superfood is flaxseed, often referred to as linseed. You can easily add it to your cat's bowl since flaxseed is entirely safe. Its high Omega-3 content contributes to the cat's better skin and coat health. What's more, flaxseed has inflammatory properties, helping to lower your kitten's blood pressure.
Even though flax works well as a food product, don't forget that it's more of a diet supplement. Adding a few seeds will surely help, but relying on flaxseed as a sole dietary intake is unsafe. Mind the amounts to make the most of this seed's positive impacts on your cat's well-being.
Sunflower seeds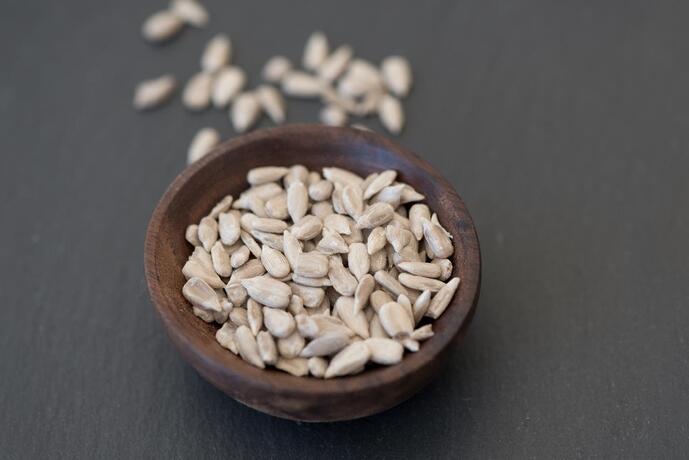 As with dozens of other seeds and nuts, cats eat well beyond what humans offer them. While some might eat grass, others might "prey" for sunflowers. Can cats eat sunflower seeds? As stated by ASPCA sunflower is non-toxic, both for dogs and cats.
Sunflower seeds are high in protein, vitamins E, B1, B5, and minerals. If given moderately, they can positively impact digestive functions because of high fiber content. Still, sunflowers are full of healthy fats, which can potentially cause stomach irritation. Either way, feel free to treat your kitten with some sunflower seeds. But before that, make sure they're clean of shells and have no salt or artificial flavors.
Poppy seeds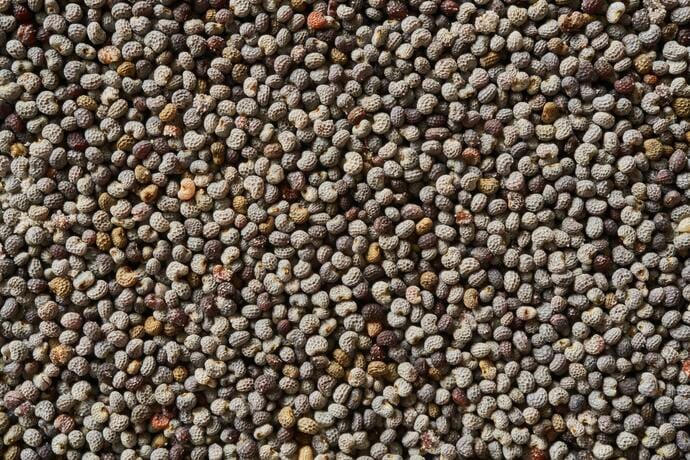 Unlike sunflower seeds or quinoa, letting your cat eat poppy seeds might be a huge mistake. Every kittie is different, and the reactions to these seeds also vary. Some kittens might only feel a bit euphoric and have dilated pupils, while others might experience dizziness and sedation. If you're wondering what's wrong with poppy seeds, opioid toxicity is the case.
While humans naturally digest opium alkaloids quickly, the situation is very different with cats. Because of a high risk of intoxication, don't let your cat sneak to get some of those seeds. If your cat has unintentionally eaten these seeds, don't hesitate to contact a veterinarian professional right away.
Sesame seeds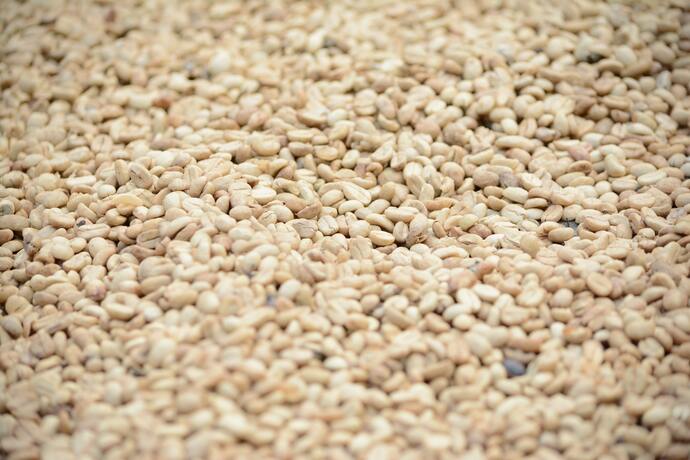 It is no wonder that sesame seeds can perk up your salads and baked goods. As a responsible cat owner, you can also boost your cat's meals. Like other seeds, sesame is an excellent fiber source, making it a solid digestive system stimulator. What's more, sesame is full of minerals, such as zinc, calcium, and magnesium, potentially contributing to healthy bones.
Even though sesame seeds aren't toxic to cats, you should still be careful. Serve them moderately and more as a supplement, not a standalone meal. Also, pay attention to your kitten's teeth since sesame seeds can get stuck because of their tiny size. If you served your cat some sesame seeds, it's the right time for teeth brushing.