Due to the coronavirus pandemic, many of us are now working from the comfort of our homes. Say no to early alarms, annoying traffic jams and ironing boards – sounds cool, right? Also, prepare to fight for a work-life balance, share awkward Zoom moments with your colleagues, and build new relationships with deadlines.
While quite a few people would find the new routine challenging, their new furry co-workers think it's just pawesome. They don't know a thing about the COVID-19. Unlike everyone around, your doggy doesn't frantically update Worldometer for the latest stats (however, might approve of the new toilet paper stock). So, sit back, look at the wagging tail of your good boy, and get some peace of mind.
1. We Promise We'll be Really Helpful… Tomorrow
2. The Client-of-the-Month Award Goes to…
3. I Will Stay Here to Make Sure You Have a Very Productive Day
I've had a bit of assistance with my planning this week... #workhard #workfromhome pic.twitter.com/Eicby3ZsKV

— MEA Central Languages (@MEACentral_MFL) March 26, 2020
4. You Can Join Your Zoom Call, I Swear I'll Just Listen
5. Little Brother is Watching You
I can't with this dog #WorkFromHome pic.twitter.com/xU4EN2FhJ0

— Darren Sweeney NBCCT (@DarrenSweeney) March 30, 2020
6. My Hourly Rate is 15 Biscuits for a Probation Period
7. I Don't Know What's Troubleshooting but I can Chew This Report if it Makes You Sad
What ya doing ???? I'll sit here and keep a close eye on you #collie #StayHomeSaveLives #WorkFromHome #dogs #Ben #Huddersfield pic.twitter.com/5JZEJlodU4

— Ben_and_Ollie_18 (@BenandOllie181) March 30, 2020
8. If You Think Your Supervisor is Strict, Meet My Cat!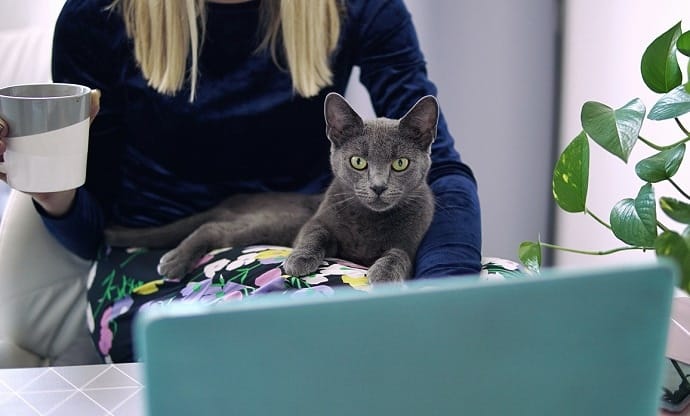 Olga Boiko and her cat Siri
9. This Keyboard Never Felt More Comfortable - Is It the Magic They Were Talking About?
10. Let Me Finish This Article on Social Distancing
11. I Hope it's Almond Milk Honey Flat White, or You're Fired
12. We Demand an Open Door Policy
My coworkers don't respect the walls of the cubicle at all. #WorkFromHome pic.twitter.com/YyfBCESZAY

— Sarah Sheffield (@sarahlsheffield) March 25, 2020
These uncertain times will hopefully pass but you are blessed to spend them with the best company ever. Enjoy the moment while it lasts – and pet your fluffy buddy each time someone says 'Sorry, my mic was muted'.
Was this article helpful?
Help us make our articles even better