Vet Chat provides Petcube users with professional veterinarian help directly from a smartphone in real-time
Petcube is announcing a partnership with Fuzzy Pet Health for a new subscription-based service — an online Vet Chat. The new feature allows Petcube users to get in touch with a veterinary expert for immediate advice or consultation straight from the Petcube app on their smartphone.
The team of certified veterinarians will help pet parents cope with common health issues that occur in dogs, cats, and other pets. This includes but is not limited to wounds, coughing, sneezing, ear or eye problems, limping or immobility, and minor issues with digestive and urinary systems.
The veterinarians will give pet parents their professional advice on at-home treatment, symptom check, and first aid, as well as help them determine if the issue is an emergency. Additionally, users can ask for advice on pets' nutrition and weight control, vaccination, parasite prevention, and separation anxiety.
Pet parents can chat live, share photos and videos of their pets taken either with their smartphones or via Petcube cameras. Vet Chat is a great solution for all non-emergency pet health issues, and spare users' time spent on an on-site visit. Also, it is a great relief for pet parents whose furkids experience fear and anxiety caused by the vet's office.
Petcube camera users get their first Vet Chat consultation for free, then it's $4.99 monthly for on-demand professional vet advice.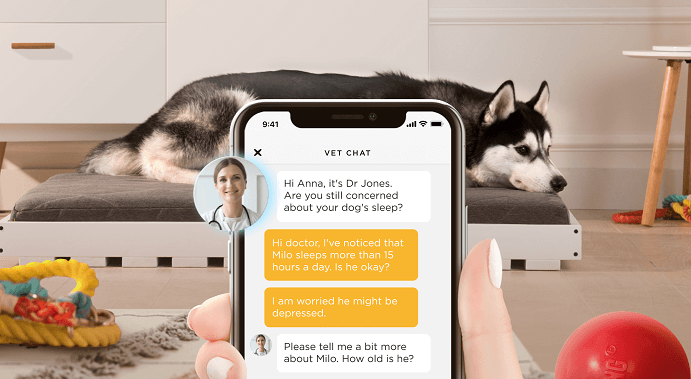 "Roughly 70% of general pet wellbeing issues can be solved remotely with proper vet consultation, — says Yaroslav Azhnyuk, Petcube's CEO and Co-Founder. — Vet Chat saves time, money, and keeps pet parents safe by reducing the need to travel during the pandemic. Petcube hardware compliments the service by flagging suspicious unhealthy pet behaviors so people can act on them preventively."
Fuzzy's CEO and Co-Founder Zubin Bhettay comments on the partnership: "After providing telehealth services to more than 200,000 households since launching this capability in 2017, we've seen the huge impact on pet parents addressing health concerns early before they escalate. With the friction involved in seeing a veterinarian today, increasing access to expert veterinary advice from US licensed veterinarians is key to providing peace of mind to pet parents and helping our pets live longer lives."
Petcube and Fuzzy see the telemedicine approach as an important part of the future of veterinary care, especially in a post-COVID-19 world. While some serious health problems cannot be solved without a vet's physical presence, most of the common symptoms can be tackled promptly with professional help via online Vet Chat.
With this partnership, Petcube keeps extending beyond hardware to provide new and more accessible pet care solutions for modern pet parents.
About Petcube
Petcube is a worldwide leader in connected pet cameras and software. It allows people to take care of their pets remotely, by seeing, talking, playing, and treating them. Petcube connects pets to the internet, understands them through machine learning, and provides a platform for other pet products and services.
Learn more at petcube.com, and follow us on Twitter, Facebook, Instagram and YouTube.
About Fuzzy
Fuzzy is the leader in pet-parent focused telehealth and veterinary curated products for longer pet lives. Fuzzy's engaging consumer telehealth platform includes tools to keep track of essential pet health information such as weight, nutrition, skin health, energy and activity. Fuzzy veterinarians use data captured on each pet to provide tailored recommendations around medications, supplements, nutrition, exercise and training - all focused on longevity and quality of life for pets.
For Media
Online Media Kit: https://petcube.com/mediakit/
Press Inquiries: media@petcube.com