Following Successful Kickstarter & Sold Out First Batch of Inventory, Petcube Looks To Expand to Brick & Mortar Retail in US and Canada.
San Francisco, March 17, 2015 — Petcube, the company that keeps people connected with their pets,  announced today that it has closed $1.1M seed funding co-led by AVentures Capital and Almaz Capital with participation from SOSVentures, Mint.com co-founder and CTO David Michaels and a security expert, former Chief Malware Researcher at Facebook, Nick Bilogorskiy. With the new capital, Petcube looks to expand worldwide sales to brick-and-mortar retail stores in the US and Canada, establish greater overall distribution and help more caring pet parents stay connected to their furry friends.
The Petcube Camera is the first gadget that lets pet owners watch, talk and play with their pet, no matter where they are. The wide-angle, Wi-Fi-enabled camera with real-time video and built-in laser pointer is controlled through Petcube's free iOS and Android applications. Petcube's mobile apps form a community of pet lovers, allowing anyone to share pet photos, find new friends and play with publicly shared pets.
After a successful Kickstarter campaign and a year in development Petcube Camera was delivered to Kickstarter backers and early customers in December 2014. The first batch was totally sold out before Christmas. Petcube is currently shipping the cameras from the second production batch. The product is available for purchase through petcube.com.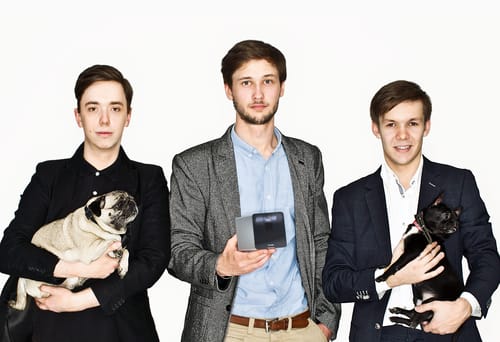 "The pet industry is going to be completely transformed for the digital age and  innovative products like Petcube are paving the way to this exciting future," said Yaroslav Azhnyuk, CEO and co-founder of Petcube. "Given the impressive growth of home monitoring cameras, the massive pool of pet owners and the inherent virality of pet videos on the internet, there's tremendous untapped potential in the pet camera market."
"While home surveillance and security cameras show great traction on the market, one of the most widespread use cases is watching on pets," said Yevgen Sysoyev from AVentures Capital, who joined Petcube's board of directors. "Undoubtedly, Petcube has produced the most amazing product, allowing users to not only watch, but also to play with pets."
"Petcube goes beyond a beautifully engineered interactive device by combining hardware, software, and online community to create a unique experience for pet owners," said Daniil Stolyarov from Almaz Capital. "We like Petcube's vision for a full ecosystem built around capturing, sharing and enjoying engaging media content about pets."
According to a research from NextMarket Insights, DIY self-installed home security solutions will account for $1.5 billion by 2020. As reported by APPA, pet market in the US has estimated to reach $58B in 2014, with over 68% of US households owning a pet, which equates to 82.5 million homes. There were a couple notable acquisitions in pet retail and pet tech space recently which shows a growing interest in this area.
###
About Petcube
Petcube, the company that keeps people connected with their pets, offers a free mobile app for iOS and Android devices as well as a Petcube Camera - an interactive pet monitor. The Petcube Camera is the first product that allows pet owners to watch, talk and play with their pet from their smartphone, no matter where they are. Petcube was funded on Kickstarter and became one of the most successful crowdfunding pet products in history. The company is headquartered in San Francisco, CA with offices in Kyiv, Ukraine and Shenzhen, China. For more information visit petcube.com.
About AVentures Capital
AVentures Capital is an international venture capital fund that invests into startups with potential to succeed on global scale and software development in Eastern Europe. Its target investment sectors include cloud, IoT, infrastructure, big data, SaaS, consumer internet, mobile and other software related projects with disruption potential. AVentures' managing directors are Yevgen Sysoyev and Andrey Kolodyuk. For more information, please visit www.aventurescapital.com.
About Almaz Capital
Almaz Capital is an early stage investor in innovative technology companies. Its focus is investing in teams solving a range of problems for both enterprises and small businesses. In addition, the firm invests in consumer facing businesses including Internet of Things, digital media and sensor technology. Almaz Capital implements a unique bridge model, finding talent and teams in diverse regions and helping them develop into global market leaders. The fund's investors include Cisco, the European Bank for Reconstruction and Development, and International Finance Corporation, a member of the World Bank Group. For more information, please visit www.almazcapital.com.
Media Contact:
Daria Staverska, head of Communications at Petcube
daria.staverska@petcube.com
Media kit: https://petcube.com/mediakit/