Pet Owners Will Never Feel Guilty About Leaving Their Pet Home Alone
LONDON – June 10, 2014 – Petcube, Inc. a San Francisco, CA and Kyiv, Ukraine based company that develops a wi-fi camera and a mobile app for pet owners, won The Europas Award for the Best Hardware Startup (including wearable, robotic and connected devices).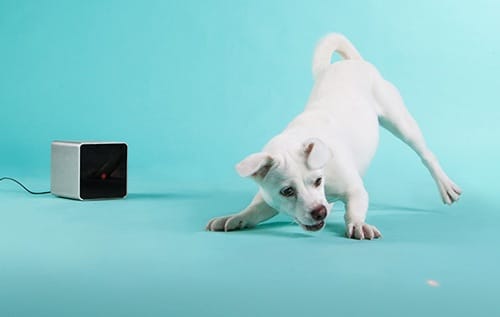 Petcube combines its mobile application for pet lovers with an interactive wi-fi camera to build a completely new experience for remote communication between human and pet. Petcube device features a laser pointer toy which can be remotely controlled from a smartphone, so that pet owners can watch, talk and play with their pets when away from home. Petcube mobile app allows users to meet other pet owners, share photos and videos of their pets and even share access to their Petcubes, for anyone to play with the shared pet remotely.
Petcube team of 12 is distributed between San Francisco, CA (HQ and Sales), Kyiv, Ukraine (R&D) and Shenzhen, China (Manufacturing) and applied for a contest as a Ukrainian company. Here's how The Europas committee, led by Mike Butcher of TechCrunch comment the award in their official release:
From Kiev, Ukraine, Petcube's founders have, against all odds, designed, built and raised money for a radical new interactive device for pets, all from the midst of incredible upheaval in their home country.
Petcube has just released a major update for its first product – Petcube application for iPhone, providing a remarkably beautiful photo-sharing iPhone app for pet owners. The Petcube app was designed specifically for pet owners and pet lovers to share photos of their pets, follow each other and get their daily dose of cute pictures. Petcube for iPhone is available on the App Store for free and does not require users to have a Petcube device.
"I have to admit, I'm already addicted to the Petcube app. It seems like you can just scroll this feed full of cute cats and dogs forever and then occasionally you encounter a completely disarming photo of a parrot" - Yaroslav Azhnyuk, Petcube CEO said. "I can't even imagine how excited I'm going to be playing with all of my friends' pets in real time, once first Petcube devices will be released in August".
Petcube device is company's awaited major product that raised over $250,000 on Kickstarter becoming one of the most funded pet product on the platform. Petcube device is a sleek box made of polished aluminum and glass that features a wide angle camera, a microphone, a speaker and a laser pointer. Petcube was in development for more than two years and the first batch will be shipped in August 2014. Petcube device will cost $199 in retail and currently is available for pre-order at petcube.com for $179.
Additional resources:
About Petcube, Inc.:
Petcube is on a mission to connect people to pets with technology and keep those pets healthy and entertained. For more information, check out petcube.com and follow us on Facebook and Twitter.
Media Contact:
Yaroslav Azhnyuk
CEO
+1 415 269 4905
yar@petcube.com