Your digital
clinic for pets
Professional help from a team
of certified veterinarians —
for less than $1 per day
Choose your pet a plan
Emergency Fund
Online vet and protection plan
$29/month
$3,000 emergency fund

Immediate access to licensed vets

24/7 unlimited online chats

Personalized vet advice

Flat price, no hidden fees

Up to 6 pets even with preconditions

Accepted by any vet hospital in US

$0 deductible, $0 copay

Paid before you leave vet clinic
Online Vet
Virtual visits for your pet's wellbeing
$19.99/month
Immediate access to licensed vets

24/7 unlimited online chats

Personalized vet advice

Flat price, no hidden fees

Pets with preconditions

—

Emergency case coverage

—

$3,000 fund with no deductibles
Benefits included in
any plan
24/7 virtual vet visit
Reduce unneccessary commutes, unless it's an emergency or medication prescription.
Vet help in 2 mins
Bring your pet's wellness to the next level with a fast connection from anywhere.
Build healthy routines
Licensed support for nutrition, healthy habits, training and preventative care.
Helping thousands
of pet parents
4.6/5 — 500+ reviews
Find out quickly...
Is it an emergency?
Is it an emergency?
Is this normal behavior?
Is this normal behavior?
Am I doing the right thing?
Am I doing the right thing?
Your concerns are addressed
Which kinds of pets do you provide vet consultation for?

Petcube Online Vet is currently available for cats and dogs.

Is Online Vet a teletriage or telehealth service?

Our vets now provide teletriage services. Teletriage is intended to supplement, not replace, the existing relationship with your usual veterinarian.

We can offer advice and recommendations for your pet's care. However, our vets cannot make official diagnoses or write prescriptions at this time.

Can I get Rx medications prescribed?

Our veterinarians are unable to prescribe Rx medicines for your pet due to the nature of online consultations and the regulatory constraints that come with them.

Certain medications can be recommended by our veterinarians, but if they need a prescription, you must have one on file with your primary veterinarian or bring your pet in for an in-person consultation.

How do I know if the vet will accept Emergency Fund?

Emergency Fund by Petcube differs from typical insurance for pets in that we make a direct payment to the vet clinic of your choice. We make every effort to pay all covered emergencies in the time it takes the vet facility to finish emergency care and charge the pet owner.

Can I use the funds for more than one emergency per year?

No, Emergency Fund by Petcube can only be used once per year per membership. The funds are limited to a one-time payout of up to $3,000 regardless of the amount.

How long do the funds stay available after activation?

After being referred by our veterinarian via virtual vet visit, your Emergency Fund is available at your preferred vet clinic for a maximum of 4 hours.

Can I use the funds without consulting Petcube's vets?

No, to use your Emergency Fund, you must be referred to an emergency vet clinic or your main vet clinic through the Emergency Fund platform by one of our veterinarians. A video recording is mandatory to determine if it is an emergency or not.

You will not have access to the fund if the pet has been admitted prior to contacting one of our vets for the fund.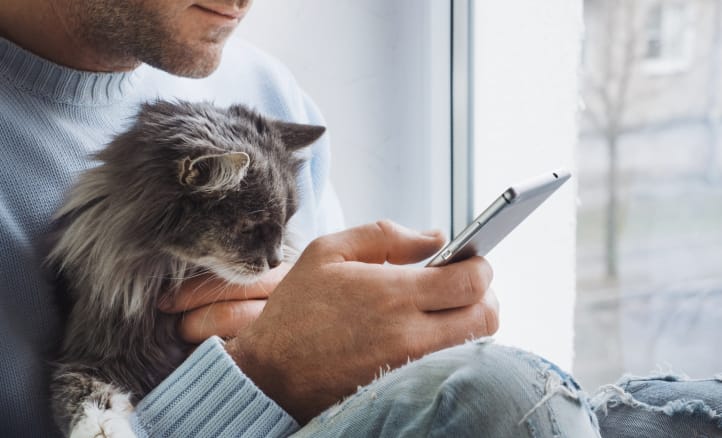 Choose the plan that's right for you
Select your plan today and have peace of mind with veterinary help anytime.
Choose your plan