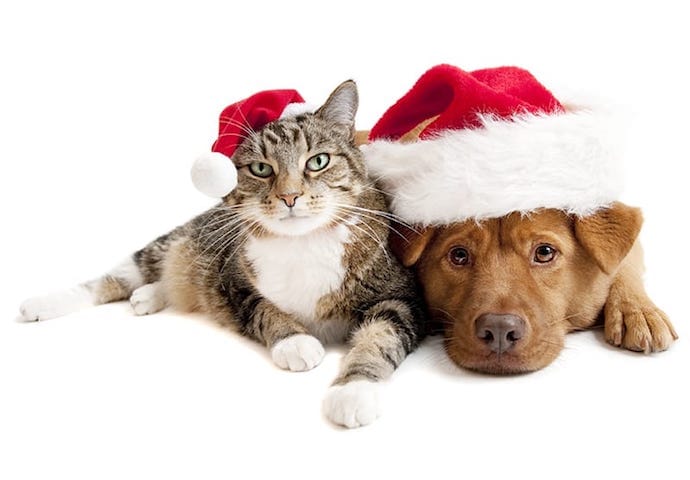 Christmas is coming. The holiday season means lots of partying, shopping, and gift-giving with friends, families, and furry buddies.
Pet lovers and pets alike all have reasons to celebrate. A good pet deserves something super special, and a loving pet parent like you deserves more than just a pat on the back (or a lick on the face). So reward yourself and your pet — you've both earned it.
Don't know what to buy and give? We got your back. Here are 19 pet gifts for the holiday season. Enjoy!
1. Casper Dog Mattress
Casper makes some of the best mattresses and pillows for everyone, including dogs. And why not? Your dog deserves a good bed for a good night's sleep, err, nap.
Made from the same quality material used on its best-selling beds, Casper's dog mattress has a unique, earthy surface that feels like loose soil.
Dogs will go crazy for it. Choose from three sizes — small, medium, and large — and three colors: gray, blue, and sand. The small bed costs $125.
2. Luuup Litter Box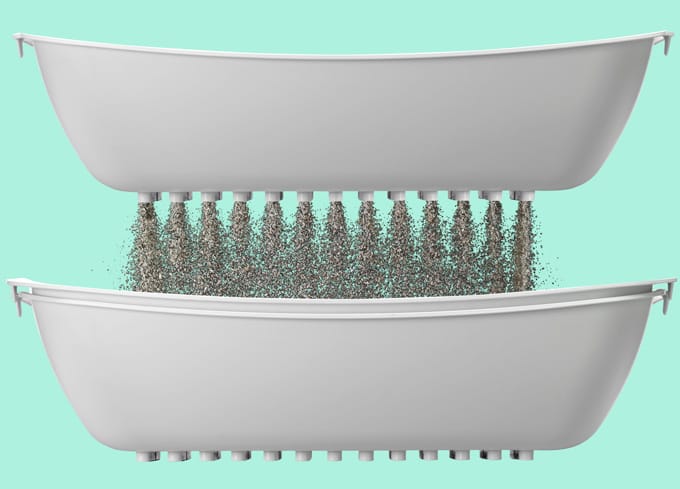 As much as we love cats, cleaning up their messes can be tough. Sure, there are litter boxes that you can use to make the task easier. But the folks behind Luuup have a better, faster way.
The Luuup Litter Box claims to have reinvented the litter box with its 3 sifting system. Just lift the top tray to sift the dirt, throw the waste into the trash, and place the tray at the bottom of the stack.
That's it! No more scooping and changing litter liners. It's also antimicrobial, so it stays fresh and smells good. The Luuup Litter Box costs $49.95.
3. Pod 2 GPS Pet Tracker
Did you know that one in three pets get lost in their lifetime? Don't lose your pet with the Pod 2 GPS pet tracker.
This small device tracks your pet using GPS, Wi-Fi, and cellular technology. Simply attach the Pod 2 to the collar of your pet to start monitoring its activity levels via the Pod Trackers app for iOS or Android devices.
Locate your pet anywhere, and set up alerts to notify you when your pet escapes a safe zone. You can record up to 8 hours of your pet's adventures. The Pod 2 GPS Pet Tracker costs $199.
4. Petcube Play 2 Interactive Pet Camera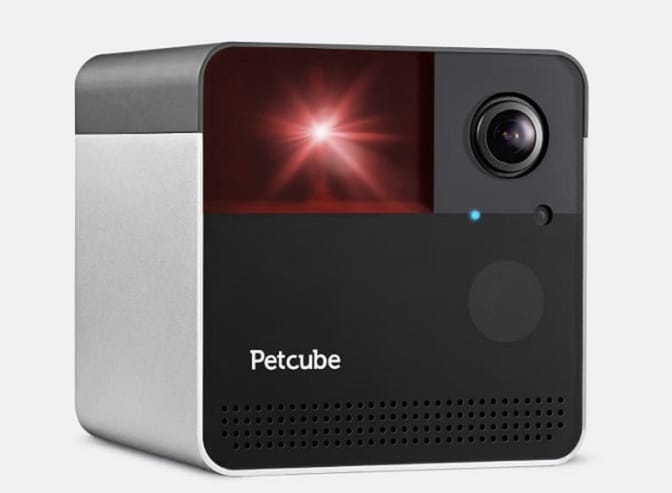 Of course, the list would be incomplete without Petcube Play 2, the leading interactive pet camera on the market. Petcube Play 2 is a next-generation pet camera that lets you see, talk to, and play with your pet anytime, anywhere.
Petcube Play 2 pet camera features clear 1080p HD video, night vision, 2-way audio, 4x digital zoom, an optimized laser toy, and a compact design.
Petcube Play 2 works with the Petcube App for Android and iOS. There's also an optional cloud video recording service called Petcube Care, which records 10 or 30 days of video history, depending on your monthly subscription. Petcube Play 2 costs $199.
5. One Fast Cat Exercise Wheel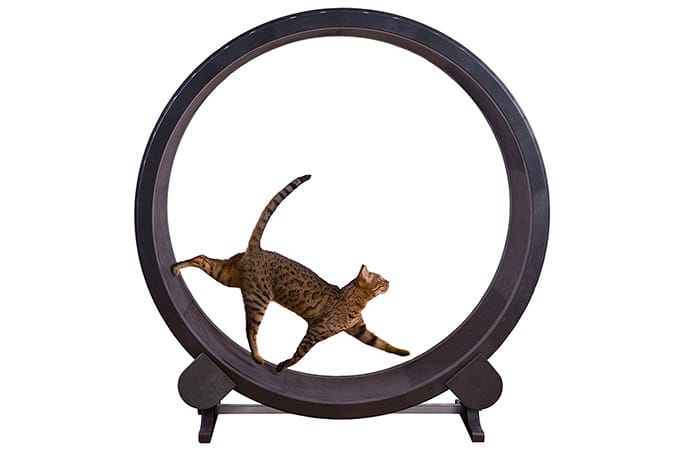 Cats are natural hunters, so they're born to chase prey. The problem is most cats nowadays are fat, lazy, and bored. The One Fast Cat Exercise Wheel is a great toy to keep your cat active throughout the day. It's a treadmill for your cat.
The wheel has a 48-inch diameter and a 10-inch running tread, which is perfect for cats. It sports an open design so your cat can enter from either side of the wheel.
One Fast Cat Exercise Wheel has four support points, making it stable and safe for your pet. Worried about getting your cat's paws stuck? Fear not, the surface is made from closed cell EVA foam. The One Fast Cat Exercise Wheel costs $199.
6. iFetch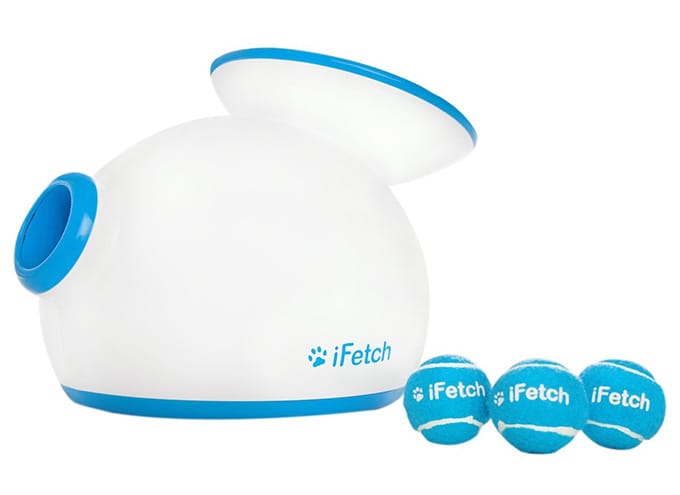 Every dog owner knows that dogs love to catch toys and play fetch. What if there was a machine that could automatically throw balls for dogs to catch? Meet iFetch, a popular ball launcher for pooches.
The iFetch shoots miniature tennis balls from 10 to 30 feet. When a ball is dropped into the funnel, the machine turns on and launches the toy into the air. It'll then shut itself off when the ball is released. You can even teach your mutt to fetch and return the ball into the funnel, so it can operate without your help.
There's also iFetch Too, which is perfect for bigger dogs. The latter launches a standard-sized tennis ball up to 40 feet. Both launchers have built-in rechargeable batteries. The iFetch costs $115 while the iFetch Too costs $199.99.
7. BarkBox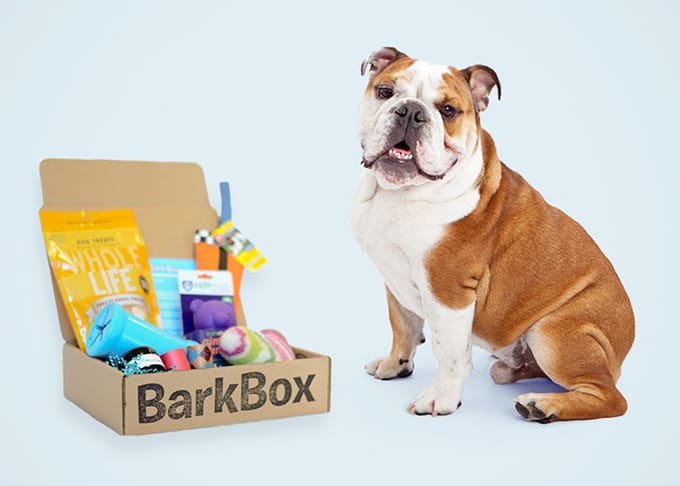 BarkBox is a monthly box of treats, toys, and goodies for you and your dog. Subscriptions start at $20 a month. Each box is packed with four to six treats expertly curated by the BarkBox staff every month.
Each treat is safe, natural, and made in the U.S. and Canada. Select the size of your pooch and pick a monthly plan. You can also get an additional premium toy each month for $9 on top of your subscription.
8. MeowBox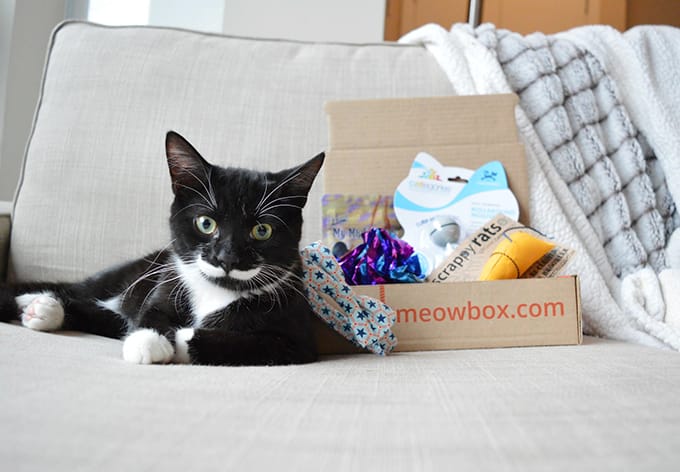 Meowbox is a monthly subscription box for cats. Each box contains roughly 4 to 6 toys and goodies that are guaranteed to spoil your cat. For starters, the monthly subscription is $22.95 a month. You can also subscribe every other month.
After selecting the monthly or bi-monthly option, you'll be prompted to personalize the kitty box. Expect to receive cool stuff like jerky treats, organic cat nip toys, fashionable bow ties, and self-grow cat grass kits, and more.
9. Music for Cats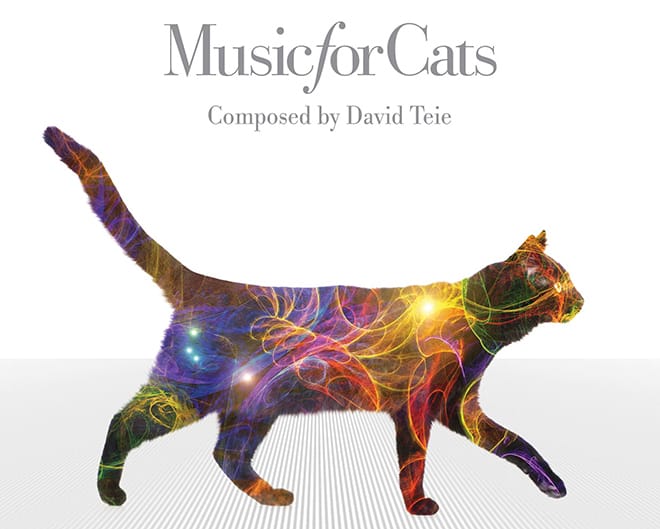 Now you can reward your cat with music. No, we're not talking about Careless Whisker. We're referring to David Teie's Music for Cats — a perfect gift for cats and cat lovers this holiday season.
Music for Cats is based on the theory that cats have an intuitive biological response to sounds present in their early development. You'll hear hubbubs of birds chirping, kittens suckling milk, and mother cats purring. The album is available on iTunes, Amazon, and Spotify.
10. SHRU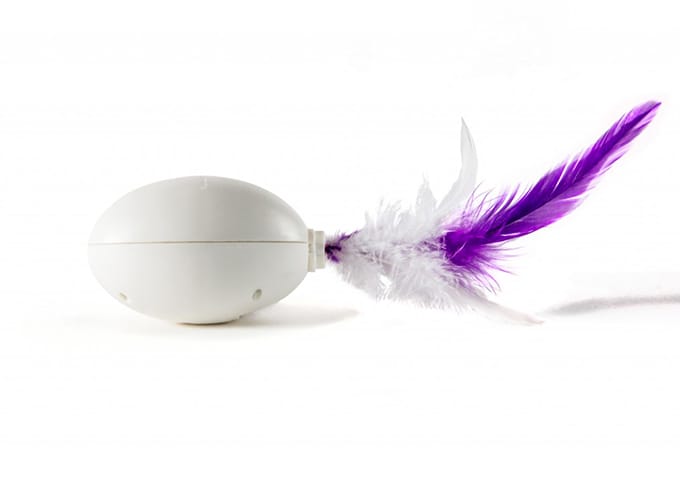 SHRU is an intelligent cat companion that aims to boost your cat's thinking capabilities by mimicking a prey's erratic movement and sound.
Unlike other toys in the market, SHRU learns from your cat's interactions and responds like a living animal. It not only moves back and forth, it also detects obstacles while echoing cute sounds.
SHRU is rechargeable via USB and you can operate in different play modes. It costs $119.
11. LICKI Brush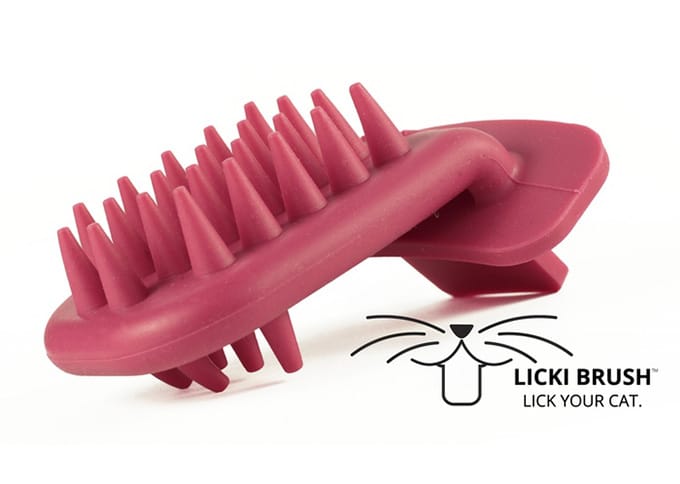 For cats, licking is a sign of affection and love. Now you can finally return the favor, thanks to the LICKI Brush. The LICKI Brush lets you lick your cat without the furballs.
According to its creators, the brush is designed to bring you and your cat closer. The more you lick your cat, the more bonded and intimate your relationship will become.
It's made from a soft silicone brush that feels good on your cat's fur. Simply bite the handle of the brush and start licking your cat (expect your cat to lick you back). You can pre-order the LICKI Brush for $25.
12. HurriK9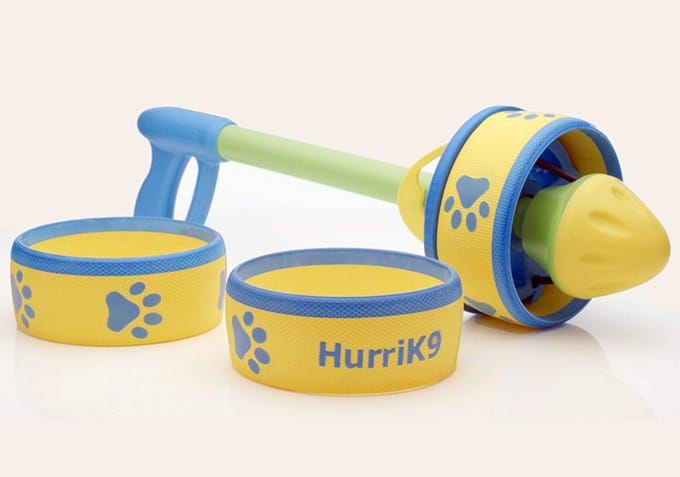 The HurriK9 is a ring launcher for dogs. It's considered to be the world's first gravity-defying ring launcher that can fly over 100 feet — a perfect fetch toy for outdoors.
It's also a great exercise toy for your mutt. A couple of ring launches and your dog will have run over a football field. The HurriK9 Starter Pack comes with 3 rings and costs $39.95.
Each ring is made from EVA foam, which is durable and non-toxic. Just load the ring into the launcher, pull it back, slightly twist the ring, and release it into the air. You can also get 6 rings plus the launcher for $49.95.
13. Meyou: Classy Furniture for Classy Cats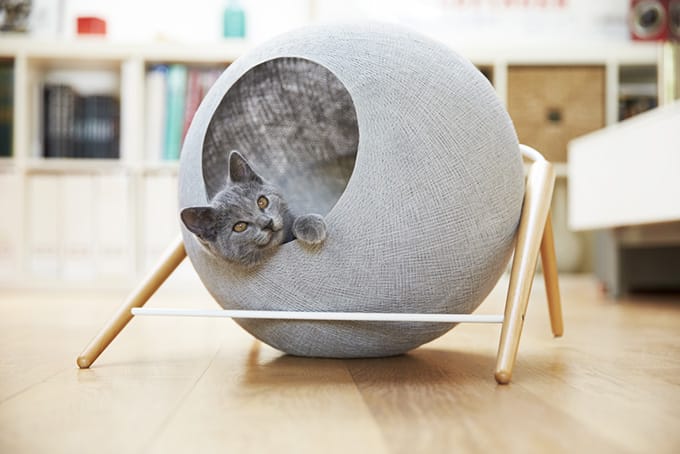 If dogs have the Casper Dog Mattress, cats have Meyou. Fresh from its successful Kickstarter campaign, Meyou wants to make the perfect furniture for discerning cats.
There are three designs to choose from — the Ball, the Cube, and the Bed. All furniture are designed to offer cats maximum comfort while making homes beautiful with their unique designs.
For example, the Cube features a handmade woven cotton bubble that's perfect for your cat. The Ball combines wood and metal while the Bed is made from 100% wool. The price starts at €150.
14. GoBone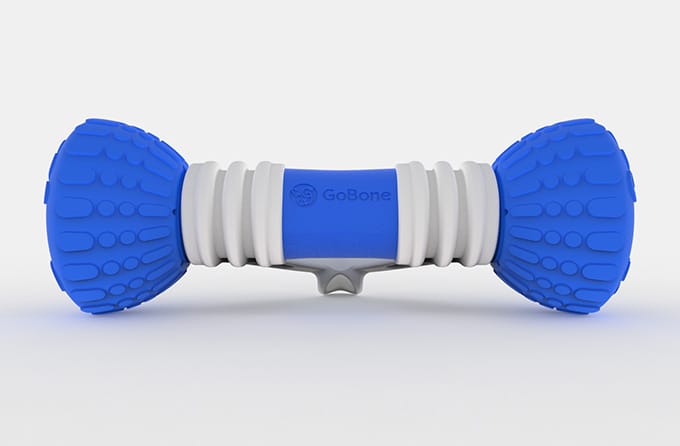 GoBone is a high-tech toy that keeps your pooch entertained while you're busy at work. Using an app, you can control the GoBone and play with your dog from afar. It also adjusts its behavior based on your dog's age, weight, breed, and play style.
Made from quality materials, the GoBone is durable and easy to use. Tap the device twice to turn it on. Then put it down so it can play automatically.
You can even schedule it to run during certain times of the day. Best of all, it has an eight-hour battery life. You can pre-order the GoBone for $169.
15. Odin Puzzle Dog Toy
Sometimes the simplest toys are better than their sophisticated counterparts. The Odin is a perfect example of a toy that combines simplicity and beauty. The puzzle dog toy features an aesthetic design that resembles art decor.
But The Odin is actually a treat toy that challenges dogs to engage it so it can dispense treats. Simply put treats inside the toy and, as your dog plays with it, treats will fall out. It comes in two colors: Slate Grey and Rose Quartz. The Odin Puzzle Dog Toy costs $23.
16. NoBowl Feeding System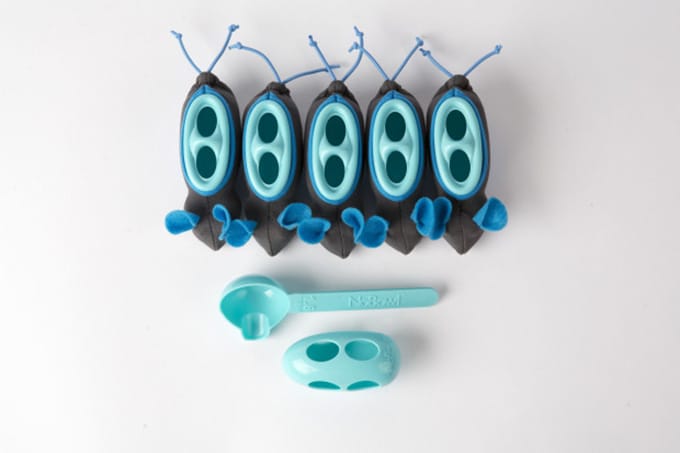 It's time to throw away your cat's feeding paraphernalia because the NoBowl Feeding System introduces a new way to feed cats. True to its name, the NoBowl Feeding System replaces bowls with hunting activities. The idea is to reawaken your cat's natural instincts.
Developed by veterinarian Dr. Liz Bales, the NoBowl Feeding System comes with 5 containers that mimic the look and reactions of rats. Their shapes are also designed to roll and move like mice and birds.
Just put treats into these containers and your cat will enjoy them. The NoBowl Feeding System costs $60.
17. Hatch Pet Carrier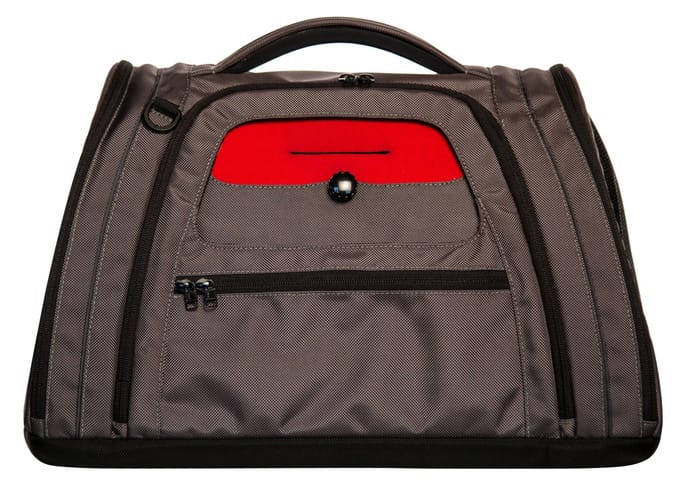 Meet Hatch, a pet carrier for your dog or cat. It's the only pet carrier with a patented "no-escape" design — a perfect gift for pet lovers this holiday season.
Traveling can be stressful for you and your pet. The Hatch ensures your pet is comfortable in any setting by letting you access the interior of the bag without having to unzip anything.
It's water-resistant and claw-resistant, thanks to its military grade ballistic nylon that offers wind protection. It can be carried by hand or over your shoulder. You can pre-order the Hatch Pet Carrier for $149.95.
18. Pooch Selfie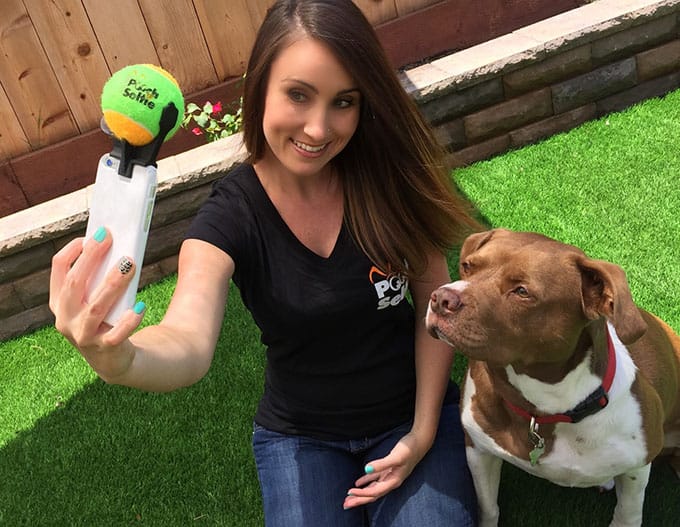 We've included the Pooch Selfie because who doesn't love selfies with dogs? It can be challenging to capture the perfect photo with your mutt. It takes some patience. But with the Pooch Selfie, just about every type of selfie is possible.
The smartphone attachment has a tennis ball glued to it, which instantly grabs your dog's attention. You can also remove the ball and draw your dog's attention to it. The ball actually squeaks! The Pooch Selfie costs $12.99.
19. The Cat Mod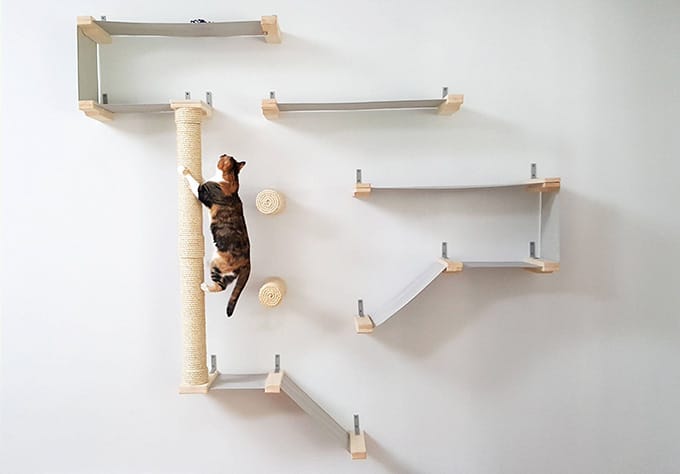 The Cat Mod is one-of-a-kind cat furniture that's made from sisal rope, canvas fabric, and solid wood. It's modular too, so the only limit is your imagination. However, you can use the enclosed schematics to quickly setup a few standard configurations.
The Cat Mod is like IKEA for cats. Each piece is hand-crafted to ensure the best quality furniture for your cat. There are add-ons too, including sisal poles, feeding stations, and sisal-lined escape hatches.
You can start with the Cat Mod Lounge, which comes with 26-inch canvas fabric and two mounting planks. Or you can get the Cat Mod Climb, which includes 154-inch canvas fabric, a four-foot-tall vertical sisal pole, one modular wooden sisal-lined escape hatch, 10 mounting planks, and ladder steps.
---
Read more posts
Was this article helpful?
Help us make our articles even better