As a concerned pet parent, you want to know what your dog or cat does while you're away. Pet cameras are growing in popularity as a way to keep an eye on your dog, cat, or other critter when you can't be around.
But there are so many pet cameras to choose from — how do you avoid feeling overwhelmed? Among the most popular, you will find Petcube and Furbo.
In my experience, Petcube and Furbo offer similar features, allowing you to watch, talk to, and fling treats to your pet remotely. Let's explore just a few of the most important ways that these two pet cameras differ.
Watch Petcube Bites 2 vs Furbo unboxing & side-by-side comparison video
Furbo vs. Petcube Bites 2 — Design and Suitability
For me, one of the most important parts of a pet camera is the type of pet it's designed for. Furbo was created specifically to be used with dogs, although some pet parents also use it for cats. While you can fill Furbo with cat treats and fling them to your feline friend, the rest of the features I tell you about later are made specifically for a pup.
Petcube Bites 2 was designed to work equally well with both cats and dogs. While this may not seem significant, the fact that Bites 2 was designed to monitor (and dispense treats to) cats in addition to dogs gives feline parents confidence.
The Petcube Bites 2 proves itself as a solid investment thanks to its durability. The construction is a hard plastic combined with brushed aluminum, so even if your dog or cat knocks it down, it's unlikely to break.
Thanks to the design of the unit, you'll find it simple to set up the Petcube Bites 2 anywhere you want. For simplicity, just put it on your table. There's a rubber bottom to proving the secure grip and stability. And even if your dog or cat knocks it off, that brushed aluminum and hard plastic will keep it safe and functional — although your image may go sideways if your cat knocks it on its side. Or you can mount it right onto your wall for a better view and more stability. The Bites 2 includes a mounting kit, so you don't have to buy any extra supplies.
The Furbo dog camera is made entirely of plastic and doesn't include a wall mount. That device does make up for this somewhat with its sticky bottom pads option. While you reduce the risk of your pet knocking it over that way, you run into another risk of ruining your furniture for good, because the sticky residue will be hard to remove. That said, you should be careful with where you place Furbo.
Set Up Process
Both Furbo and Petcube are very easy to set up. You just need a few minutes to set up either one. In my experience, Petcube is among the quickest on the market. I installed the application on my phone, connected the Petcube Bites 2 to my Wi-Fi, and pressed a few buttons. Best of all, it connected right away.
One great thing about Petcube Bites 2 is that it supports 5 GHz Wi-Fi. That means that you always get a quick and solid connection, ensuring you always have a great view of your pet when you're away from home. Bites 2 can also work with 2.4 GHz, which is the only frequency Furbo works with.
Live Streaming Video Quality — HD, Field of View, Night Vision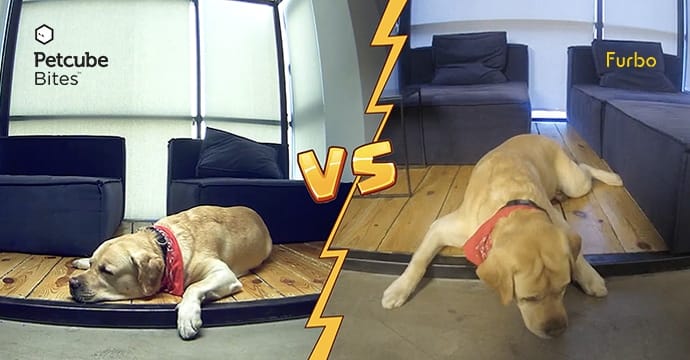 In terms of basic live streaming, most pet parents will be perfectly happy with either Petcube or Furbo.
Either pet camera will let you record videos, watch the livestream of your pet, and take photos of your pet that you save onto your phone.
That being said, it's hard to beat the 1080p HD video on Bites 2. The high-quality video lets you easily see details, from your pet's expression to the potential destruction they created while you were gone. The 4X zoom functionality lets you take full advantage of that resolution.
Both Bites 2 and Furbo have an ultra-wide-angle 160-degree view, letting you capture everything, day or night.
Audio: Two-Way Communication
For most pet owners, the camera is more than just a way to watch your dog or cat while you're away. I also use mine to communicate with them, whether for training, reprimands, encouragement, or just the familiarity of my voice.
Both the Petcube Bites 2 and the Furbo have two-way pet camera audio, but there are some distinctions. I really appreciate the four-microphone array and speaker bar on the Petcube. This combination maximizes sound quality and speech recognition.
Real-Time Alerts for Peace of Mind
No one spends the entire day watching their pet. After all, how could you get anything done if you did?
The best pet cameras will give you some sort of alert, so you know when to look at the video feed. Bites 2 automatically sends you notifications when it detects motion or sound. For a small additional price a month, you can get smart alerts that have recognition of barks, meows, pets, and humans. And you can choose which one(s) you'd like to receive.
While Furbo does offer some alerts, they're minimal. The free plan only offers alerts for barking. Not only is that a single specific situation, but it doesn't do any good for cats.
Furbo makes up for this with Smart Dog Alerts, which uses artificial intelligence to learn about your dog. It even allows for more accurate alerts over time. However, they are not free.
Interactive Treat Tossing
What about pets that are used to getting treats throughout the day? Both Bites 2 from Petcube and Furbo can dispense treats, but Furbo has more limitations in this respect.
Furbo will fling multiple treats at once. There is also no way to schedule the treats, something many pet owners want from their dog camera's dispense options. I know my pets do best on a set schedule, but I don't want to have to interrupt my tasks to check on my pet and activate the treat dispensing.
The treat dispensing is actually my favorite part of the Petcube Bites 2. You can choose the distance to fling the treat — short, medium, or long. This lets you adapt the distance to your pet's energy level, height, and other preferences. Your hyper puppy will love the exercise from a long distance, while your senior dog won't want to walk as far. It will also typically fling between one and three treats at a time, based on the size.
The standout treat feature is that Bites 2 lets you schedule when to fling out treats. This is a must-have for me, as it lets me keep my pets on their normal schedule if I'm out, without interrupting my day. Given the importance of schedules to the behavior and comfort of animals, this is crucial.
While Furbo flings the treats it makes a fairly loud sound. This is fine for many dogs, but some will get scared. The loud noise also makes it harder to use Furbo for cats, which tend to be more skittish.
However, Bites 2 is quiet, working well for even the most easily spooked pet.
Capacity and Maintenance
Most pet owners want to minimize maintenance and upkeep on their pet camera. Even so, maintenance is particularly important when the camera dispenses food since you need cleanliness as well as functionality.
Washing the Furbo's treat container is challenging since it's not detachable. This makes it harder to feel confident in its cleanliness. I love that you can detach the container in the Bites 2. You can then place this in the dishwasher or wash it by hand, ensuring your pet's treats only touch clean surfaces.
Petcube is also my pick when it comes to refilling the treat dispenser. You have to do this semi-regularly with the Furbo, as it only holds about 0.5 pounds of treats. The Bites 2 can hold three times this amount, 1.5 pounds. That results in less time spent refilling the treat dispenser and more time interacting directly with your pet when you're home.
Treat Compatibility
Bites 2 includes treat inserts that let you use small, medium, and large treats. I have even swapped out the inserts when I bought new treats without any issue. That versatility lets me change the type of treat every once in a while.
The inserts also mean that the Petcube Bites 2 can work with a wider range of treats than Furbo. While the latter can only handle round treats that are 0.4 inches in diameter or less, Bites 2 can handle treats that are 1 inch or less in diameter.
Alexa Capabilities and Does It Matter?
Amazon Alexa seems to constantly grow in popularity. Some devices seem to add Alexa connectivity just to stand out, while others actually put it to good use. If you want Amazon Alexa capabilities in your pet camera, you could opt for either Petcube or Furbo. In either case, it will actually be useful.
Another big difference between Furbo and Petcube is that Bites 2 has full Alexa services built right in. In other words, you can use all of the 80,000 Alexa skills you would get with an Echo Dot, which allows you to play music, check the weather, set timers, order food or ask trivia questions. This is perfect if you're tight on space since you just need one device instead of two.
Both Petcube and Furbo have their Alexa skills, that allow you to control the treat tossing with voice commands. The skill works out of the box for Petcube, thanks to it having Alexa built-in with a 4-microphone array. For that to work with Furbo you will need to buy a separate Alexa device ($49.99 - $229.99 on Amazon) and connect it with Furbo.
Subscription Packages and Free Trials
To continue using some of the premium features, both Petcube and Furbo offer subscription packages and free trials.
Furbo has a 90-day free trial, with things like 24 hours of video history, Dog Selfie Alerts and Doggie Diaries. After that, it's $6.99 a month or $69 a year.
Bites 2 has a 14-day free trial and more subscription options, depending on your budget and needs. All Petcube subscriptions come with video history, bark, meow alerts, human and pet detection, as well as pet perks from leading partner brands. These perks include discounts on dog walking, insurance, trendy pet clothing and furniture, dog and cat DNA tests which allow you to save over $500/year and may become a major benefit for Petcube subscribers. If your pet has behavioral or health problems or you just got a puppy, Petcube offers up to 90 days of video history to help you monitor and better analyze their habits.
You can learn more about Furbo and Petcube subscription plans on their websites.
Sharing and Multi-Cam Support
Few homes are small enough that a single camera can cover the typical range of your pet. That is why most pet cameras let you connect several to the same system. Furbo lets you connect only one camera per user account. This means that you need to log in and log out on the Furbo App in order to access each Furbo. Petcube lets you connect up to six cameras. Besides that, Petcube Bites 2 works well with all the previous generation Petcube products - Camera, Play, Bites, and Play 2. Petcube Play 2 is a similar interactive pet camera, that has the same set of features, besides treat dispenser being replaced with an interactive laser toy. Petcube Play 2 lists for $199.99 on Amazon.
That is particularly helpful for people with larger homes or who want a closer look at their pet's favorite hiding spots. You could even start with one camera, test out the system, then decide whether you want to add more.
If you want to share images and videos with your friends, you can do so fairly easily with either camera.
Furbo actually recommends that you share your login information to share the views via the pet camera app. Personally, I would rather not share that information, as it doesn't seem very secure.
However, Petcube has a feature to securely share images with specific people or the public via the app, and sharing login details isn't necessary.
Summary
Key Similarities
Both offer live streaming of your pet.
Both have night vision.
Both have 4X zoom.
Both have two-way audio and one-way video.
Both offer treat dispensers.
Both products are listed at $249.99 on Amazon.
Key Differences
Alexa is built into Petcube Bites 2, while Furbo just works with Alexa.
Furbo offers pet selfies and the doggie diary on the paid subscription, which Bites 2 does not.
Petcube offers access to partner discounts on the paid subscription that allow you to save over $500/year.
Bites 2 offers sound and motion alerts by default, while Furbo only gives you bark alerts.
Bites 2 has two subscription options, while Furbo only has one.
Bites 2 lets you connect multiple cameras to one single account, but to connect one more additional Furbo camera you need to create a separate account every time.
Bites 2 stores 1.5 pounds of treats, but Furbo stores only 0.5 pounds.
Bites 2 is compatible with a variety of treats, while Furbo only works with certain types.
Bites 2 flings 1-3 treats at a time, while Furbo flings 5+ treats.
If you compare the Petcube Bites and Furbo devices, you'll likely be happy with either option.
By taking a closer look at the features compared with the value and factoring in the subscription plan tiers, the Bites 2 interactive pet camera seems to offer a better value and more useful features.
Overall, there is no single answer to the question, "What is the best pet camera?" since it depends on your budget and needs. However, the Petcube Bites 2 is our recommendation for most people.
🆚
Petcube Bites 2 vs Furbo Comparison Table (Chart)

Was this article helpful?
Help us make our articles even better