Remember when we reviewed pet apps? Well, put them to good use while finding a groomer! Otherwise, you can usually trust Yelp in helping locate a suitable, safe groomer for all of your clipping and buzzing needs. Take a look at our recommendations on choosing a solid grooming service for your four-legged friend.
Licensing
While most people know what to look for in a competent dog trainer or a quality Vet, it can be harder deciding who would be a good dog grooming specialist. Dogs vary when it comes to grooming requirements, and many owners find themselves at an absolute loss when trying to take care of their pet's hair on their own. When looking for a dog groomer, you will need to research the specific training you need and find out how your potential specialist stacks up against that standard.
Many people assume that all dog groomers are made equal, when in fact, licensing from the National Dog Grooming Association of America (NDGAA) is voluntary. Be sure to look for certification at the front desk of any groomers to ensure the business' credentials. It guarantees that each groomer has experience with not only grooming but maintenance and animal safety as well.
Note: Even skilled and experienced groomers occasionally cut below the fur, but someone without the training can do much, much worse.
The Facilities
Before you settle on a particular dog groomer, do your research. Look for a groomer who is experienced in grooming the breed of dog that you own. Ensure that the facilities at the groomer's place are clean, well maintained, and free from any odors. You can also check out reviews or recommendations for a specialist you like the best.
When you walk into the shop, do you feel calm? Do the dogs around—for the most part—look relaxed, as well? Yeah, you might have some high-energy Chihuahua or Corgi going crazy nearby (that's the nature of the business) but are the cages clean? Is there quiet, soothing music being played? Are people sweeping and cleaning regularly?
You want to find a groomer that treats your dog gently and with respect, so go with your gut instinct. If you have an uneasy feeling (or your dog acts uncharacteristically), think about taking Fido to another place. Don't feel bad about checking a few places out. You want your dog to have a great first experience!
Word to the wise: if you walk into the grooming facility and it's a kitchen, have another think about it.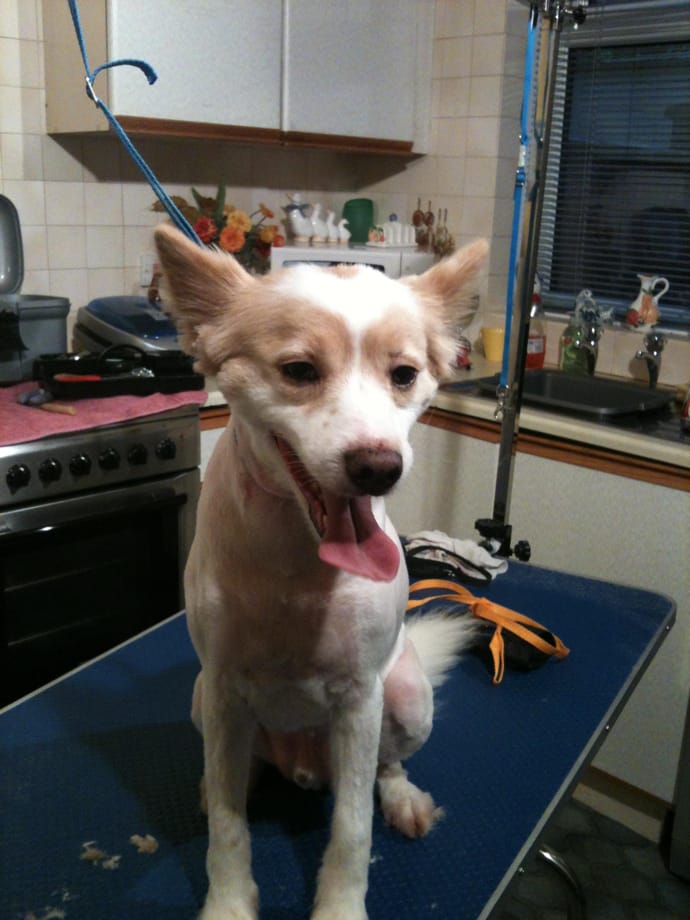 Treatment
In case you're uncertain of your dog's future reaction, ask grooming staff about their methods of dealing with 'difficult' clients. You want to hear a groomer explain that they will take a break if a dog is having a difficult time, distracting the dog with rewards or treats, or even flat-out stopping everything if the dog is having an unbelievably difficult time.
Do not patronize a groomer if they mention anything about threat or force, and run the other way if they offer tranquilizers as an option. The former is a horrible, terrible method to treat any animal; the latter should only be performed only when necessary and under a veterinarian's advice.
You're a client who loves their animal very much, so asking about an animal's age and grooming history is a start, but groomers should also ask if there are specific parts of the animal that should be avoided or if there are any medical problems (arthritis, heart issues, etc.). Because most groomers act as temporary kennels, they should also ask how your dog responds to others. Be honest!
Mobile Dog Groomer
Mobile grooming is just as it sounds -- pet grooming services performed at an owner's home. The process involves the groomer visiting an owner's home for a predetermined number of hours (usually an hour) to clean and groom a pet. If you're a pet owner who doesn't have access to a permanent or semi-permanent grooming facility, a mobile grooming service is an ideal solution.
The groomer will clean and bathe the pet using specially formulated products and then spend time brushing, detangling, and trimming the pet's fur. It may also involve clipping or shaving the animal's fur as desired by the owner. Mobile grooming is often less invasive than traditional grooming methods and involves fewer encounters with unfamiliar people and environments.
Asking Questions
Before leaving your groomer, ask about policies regarding accidents and how they would be resolved. Your groomer should always be straightforward and should ask for your contact information in the event anything occurs while you're away. If you have any other questions, PetEducation has a fantastic list to choose from.
Staff and training:
What breeds do they own?
Are their pets' hair coats kept neat and clean?
Did the groomer go to school to learn grooming or did they learn it 'on the job?'
How long have they been grooming dogs?
What breeds are they proficient at grooming?
Do they provide different styles of cuts for different breeds?
Will they give a 'show cut' versus a 'puppy cut?'
Hours, fees, and payment:
What are the hours?
How are dogs admitted and how do you know when to pick them up?
How long does it take to get an appointment?
What is the range of fees for your breed of dog?
What does that fee include?
What methods of payment are accepted?
When is payment due?
Are credit cards accepted?
Services:
What type of shampoos and conditioners are used?
If your veterinarian recommends a certain shampoo, do you need to supply it?
Is a hand-held or cage drier used?
Is the ear hair plucked from those breeds with hair in the ear canals?
Do they accept dogs that need to be sedated for grooming?
Who sedates and monitors your dog?
Will the groomer trim nails between regular grooming appointments?
Facilities:
Is the area kept clean, neat, and orderly?
Are there unpleasant odors?
Where are the dogs kept?
How are clippers, scissors, etc., cleaned between use?
---
You understandably take your dog's health and safety seriously, so don't take Mr. Bojangles or Bella to just anyone. A decent dog grooming service is what you deserve, so don't settle for any less!
Was this article helpful?
Help us make our articles even better