Kelly was left devastated after her cat Chai died in March 2017. For Kelly, like for many pet parents out there, Chai was more than just a pet, she was a soulmate.
She passed just at the time Chai's Instagram amassed a following of 44k and they had just been at a Petcube event at South by Southwest 2017 in Austin, talking about how much Chai loved Ghost, Kelly's dog.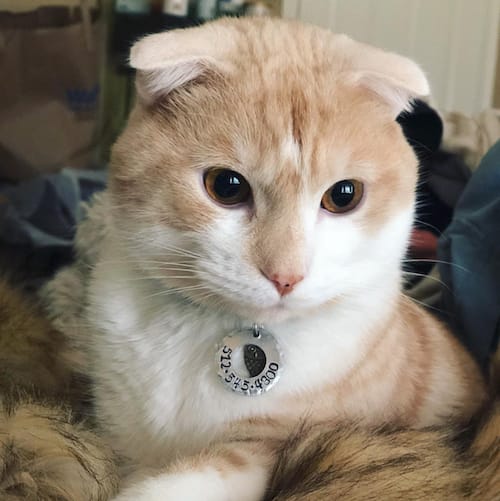 All these events made the sting even worse and devastation - unbearable. Her followers watched it all unfold, from concern to happiness to utter devastation.
To distract herself, Kelly started fostering neonatal kittens again, through Austin Pets Alive. Even though Kelly told herself she wasn't getting another cat anytime soon, she eventually found herself browsing Petfinder.
Kelly took a trip to New York when she saw a small Scottish fold kitten, Scotch, now named Remington, with the most adorable owl eyes. Kelly says, that after looking into those eyes, something just clicked for her. She even forgot that she didn't want another cat, she just felt so sad, and her dog Ghost was sad too. The only hitch about Scotch: he was in Montreal, Canada. Montreal was only an 8 hour bus ride from Manhattan, which might sound like a ridiculous distance for some. For Kelly, however, as a Texan, it was a mere day trip.
After a long discussion with the vet clinic who was holding Remington and some magic work rearranging her travel plans, she was on her way to Montreal.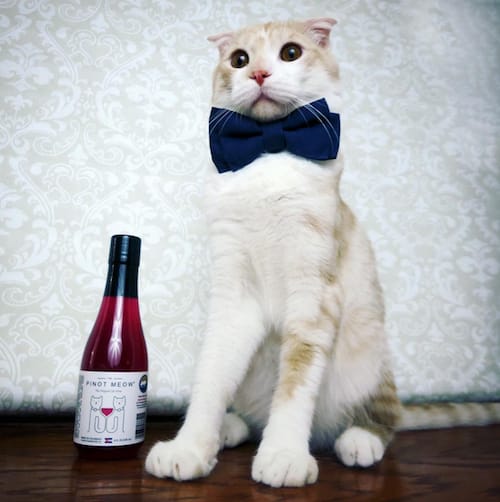 Taking a car from the US to Canada was not an option, so Kelly took the plunge and decided to take a bus. This was her first bus trip, which had its own challenges but it was worth it. When Kelly got to customs, the officers asked about her reasons for visiting Canada. Kelly said she had personal reasons. That was a sufficiently unclear answer, so they stared at her waiting for clarification, so Kelly told them, that she's adopting a cat. After another long stare, she said – "this cat is special". Yes, Kelly could've adopted a cat in Texas, but Remington stood out to her more than any other cat she'd ever seen.
When Kelly finally arrived, Aristocats was playing on the TV in the waiting area, which was a sign for her - she's a huge Disney fan. Remington was very nervous when Kelly first met him. Kelly was unfettered, she's no stranger to fostering anxious cats and was able to handle this.
Kelly picked up Remington the next day, put him in his carrier and headed to the airport. The customs officer was judgy again, but she ignored it. For some people, adopting a cat in Canada when you live in Texas may seem a little crazy. But Kelly has historically done a lot of crazy things for cats. Once, she found out that there was a dehydrated and thin cat on a farm. Her uncle's mother, who was the owner of this farm, told Kelly that it was impossible to bring that cat back. So Kelly returned after a 9 hour drive, found the cat on a farm road in the middle of the night, drove another 9 hours straight back and a few days later found a home for this cat. So Kelly's friends and family weren't surprised when she went to Canada to adopt a cat. It was classic Kelly.
Kelly was pretty nervous introducing 1-year-old, freshly neutered male cat to her 8-year-old male cat. She kept Remington in the bathroom for about a week, until he finally met with Spiffy and they hit it off. It was exactly what Spiffy needed - a new friend.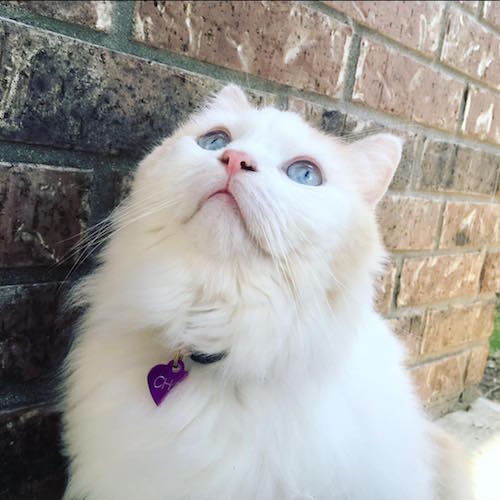 As Kelly says, Remington is definitely a work in progress. They found him on the streets, and he'd been in the clinic for about three months before Kelly finally adopted him. Sometimes Remington bites randomly, but he's gotten much better as he's adjusted to indoor cat life.
Yes, he is not Chai. And really, Kelly feels, no other cat will ever fill that void. But he's got personality and cracks her up on a daily basis. Also, Remington has been such a fun addition to the family. Who would've guessed that a street cat from Canada would have made his way to Texas to meet his new loving family?
Kelly's instagram: @adogandacat