Not to make you feel bad, but while you're desperately scrambling to make a last minute costume, just know that there's a cat out there with a closet full of them. Beatrice Ticketyboo is a calico Cornish Rex who has more costume changes than a Lady Gaga show, and she seems to absolutely LOVE wearing them. Inspired by her fancy feline, owner Michelle Duni started to create costumes for her cat, and what started as an Instagram shtick has become a hobby and a business.
We talked to Michelle about Bea, and how they come up with all these fantastic looks.

what's the trick to getting a cat to wear a costume?
Maybe there isn't so much a trick other than a little luck and some patience. I lucked out with a cat that is very agreeable and who is a sucker for treats. Beatrice responds well to soft words and petting and rewards. Sometimes playing a little extra with her with a toy before hand calms her down enough to focus on sitting still.
how did you start designing costume for Bea?
I've been more of a illustration artist but after getting Bea, she became my little muse. I wasn't as able to paint for long stretches without her interruptions to play or for constant attention. Sitting on my lap wasn't always good enough for this little lady cat. So, I started incorporating her into my artwork with a more hands on tactile form of art.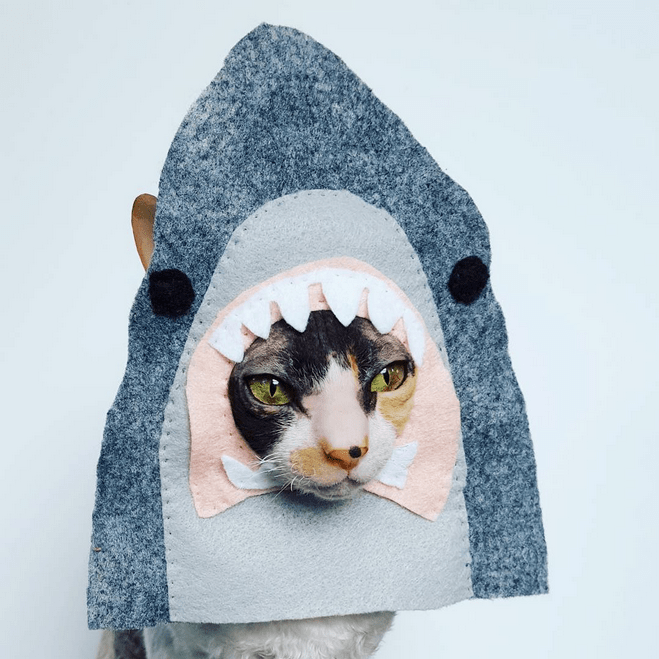 What's your process? Do you use patterns?
For me, I tend to have an unconventional approach when it comes to creating. I've always since a child been very good at problem solving when it came to art, right down to the tree houses I'd create with scrap wood. Beatrice has a very small head (typical of the Cornish Rex breed) so I have an idea of a template of what will fit her head shape and large ears. Beyond that, it's a lot of problem solving to make what I visualize in my head come to fruition. Although, there have been a few times where I make a hat and not have it fit on Bea's head!
You've done everything from Princess Leia to a giraffe. Where do you come up with your ideas?
I love nostalgia and a challenge. Originally the first hat I did was a replica from one of my favorite comedies, Drop Dead Gorgeous. After that her personality came through in little outfits. She was an alien and astronaut when a couple friends observed how unworldly she looks, a leopard because sometimes she acts like she's mightier than her size, a dog hat when she was a little naughty and in the dog house, and so on. Sometimes I'll remember something I watched as a kid or a favorite current piece of pop culture and see if it can be created.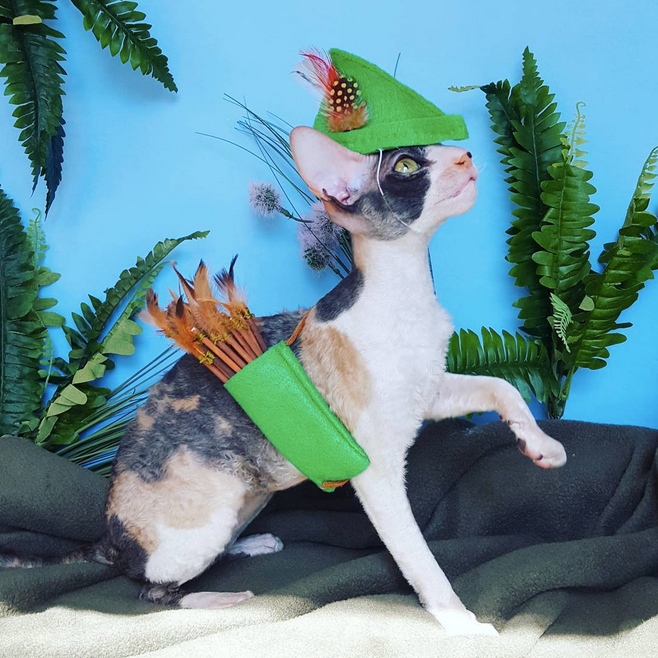 Tell us a little about Bea?
Beatrice is a dog in cat form. I sometimes call her a 'cog.' She'll play fetch, knows how to sit, high five, and walks on a leash. She greets me every time I come home from work racing down the stairs meowing. She loves eating bugs if she's lucky to find one, and never hides when someone comes over but rather wants to be in their business. As a Cornish Rex, she carries the nice trait of low to no shedding, feels soft as silk, and is extremely intelligent with a wide vocabulary of different meows for different situations.
Do you sell your costumes? Is there somewhere people can buy them?
I actually did open up an Etsy shop, Ticketybootique. It has a few cat hats and I plan to add bowties and other fun items down the road.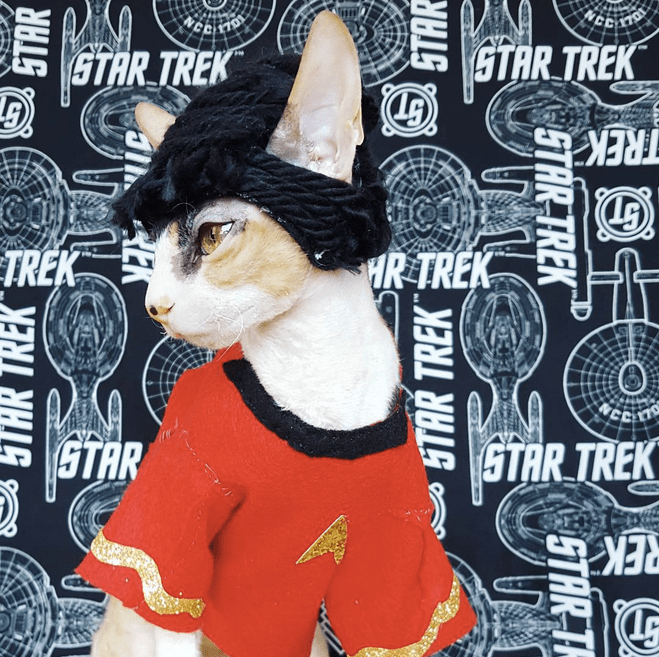 For more of Bea and Michelle's incredible costumes, be sure to follow them on Facebook or Instagram.
---
Read more posts about cats
• 10 comics every cat owner will relate to
• What to consider before fostering kittens