Bruce (left) and Wayne (right)
Bruce & Wayne are two very special tabby cats. Just look at them: they're utterly lovable! They also live with vision impairment and draw on their other senses to cope, live and have fun.
They're currently staying in a foster home organized by Hopalong & Second Chance Animal Rescue in Oakland, CA, looking for a forever home.
Bruce has cataracts in both eyes, and Wayne has no eyes due to an infection as a kitten.
Bruce is about 6 years old and an explorer of nature. He is very curious. He is very playful with his brother Wayne and enjoys new toys when possible. He will slowly seek out new areas to explore but will never leave the comfort of his playground. He seeks affection when he's comfortable but often doesn't desire too much. Bruce loves wet food and treats.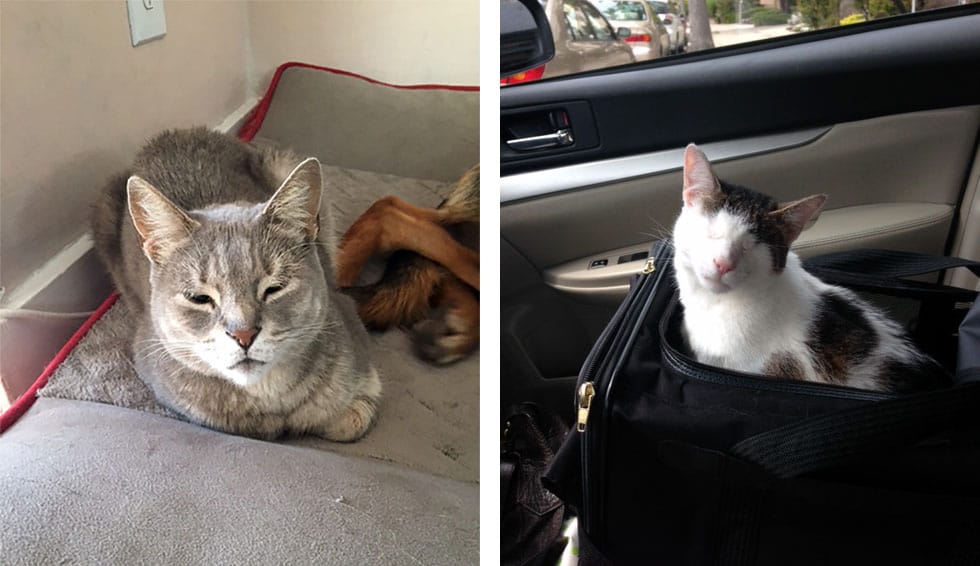 Bruce (left) and Wayne (right)
Wayne, meanwhile, likes to remain within his known boundaries. He works very hard not to put himself in harm's way. He loves to play with things that sound smaller than himself and will pounce at the opportunity for a good time.
He enjoys a great deal of love and affection during sleep time. He is also about 6 years old. He loves running water and will be the first one to the shower to drink when the faucet is turned on. He enjoys half a bowl of wet food, with a little water added to stay hydrated.
Both cats also have feline cerebellar hypoplasia, which does not affect their day-to-day life. Bruce & Wayne live with a dog and get along great with him. They will require a home with a comfortable space and easy access to a confined outdoor area.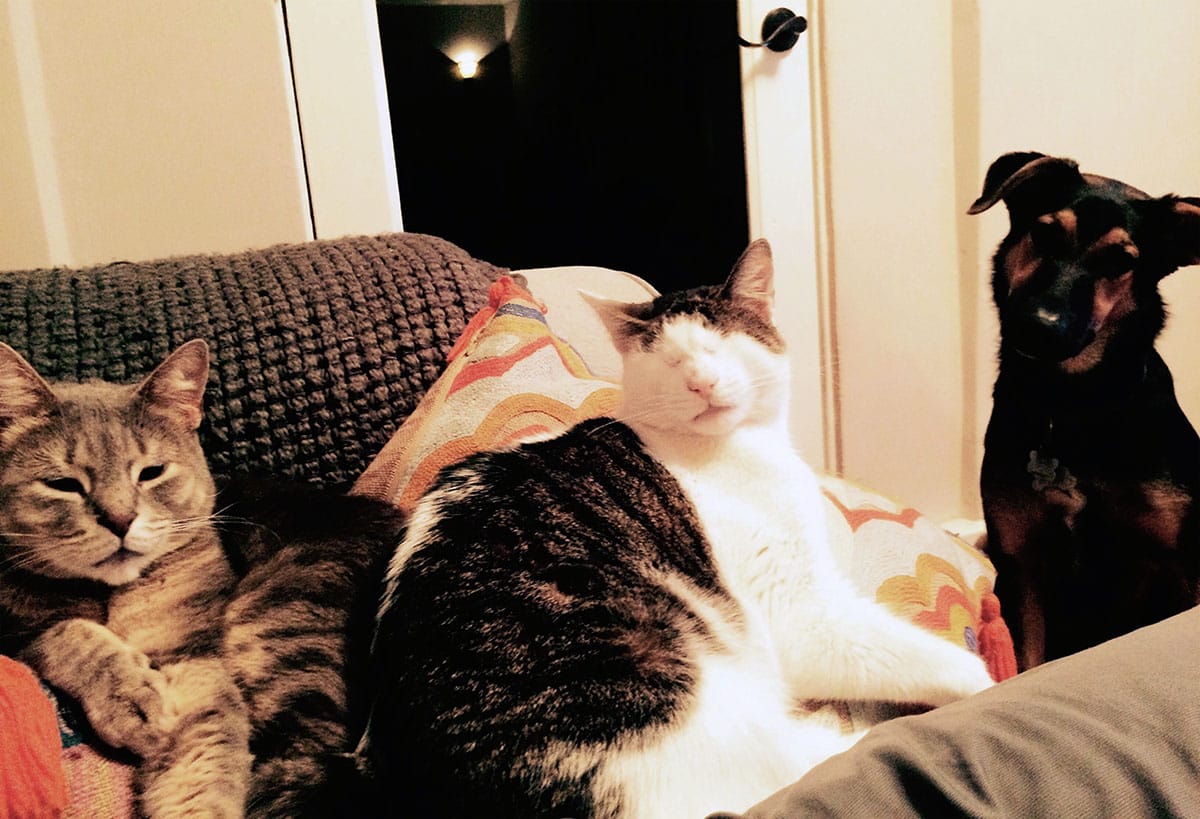 Bruce (left), Wayne (middle), and their dog friend
We encourage you to share this moving story so these deserving felines can find a permanent, loving home. Don't forget about all of the benefits of living with a cat and how Petcube can help to care for a cat.
Hopalong & Second Chance Animal Rescue is one of many Petcube for Shelters partners making a big difference today. They are committed to eliminating the euthanasia of adoptable animals in Northern California through adoption and prevention services.
Working with our partners at shelters in all the Bay Area and Central California counties, Hopalong identifies and removes animals at risk of immediate euthanasia and facilitates their adoption into loving homes.
Get social with Hopalong & Second Chance Animal Rescue:
Partners in the Petcube Rescue Program can get their stories featured by e-mailing shelters@petcube.com. If you're interested in becoming a partner, learn more by visiting our website. Get the word out, and share our story.
Was this article helpful?
Help us make our articles even better