Bestselling pet camera maker will co-host a record gathering of dogs with SF SPCA and innovative pet brands Pod and Fuzzy.
San Francisco, CA — July 21, 2017 — Petcube is co-hosting its first annual Petcube Rescue Block Party on Saturday, July 22nd together with the San Francisco SPCA, pet GPS tracker and activity monitor maker Pod, and in-home veterinary care service Fuzzy. This event officially kicks off Petcube's partnership with the SF SPCA. The Petcube Rescue Block Party will be the first-of-its-kind Guinness World Record attempt of most rescue dogs in a single gathering. Pod, Fuzzy and Petcube have all come together with the common goal of supporting animal welfare and pet rescue.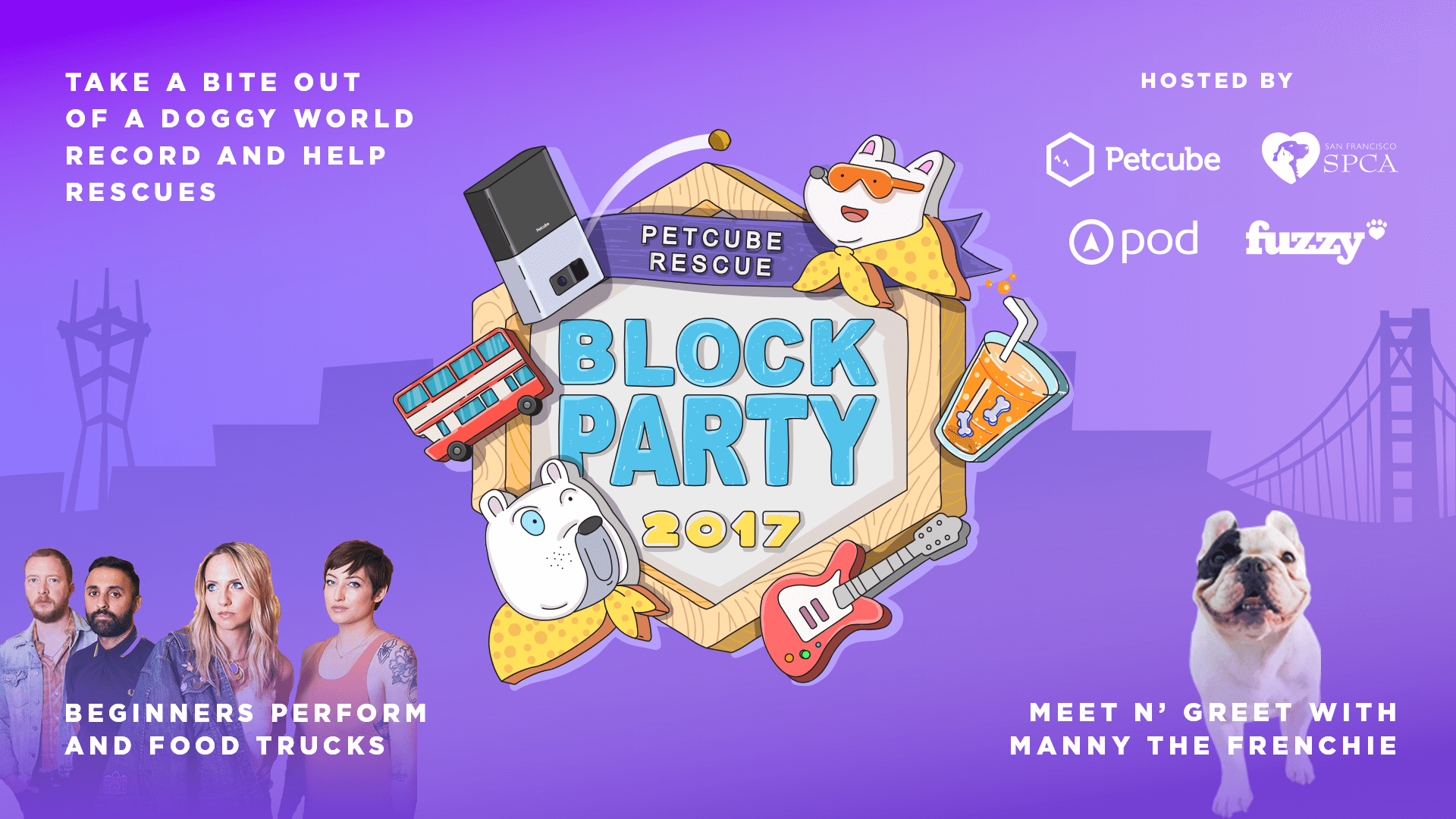 The photo opportunity will take place at Spark Social SF, an urban park located in the Mission district. Aerial photography and video coverage of the record attempt will commence at 1PM Pacific Time on July 22nd. Petcube will co-host a number of fun and informational pet-related activities, and demo the Petcube Bites treat camera to the public for the first time. Attendees will have a chance to bond with adoptable puppies at the SF SPCA cuddle lounge, and Fuzzy will host Ask-a-Vet sessions and provide free Wellness exams.
Internet-famous Manny the Frenchie, a rescue himself, will be a co-Master of Ceremonies. Other SF Bay area pet celebrities will make special appearances throughout the daytime event, along with live performance from acclaimed band BEGINNERS. RSVP is required and all ticket sale proceeds from the Eventbrite will support SF SPCA and area rescues.
Since Petcube's founding, the company has helped shelter and rescue organizations across the country by donating camera devices and resources to help increase adoptions. Through its Petcube Rescue Program, the company has set up public camera sharing capabilities to enable anyone with the free Petcube App to interact and play with adoptable shelter pets.
Petcube Bites, planned for release on July 24th, is the most advanced pet camera on the market with remote monitoring and treating capabilities, 1080p live streaming video, high capacity container, and automatic treat reordering via the Petcube app.
Here are some of San Francisco's most popular Internet pets that are planning to come:
Petcube
Petcube is reimagining pet care, and makes the best-selling pet cameras and software, connecting people to their pets. Their products enable people to see, talk, play, and treat pets remotely while keeping pets safe and healthy. Petcube products are available in over 18 countries and sold in over 2,500 retail locations, including Best Buy, Petco, Bed Bath and Beyond, in addition to Amazon. The company is headquartered in San Francisco, CA, with offices in Kyiv, Ukraine and Shenzhen, China. For more information visit the Petcube website, and follow us on Twitter, Facebook, Instagram and YouTube.
San Francisco SPCA
The San Francisco SPCA is an independent, community-supported, non-profit animal welfare organization dedicated to saving, protecting and providing immediate care for cats and dogs who are homeless, ill or in need of an advocate. The SF SPCA also works long-term to educate the community, reduce the number of unwanted kittens and puppies through spaying and neutering, and improve the quality of life for animals and their human companions. The organization does not receive government funding and is not affiliated with any national organization. For more information about San Francisco pet adoption, call the SF SPCA at (415) 522-3500 or visit sfspca.org.
Pod Trackers
Pod is taking you one step closer to a world where you don't have to worry about your pet with the Pod 3 GPS Pet Tracker and Activity Monitor. The Pod allows you to track your pet both indoors and outdoors and set up virtual fences so you receive escape alerts directly to your phone. You can also monitor your pet's activity and record their adventures to ensure they're staying fit and friendly! With headquarters in Santa Monica, CA and offices in Australia and the UK, Pod is bringing peace of mind to pet owners to over 175 countries across the globe. For more information, visit podtrackers.com.
Fuzzy
Fuzzy is a pet health company with a mission to make it easier for pet parents to keep their pets healthy. Our membership model includes world class in-home veterinary care delivered by hand-picked vets, features such as Ask-a-Vet telemedicine, electronic health records, and a personalized pet health program. In addition, a Fuzzy membership includes all flea, tick and heartworm medication to ensure that your pets get all the basic care they need. Follow Fuzzy on Twitter, Facebook, and Instagram.