New treat experience allows pet parents to interact with their fur babies while away through advanced treat flinging, gaming and camera capabilities
San Francisco, CA — July 20, 2017 — Petcube, leader in the connected pet category, today announced the commercial release of Petcube Bites, its third interactive pet camera that creates a new treat experience between pets and owners.
Petcube Bites treat cam, available for purchase on July 24, can fling treats varying distances, and comes with a high-capacity two-pound container that automatically tracks treat volume. When the supply gets low, users are notified and can reorder treats instantly via the Petcube app. The device features advanced camera capabilities including 1080p HD video, 138-degree wide angle lens, night vision, digital zoom, 24/7 video cloud recording, sound and motion alerts, and two-way audio for real-time chat.
Petcube Bites is controlled through the Petcube app, which allows owners to see, talk and interact with their pets remotely. It also gives them the option to share real-time video access to their pet with friends, family, or even members of the Petcube community. Additionally, device owners can post livestream videos of their pets on their Facebook page via the app.
"Petcube Bites is the most innovative product ever built for pet parents, as it allows people to bond and reward their pets remotely," said Yaroslav Azhnyuk, CEO and co-Founder of Petcube. "We're also excited to team up with leading pet brand Wellness Natural Pet Food and the SF SPCA for the launch. From day one, our goal has been to provide the best products for pet owners and improve lives of pets around the world."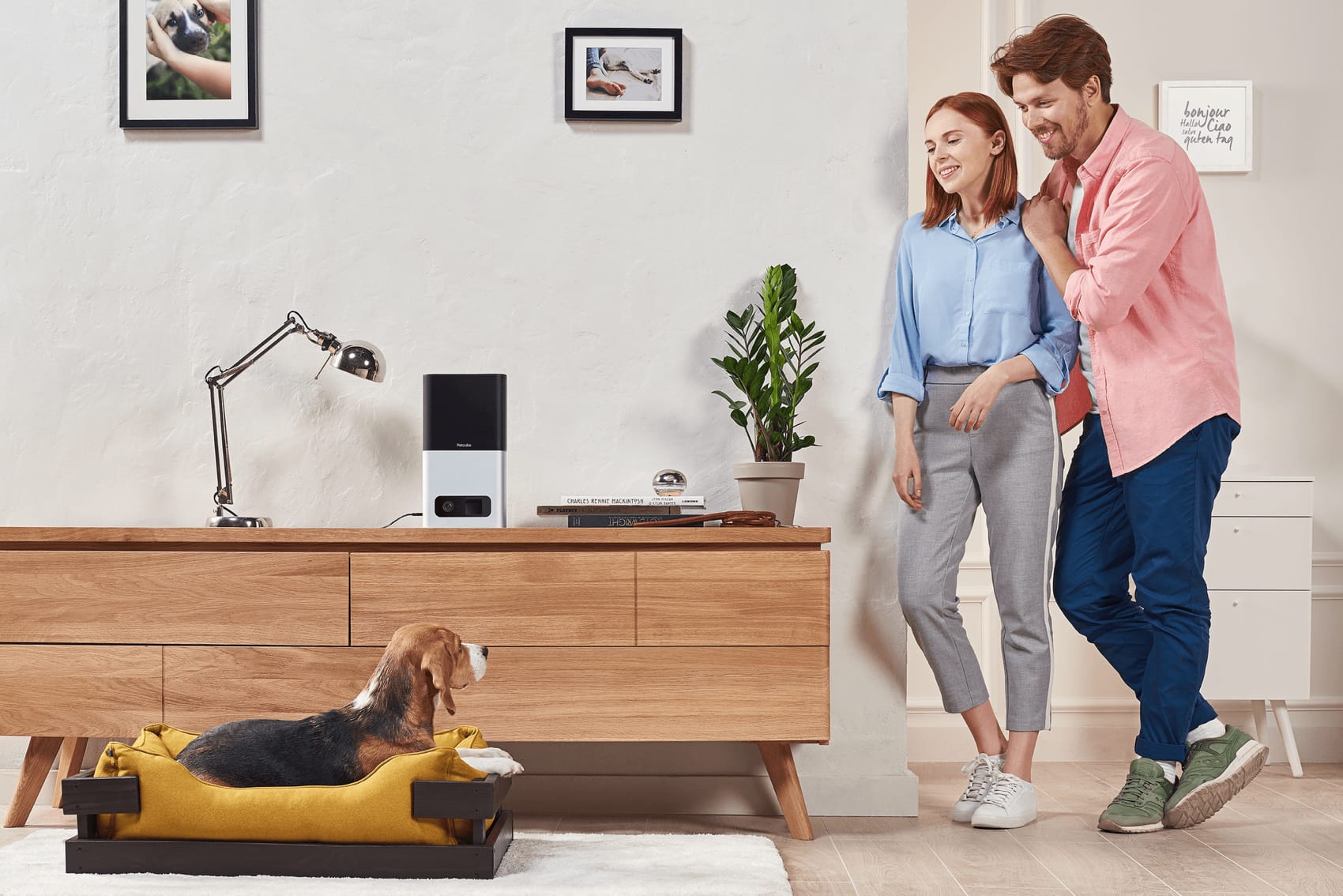 To introduce owners to healthy treats for their pets, Petcube partner, Wellness®, the leading natural pet food brand and maker of popular dog and cat treats, will provide treats with every Petcube Bites purchase. In addition to Wellness, owners have the flexibility to buy their preferred treat brands that are compatible with the device.
"We're excited to partner with Petcube to offer pets the opportunity to bond with their pet parents remotely with healthy, tasty treats," said Lisa Laich, Vice President of Marketing at Wellness. "Like Petcube, we're passionate about giving back to pets in need. Through our WellPet Foundation, we provide support to pet rescue organizations across the country, donating time, money and healthy natural food."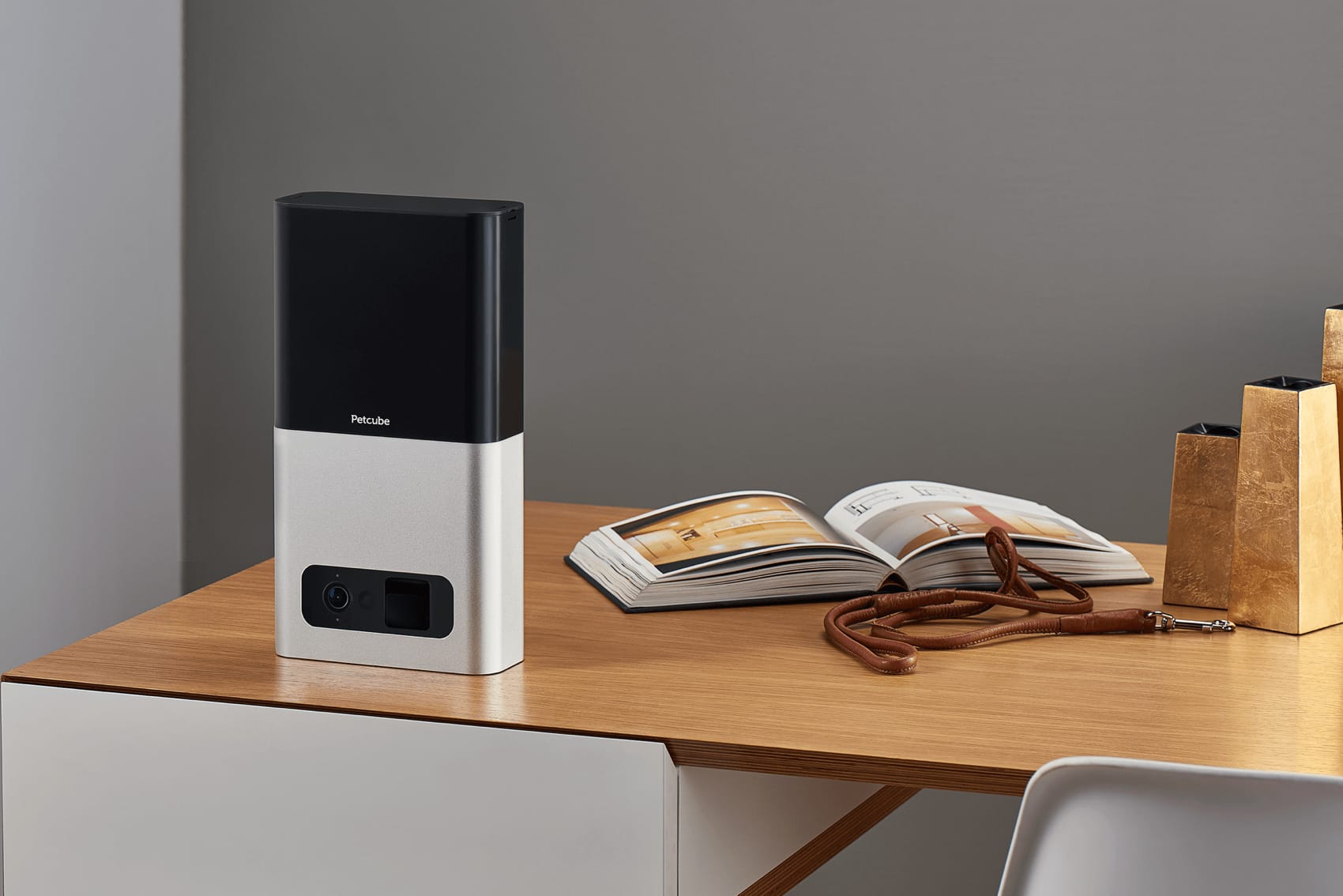 Petcube has also teamed up with the San Francisco SPCA to broaden the scope of its social mission in support of rescue causes. Petcube is donating Petcube Bites cameras to the San Francisco SPCA, providing staff training and resources, and creating adoption kits to help new pet parents get the best care for their pets.
Through its Petcube Rescue Program program and now with the SF SPCA, the company sets up public camera sharing capabilities to enable anyone with the free Petcube App to interact and play with adoptable shelter pets. Petcube will continue its commitment to helping shelter and rescue organizations increase adoptions.
Since the launch of its first pet camera in 2013 on Kickstarter, Petcube has established a community of more than 100,000 pet parents that spend an average 50 minutes of video time per week, and connect with their pets an average of eight times per week.
Petcube Bites, compatible with iOS and Android devices, will be available for $249 USD starting July 24 on Petcube.com and Amazon.com, and will come to major retailers including Best Buy, Petco and Bed Bath and Beyond. At launch, it will be available in Matte Silver, and future colors include Carbon Black and Rose Gold coming in the Fall. For international markets in Europe, Australia and Japan, commercial distribution will roll out later this year. To learn more about Petcube Bites, visit: petcube.com.
Photo Opportunity - World Record Setting Event in San Francisco, July 22nd
Petcube will be celebrating the launch of Bites at its first annual Petcube Rescue Block Party
on Saturday, July 22nd at Spark Social SF. For the event, Petcube has teamed up with the San Francisco SPCA, pet activity tracker company Pod, in-home veterinary care Fuzzy, and Internet-famous French bulldog (and rescue) Manny the Frenchie to raise awareness and set a first-of-its-kind Guinness World record of most rescue dogs in a single gathering. Ticket sale proceeds will support SF SPCA and area rescues. You can RSVP for the event, here: Eventbrite.
Petcube
Petcube is reimagining pet care, and makes the best-selling pet cameras and software, connecting people to their pets. Our products enable people to see, talk, play, and treat pets remotely while keeping them safe and healthy. Petcube products are available in 18 countries and sold in over 2,500 retail locations, including Best Buy, Petco, Bed Bath and Beyond, in addition to Amazon. The company is headquartered in San Francisco, CA, with offices in Kyiv, Ukraine and Shenzhen, China. For more information visit the Petcube website, and follow us on Twitter, Facebook, Instagram and YouTube.
Wellness® Natural Pet Food
At Wellness, we're a family-owned company of pet parents on a mission to raise the bar in pet food, because we believe the right choice at mealtime forms the foundation of a long, happy life together. That's why we do things the right way, not the easy way—we are 100 percent focused on natural nutrition all the time, crafting our pet food and treats recipes that are carefully sourced and thoughtfully prepared. That means we use the finest, natural ingredients, ensure the highest quality standards, and create delicious recipes pets crave to make every mealtime count. Like you, we know that our pets provide us unconditional love, and providing uncompromising nutrition is one way we can do the same for them. To learn more about Wellness Natural Pet Food, visit wellnesspetfood.com and Facebook.com/WellnessPetFood, and find Wellness on Instagram, Twitter and YouTube: @wellnesspetfood.
San Francisco SPCA
The San Francisco SPCA is an independent, community-supported, non-profit animal welfare organization dedicated to saving, protecting and providing immediate care for cats and dogs who are homeless, ill or in need of an advocate. The SF SPCA also works long-term to educate the community, reduce the number of unwanted kittens and puppies through spaying and neutering, and improve the quality of life for animals and their human companions. The organization does not receive government funding and is not affiliated with any national organization. For more information about San Francisco pet adoption, call the SF SPCA at (415) 522-3500 or visit sfspca.org.
For Media
Online Media Kit: petcube.com/mediakit
Press Inquiries: media@petcube.com