Bestselling pet camera maker reimagines pet care with an advanced treat cam, and next-generation interactive pet cam, designed for real-time rewards and play
SAN FRANCISCO — July 19, 2016 — Today, Petcube announced two new camera products, Petcube Bites and Petcube Play, launching a Kickstarter campaign (https://www.kickstarter.com/projects/petcube/petcube-bites-petcube-play-treat-and-care-for-pets). Both cameras are available now through Kickstarter at special pre-order prices.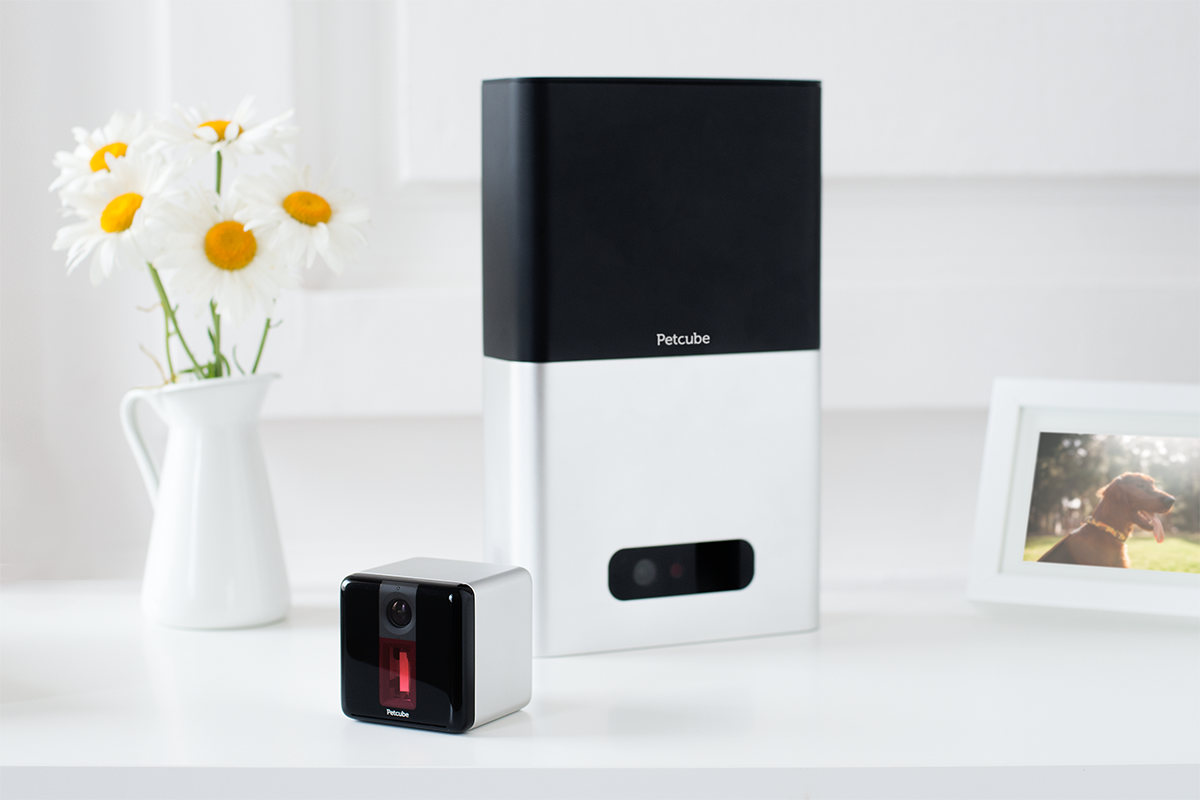 Petcube Bites is an all-in-one interactive treat cam, which creates a rewarding treat experience for owners and their pets. Petcube Bites is designed to help pet parents care for their pets remotely, treat and reward them. Using the Petcube app, with the tap of your finger, flying treats from your smartphone. Advanced features include clear 1080p HD video, 3x digital zoom, night vision, and automatic reorder support with Amazon Dash Replenishment. Owners can interact in real time with their pets via two-way audio, and even leave personalized messages when dispensing treats. Petcube Bites leverages built-in sensors to track when treat volume is running low to trigger an automatic reorder via Amazon Dash Replenishment if customers register their device for this service.
Petcube Play is the next-generation of the Petcube Camera, the #1 best-selling pet camera on the market, redesigned and more compact in size. The interactive pet cam promotes real-time play and exercise with an optimized laser toy, and autoplay mode enables regular playtime when owners' busy schedules get in the way. Petcube Play also comes with advanced camera features, including 1080p HD video, 24/7 video recording, 3x digital zoom, two-way audio, sound and motion alerts, and night vision.
Both products will come with a trial subscription to Petcube Care, a new video cloud recording service coming soon. Petcube Care will provide 10 or 30 days of cloud recorded history, and work with any Petcube device. The service is designed to give owners added peace of mind that their pets are safe when they're away from home. Subscription will start at $10/month, or $100/year for 10 days of history. For 30 days of history, the subscription plan is $30/month, or $300/year. Kickstarter backers will receive an exclusive 3-month free trial to Petcube Care when they back either product.
"As pet parents ourselves, we want to see products for pets that are designed with as much care as products for people. We're looking into what's possible with technology and creating innovative products that connect people and their pets. I believe 5 years from now, most pets will be connected through technology," said Yaroslav Ahznyuk, CEO and Co-Founder of Petcube.
This marks the second time Petcube has turned to the crowdfunding platform, Kickstarter, to help launch their products. The first generation Petcube Camera was successfully funded on Kickstarter in 2013, and since then the company has gone through Y Combinator, and expanded their offices in San Francisco, Kyiv, Ukraine, and Shenzhen, China.
"We were born on Kickstarter in 2013 and since then, the community has been instrumental in our progress. We're excited to continue creating the future of Connected Pet together with all the pet parents." continued Ahznyuk.
Full details regarding Petcube Bites and Petcube Play can be found on the Kickstarter page (http://petcu.be/bitesandplay). Petcube Bites MSRP is $249 and Petcube Play is $199. The regular price of the first generation Petcube Camera has been reduced from $199 to $149, available at Petcube.com and participating retailers.
###
About Petcube
Petcube is reimagining pet care. We are dedicated to improving the lives of pet parents and their pets through technology. Petcube products include Petcube Camera, the #1 best-selling interactive pet cam with built-in laser toy, and new product lineup of Petcube Play, the next-generation interactive pet cam, and Petcube Bites, an interactive treat cam. All three products enable pet parents to see, talk to and have fun with their pets from their smartphone anytime, anywhere. Petcube is headquartered in San Francisco with offices in Kyiv, Ukraine and Shenzhen, China. For more information, visit
petcube.com
and follow on
Twitter
,
Instagram
,
Facebook
and
YouTube
.
For Media
Media wishing to interview Petcube personnel or demo the new products should contact PR agent Jackson Wightman at jackson@properpropaganda.net or (514) 605 9255.
Please visit our online media kit (https://petcube.com/mediakit/) for high-resolution photos of Petcube Bites and Petcube Play.
Media Contact
Jackson Wightman
Proper Propaganda for Petcube
jackson@properpropaganda.net
+1 514 605 9255
Brad Wells
Petcube, Public Relations
media@petcube.com