You may bike to work and choose an energy-saving light bulb, but how green is your pet? Family animals produce a heavy carbon pawprint. This means, as pawrents, we have a bigger environmental impact on nature than people without pets. Being a responsible pet parent comes with the understanding that the way we treat our fur kids, how we feed them and clean up after them affects our planet a lot.
By adopting a few easy, sustainable practices in the way we care for our furry companions, we would support a healthier pet and planet.
As Earth Day is approaching, take these 5 simple steps to reduce your pet's environmental pawprint and become an eco-friendly pet parent.

Where do I start?
The easiest way to show your commitment to the environment by being mindful of what you purchase for your pet. It's a good idea to buy high quality products like toys, bowls, collars, leashes and others made of sustainable, recycled materials. They last longer and reduce waste long term.
Does My Pet Have To Go Vegan?
We want the best for our fur babies, especially when it comes to food and nutrition. Yet, the best pet foods are meat based, and meat production takes up a lot of precious resources. But your pet doesn't have to go vegan to go green. You can buy organic products and products from locally raised animals.
Organic, chemical free food is not only better for your dog or cat, but the earth as well. Alternatives to consider are making your own dog food or buying locally produced products. Buying pet food and other pet supplies in bulk is another way to cut down on packaging and increase savings.
Why Is My Pet's Waste Harmful To The Environment?
Your pet's poop is a problem. The risk from your pup's doo can be more than just a mess on your shoes. Dogs can harbor lots of viruses, bacteria, and parasites that poison the environment. While cats may take care of their own 'business', kitty litter is a huge source of waste. Common cat litter is made of clay. It must be mined, which causes a lot of damage to the environment.
Cleaning after your pet solves the problem only partially. Landfills overflow with nonbiodegradable bags containing dog waste and kitty litter. If you really want to make a difference, look for biodegradable bags and litter made from recycled materials. Composting pet poop is best, in a pet-waste composter. Just make sure to separate it from your vegetable garden.
What Can I Donate?
We all have pet products that our pets outgrew or don't use anymore. Instead of throwing them out and adding up the waste, why not donate to your local shelter? Shelters often need items such as bedding, leashes, litter boxes, towels, and toys. Don't discard used pet supplies - check with your shelter to find out whether it can be put to use.
Adoption Is An Earth-Friendly Alternative
If you're thinking of bringing home a pup or a kitten or extending your furry family, consider adopting a pet. Many dogs and cats at your local shelter are in need of a home. Choosing to take home a puppy or a kitten or adopting a senior pet helps save an animal, but it can also help overburdened shelters reduce costs and preserve their often very limited resources.
This Earth Day, what are you and your pet doing to give back to Mother Nature?
Petcube is a smart pet camera designed for pet parents to stay connected to their pets. With a commitment to reimagining pet care, Petcube continues to drive innovation in the Connected Pet space and is gearing up for the forthcoming commercial release of its interactive treat cam, Petcube Bites.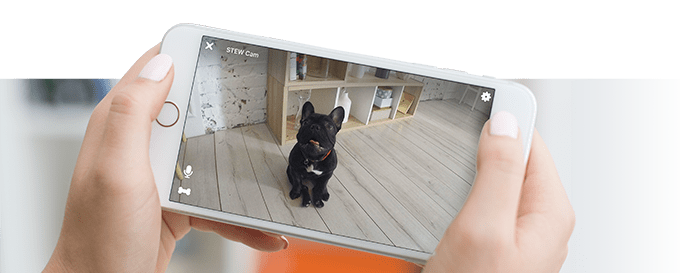 Was this article helpful?
Help us make our articles even better