While there is no substitute for spending quality time with your pup, the right app can help you do more together or, if you're away, find someone else to do it for you. If you've got a pup, these apps for dog owners may make your life easier and your time with the pooch even better.
There is an app for absolutely everything today. And with so many available, choosing the best ones is a hard task. Here's a list of 15 apps for dog owners that might be just what you need. And the best part, they are absolutely free.
Rover
There are times when you just can't bring that fluffy ball of love with you. The Rover app connects dog owners to hundreds of dog sitters in your city across the U.S and Canada that will watch your dog when you can't. They offer dog boarding, dog walking, house sitting, or doggy daycare. Through the app, dog parents can get adorable photo updates, GPS tracking of your dog's walk, an easy way to message sitters or manage your business, and a secure way to book and pay. You can even get updates from your dog… well, from the sitter.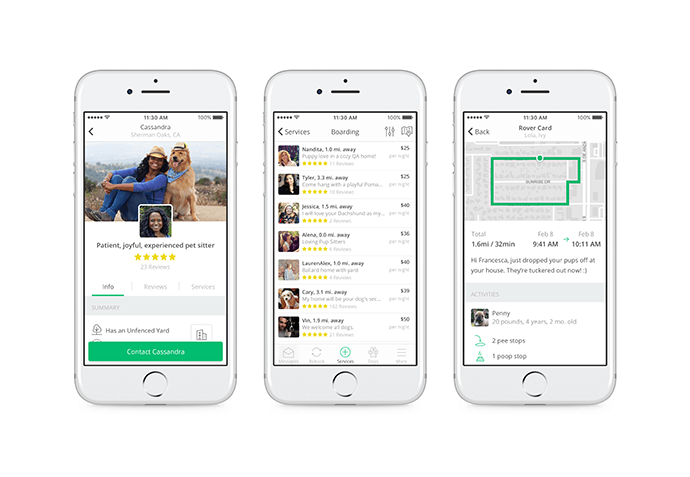 Wag!
Wag! is another app for busy dog owners. It gives you access to a network of Wag! certified dog walkers in your local community to book private dog walking, sitting or boarding services 7-days a week. You can get a dog walker at your convenience or set up a recurring walk schedule. And if your pooch is rumbustious, you can have a dog walker arrive in as little as 15 minutes. Plus, dog owners can track their dog's walk on a smartphone in real time, get a pee/poop notification or even request a live video feed. The great news is every mile Wag! walks a dog, they donate one meal of nutritious, wholesome dog food to a shelter pet in need through Rescue Bank.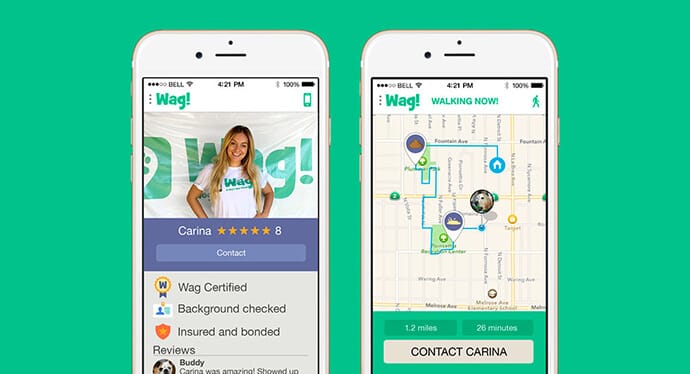 Walk For A Dog
Walk your dog and help out animal shelters with Walk For A Dog, an exercise tracking app for dogs that records your pup's walks and sends a donation to a participating animal shelter of your choice. Users create a profile for their dog, select from more than 7,000 shelters and rescues to support, and then log their dog walks with the app, with your smartphone's GPS sensors recording how far you've walked.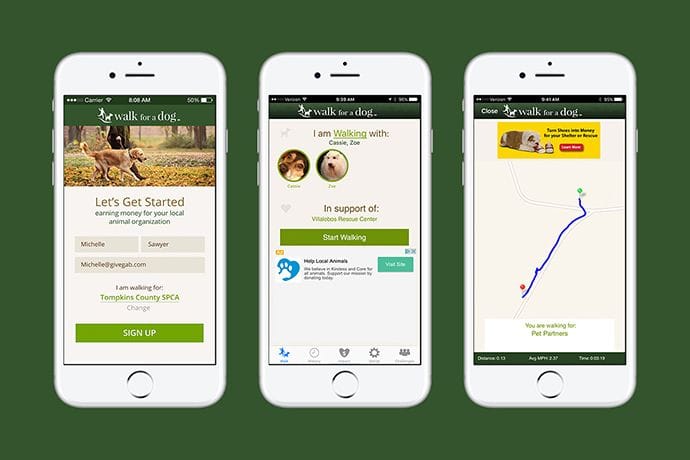 BarkHappy
New in town? BarkHappy location-based app helps dog owners сonnect with nearby pet parents to set up doggy playdates, as well as dog-friendly restaurants, bars, hotels, and parks, attend dog-centric events, and get lost and found alerts for nearby pups. BarkHappy is available nationwide.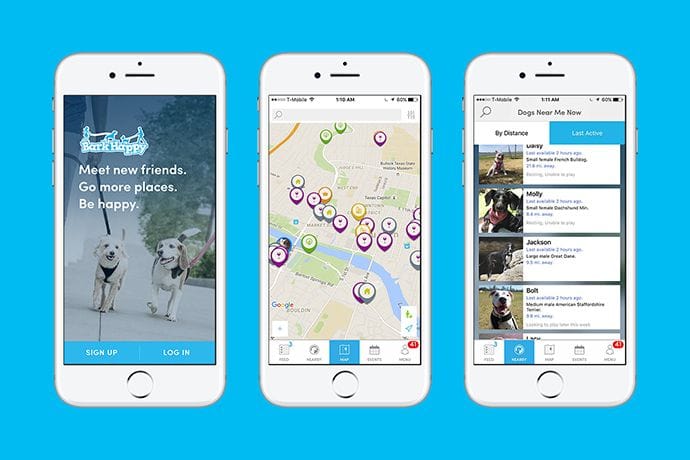 Twindog
Inspired by Tinder, Twindog is another location-based app that lets you find other dogs (and their owners) around you, giving you and your canine the opportunity to make friends. All you need to do is take a photo of you and your dog, upload and begin swiping. Once you've matched with another dog owner, you can chat, share photos with one another, and make a date for all four of you.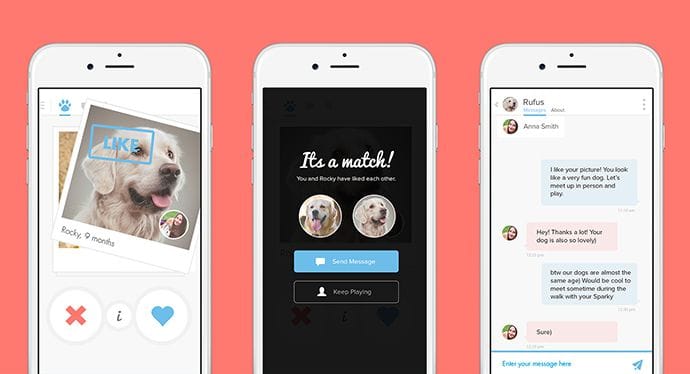 Petcube
Designed for pet owners to connect with their Petcube pet camera remotely, the app has become a full-scale social networking tool for pet parents around the world. Anyone can download the free Petcube app to browse and publish adorable pet pics and videos and even play with real pets around the world. The recent update has allowed users to add hashtags and mentions to share the special moments with their fur kids even more widely.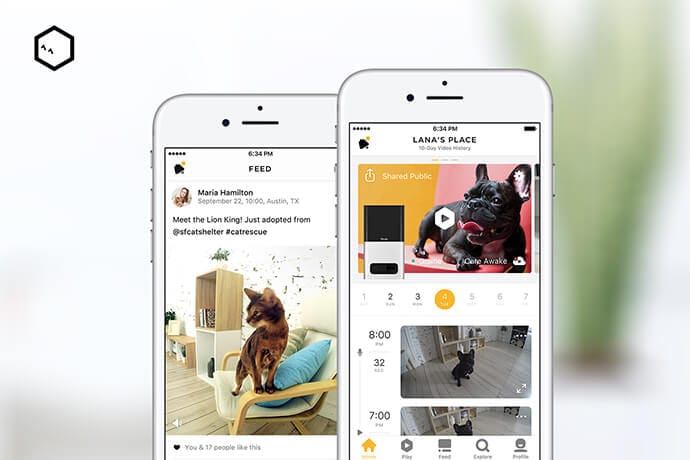 BringFido
This is an app for dog owners parents who can't imagine traveling without their pooch, even overseas. BringFido app helps find dog-friendly hotels, restaurants, parks, beaches, and dog events worldwide. The app allows you to filter out hotels that have pet size or breed policies, and can even let you find hotels that don't have a pet fee. And you can book straight through the app.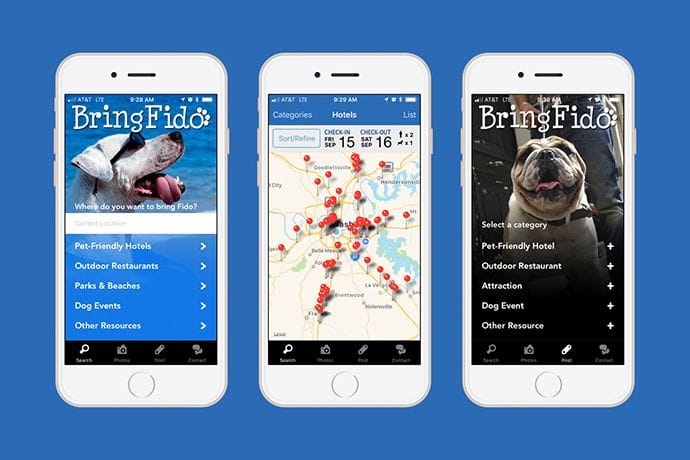 PetCoach
Every dog owner has questions, and the PetCoach app provides trusted answers to everyday questions about your pet's wellness. Whether it's about diet, training, or anything else, PetCoach's verified vets and experts can give you answers anytime, completely free. You can ask questions privately or get a hint from the public answers provided in the past. Just keep in mind that PetCoach is not a substitute for regular veterinary care. If you think your dog requires urgent care, please contact your local veterinary hospital immediately.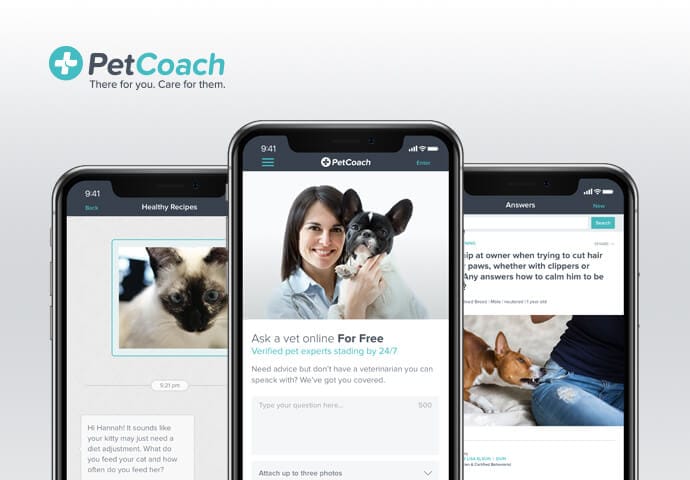 PetDesk
PetDesk app connects dog owners with their pet care providers to efficiently manage pet health. Connect with your local participating pet care provider to receive checkup reminders, and book your next visit right in the app. You can also monitor your pet's vaccine history and get pinged when it's time for meds.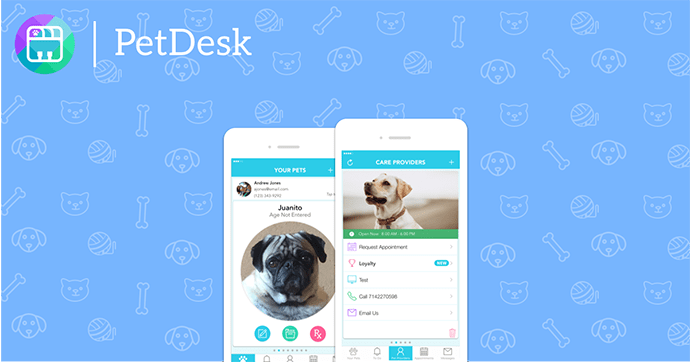 ASPCA Pet Safety
The ASPCA Pet Safety app can help pet owners plan for pet safety during emergencies, natural disasters, and extreme weather. The app presents safety and preparedness hints, suggestions on how to search for lost pets right after emergencies and tools for storing pet information or creating a lost pet kit. You can also take weekly actions to help pets in need across the country!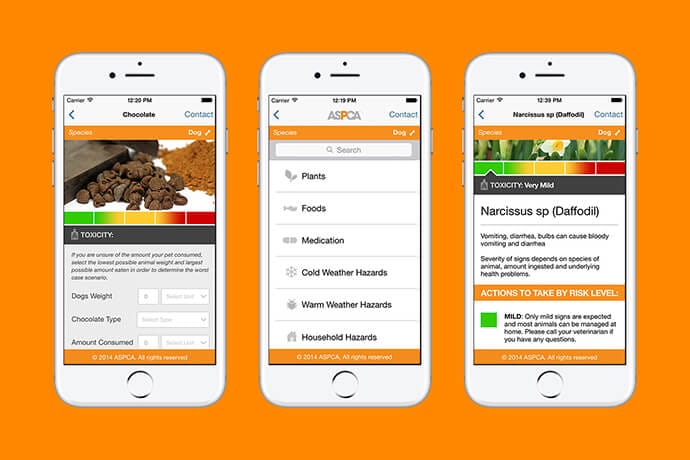 iKibble
You're just about to give your dog a taste of what you're eating, when you wonder, "Is this safe for dogs?" iKibble will let you know. It includes hundreds of foods and lets you search for a specific food. There's even info and advice about feeding your dog specific human foods.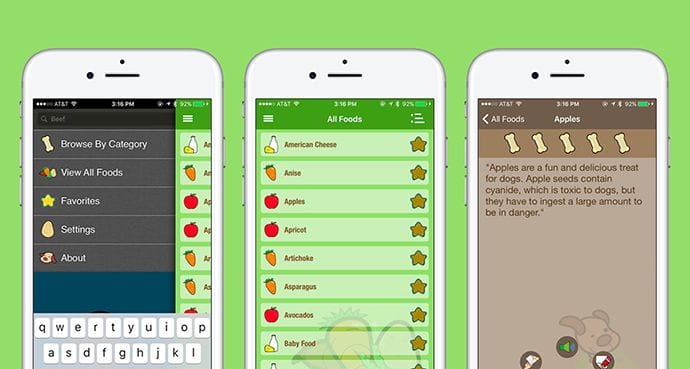 Figo Pet Cloud
Figo Pet Cloud is the first ever mobile app within the pet insurance industry that uses the power of cloud technology. Pet owners can now manage their furry friends' entire life all in one place. With the Figo Pet Cloud app, dog owners will be able to upload and share vital records, certificates, vaccination reminders, pictures, videos and more. Additionally, Figo Pet Cloud will send text, email, and push notifications to owners reminding them of upcoming shots and appointments.

BarkBuddy
If you're looking for a new furry best friend, BarkBuddy can help you find one. This app is created to help you locate pups that are available for adoption in your area. It allows you to browse through thousands of dog profiles, get more information on them, share with friends and save to your favorites. BarkBuddy also provides a graph of the most popular breeds and allows you to choose the size, age, and sex of the animal you like. The app then uses geolocation to pinpoint which dogs are available in your area's shelters.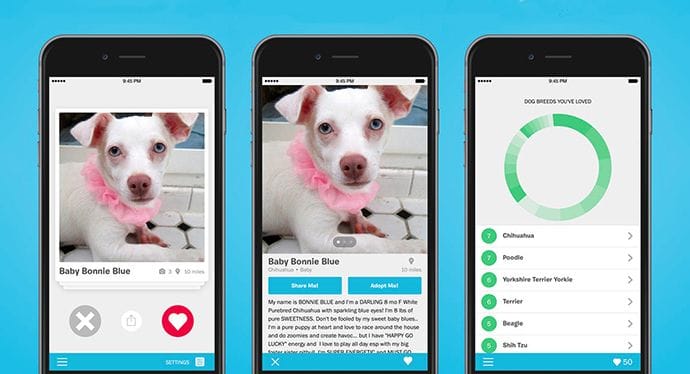 BarkCam
This is a great app for doggy selfies. BarkCam weird sounds are sure to grab your pup's attention and have its tail wagging for a perfect and cute shot. Other features include picture customization using quotes, stickers, filters, and meme text before sharing on social media.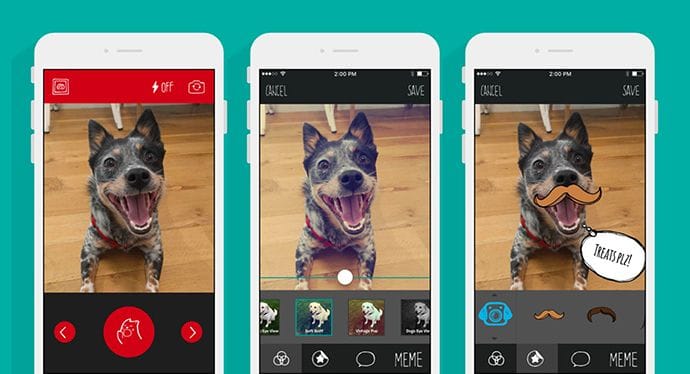 Snack
Ready for your daily dose of doggy cuteness? Snack app sends you cute images of dogs once a day. You get to choose what time a day (right after your alarm goes off maybe?) to have the sweetest high-res dog photos to be delivered in your pocket. And you can even get your dog featured!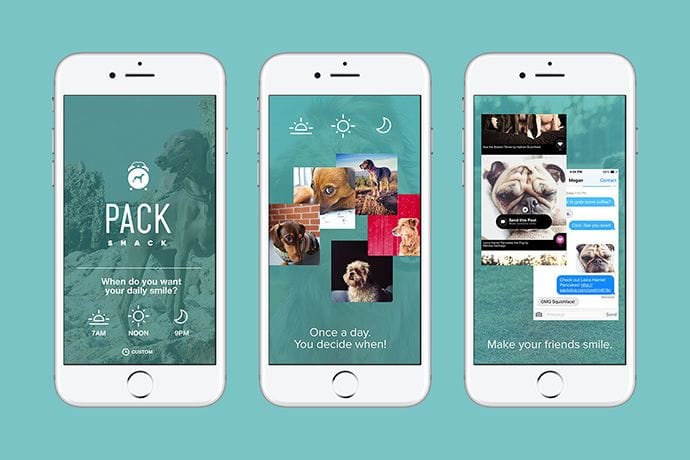 Woofz
Woofz is an award-winning app serving as a right-hand app to every dog owner helping them raise a smart and happy dog. Problem Behaviors Program, special courses with video lessons, dog training activities, tips and tricks, and a doggy calendar are among the multiple features this amazing app offers to its users.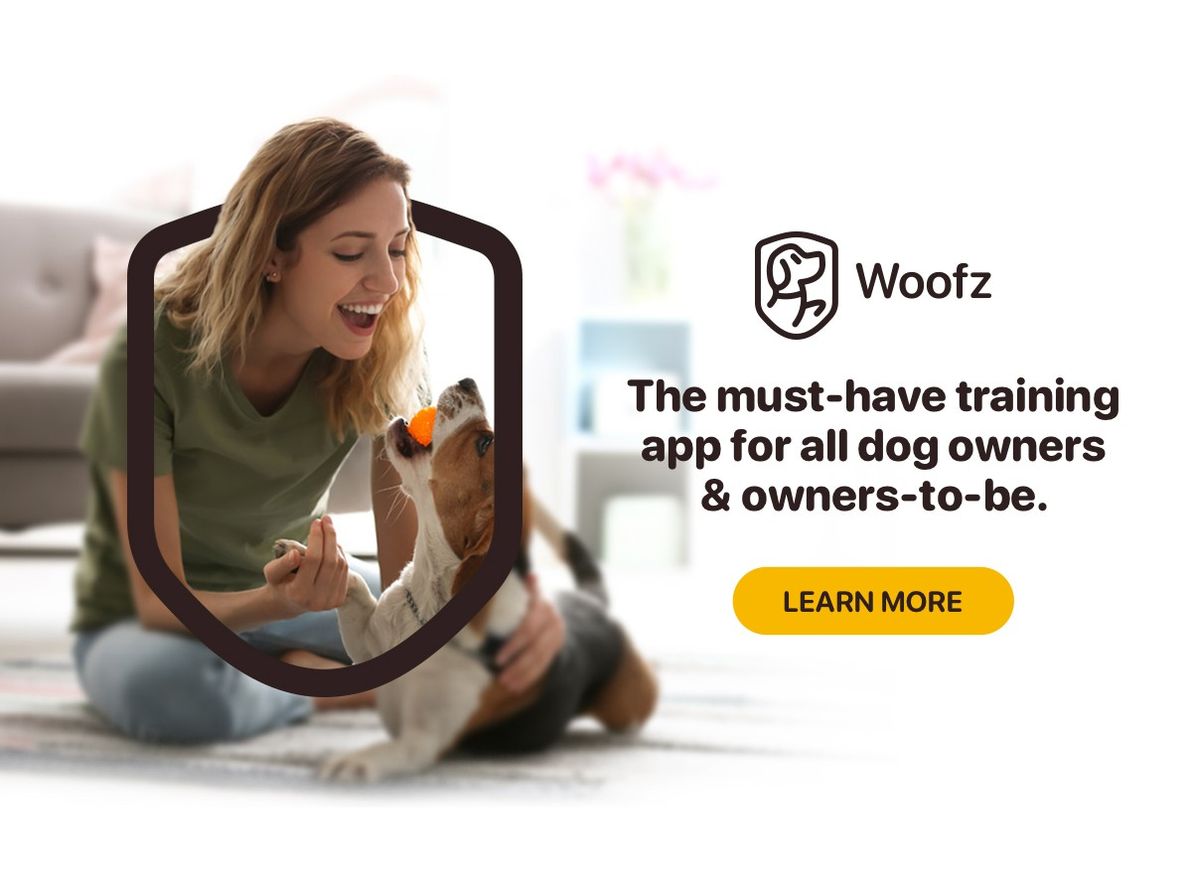 Was this article helpful?
Help us make our articles even better