Generally speaking, most fur parents don't dress up their dogs — except for specific conditions like extremely cold weather. Of course, our animal companions need to protect themselves from the cold.
But, how about clothing options for the warmer months? It's a common misconception that dogs don't need clothes during summer. However, many are not aware that dog clothing also provides protection against the sun and dirt, as dogs go out to train, play, walk, run, or engage in their usual activities.
Aside from sun and dirt protection, these clothes can also keep your dog from certain health issues. For example, they help keep allergies at bay. Generally, clothes can prevent your dog from scratching or licking themselves, which can worsen allergic reactions.
While it seems counter-intuitive to dress your furbaby when the weather is hot, there are special designer dog clothes specially made to keep your pooch from overheating, even in the hottest summer weather.
The best part is that you can show off your cutie in stylish outfits designed for your loved one's comfort and ease of movement. Who said you couldn't make your favorite buddy wear trendy dog clothes?
Doggy sunglasses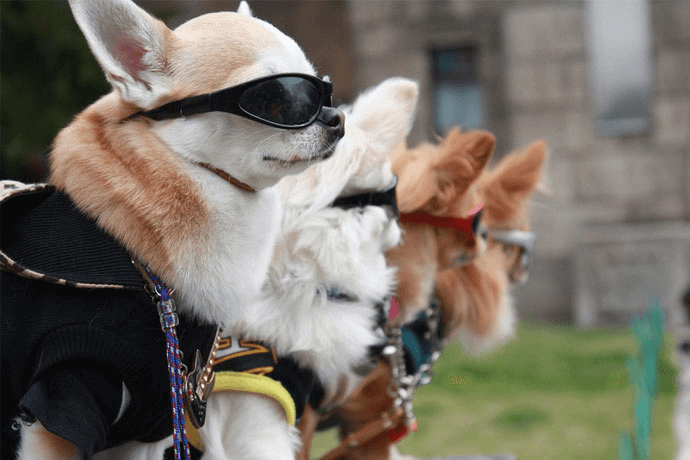 What's more fun and relaxing than spending a fair sunny day outside with your favorite buddy? However, you might be worried about how the sun will affect their eyes.
Generally speaking, dogs don't need sunglasses like humans do to prevent UV light from damaging the eyes. As it turns out, doggy sunglasses can be used to protect your dog's eyes from much more than the sun.
Aside from increasing their range of vision and level of comfort in bright conditions, dog sunglasses can also protect their eyes from dirt, wind, water, branches, and other irritants. And, these glasses are especially useful for old dogs and those with eye problems.
Most of all, these glasses make luxury dog clothes look extra dapper. Who said you couldn't combine function and high fashion?
Bandanas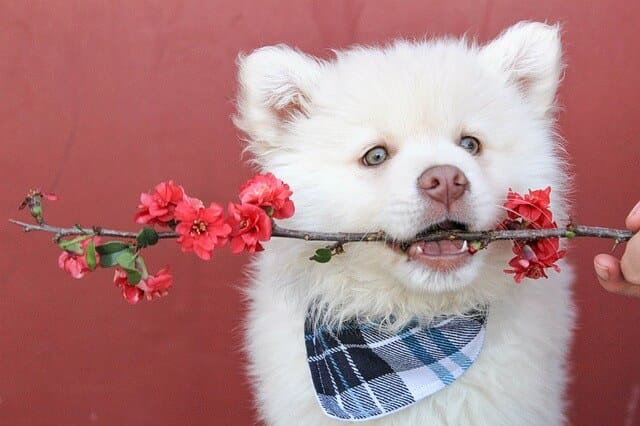 Who would have thought that a simple accessory can deliver instant style effortlessly? In fact, bandanas are the perfect accessory to make your pooch look extra dapper. Your dog can wear them as is or as an accessory to their couture dog clothes.
Bandanas come in different sizes, shades, and patterns, so you'll surely find one to mix and match with your dog's outfit.
Dog booties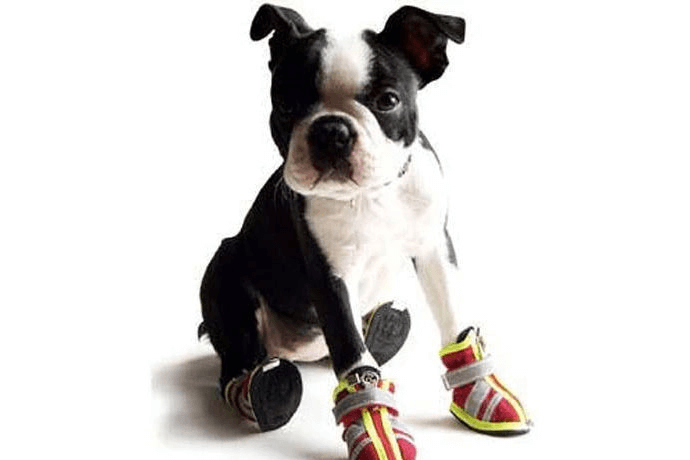 Dog booties are not just practical—they're also quite stylish! Neoprene water-resistant boots or rubber booties are ideal for keeping your best buddy's feet warm during wintertime. For the summer months, on the other hand, you can choose boots with breathable mesh. They provide your dog's paws enough protection from hot pavement. Pair these booties with designer dog clothing, and you have one incredibly adorable fur baby!
Bikinis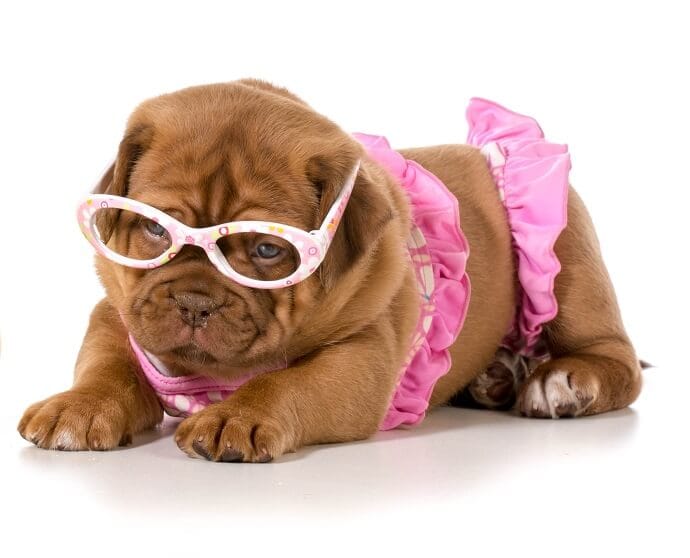 Summer is fun for almost everyone—dogs included! They also love splashing in the water as much as we do. Plus, swimming is a good way for them to get some exercise and cool off during hot days. This calls for channeling your dog's inner diva with a fun and colorful bathing suit.
However, do take note that not all dogs love to swim. Even so, they can still rock their beach body in a pair of cute bikinis. Just make sure that the materials used in the dog designer clothes are durable and safe for small and large breeds alike.
Tank tops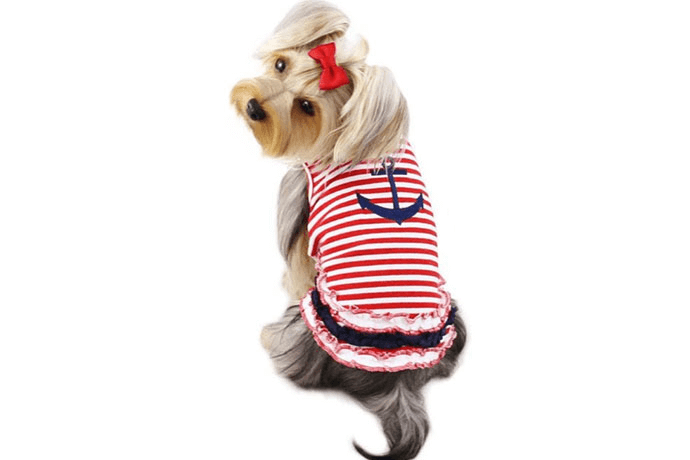 A tank top is a must for everyone during summer. And now you can show off your dog's flirty side with a doggy tank. It's the perfect look for hot tub and pool parties. Together with doggy sunglasses, your pup would be ready for a day on the beach. Pool patrons and beachgoers won't be able to help themselves but gush over your pooch!
When deciding on which tank tops to purchase, make sure that you choose high-end dog clothes that are made from 100% cotton breathable material to ensure the utmost comfort for your pooch.
Hawaiian/floral shirts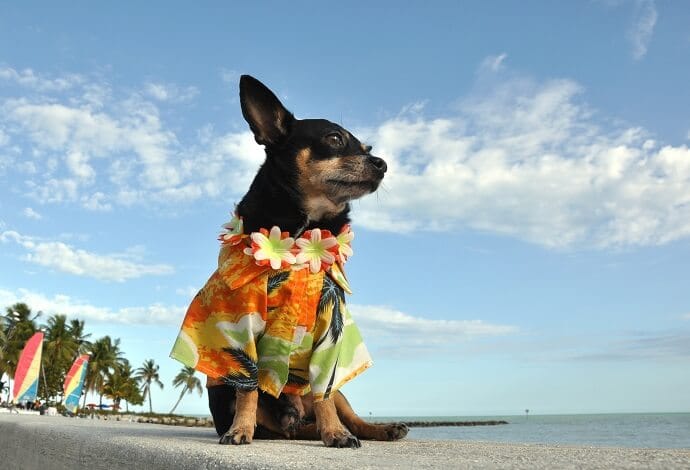 What is summer without a floral shirt? Summer is all about fun and colors. So, what better way for your dog to join in on the fun than by wearing a Hawaiian shirt?
It's also the perfect dog clothing for a Hawaiian themed party or summer barbeque. The pattern of palm trees, blue water, and flowers will surely make your pooch stand out from the crowd. To make it even more fun, why not get a matching shirt for yourself? You and your furry buddy will surely steal everyone's attention with your twinning attire!
Bow ties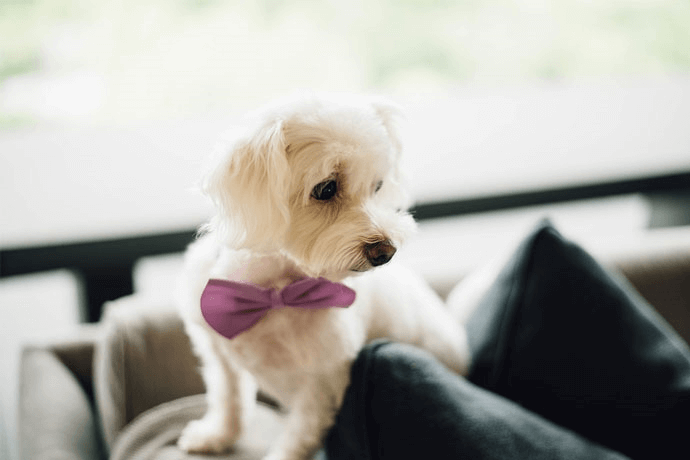 Let your dog's personality shine by accessorizing them with their own doggy bow tie. Ties come in a wide range of patterns, shapes, and sizes. Accessorizing fancy dog clothes with snazzy bow ties can give your dog a spiffier look. Those with a floral print, on the other hand, are perfect for Luaus.
Doggy bow ties are also the ideal accessory for dogs who are more accustomed to wearing collars than dog clothing. Most of these ties come with a loop built in the back, which allows them to be easily used with dog collars.
Day dresses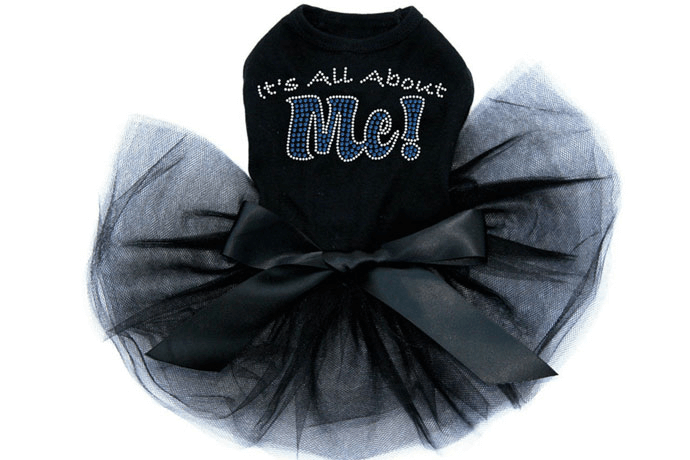 Dog day dresses are perfect for long, warm days. They also look great in photo shoots. Show your fur baby's delicate and feminine side with dog dresses and tutus. Whether they're joining you for a Sunday brunch, an afternoon tea, or a fancier affair, these dresses will keep them looking their best. From punk inspired patterns and frilly tutus to hooded jersey dress designs, quality dog clothing stores will have a design for every dog personality.
Conclusion
Dog fashion is not just utilized for aesthetics. Instead, dog clothing designer garments should be both functional and fashionable. Today, you can find a huge selection of clothes for your pooch, ranging from harnesses dresses to the more sophisticated evening attire.
Who said dogs couldn't be fashionistas? So, keep your dog in mind while watching the highlights from Fashion Week. It's probable that both you and your furry friend may need to update your wardrobe this summer.
Author
Richard Martinez is a writer and a pet lover who loves to share different and new stories among his readers.
Was this article helpful?
Help us make our articles even better