This Halloween take things to the next spirit-level with these 15 spooktacular dog Halloween costumes. From the super-simple but genius, to the crafty but clever, check out these canine costumes that will have you coffin with delight.
1. Spooky-Doo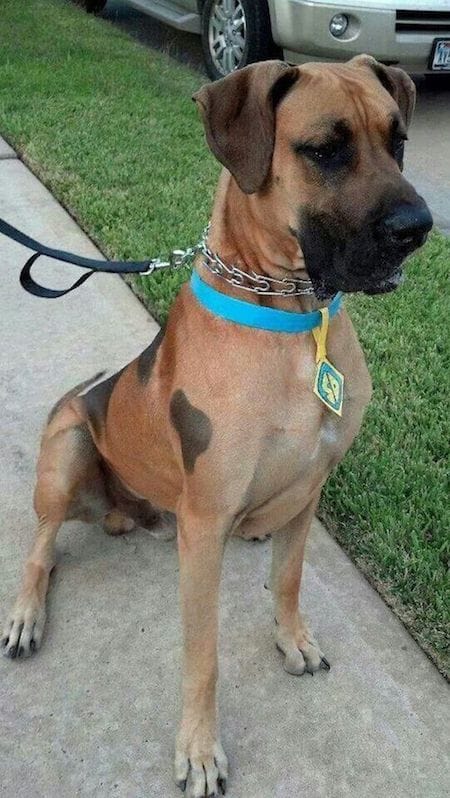 Source: Pinterest
All you need is make-up, cardboard, and paint …oh, and a Great Dane…to turn your hound into an instantly recognizable screen hero for Halloween and some Scooby doom on fright night!
2. Ghost Dogs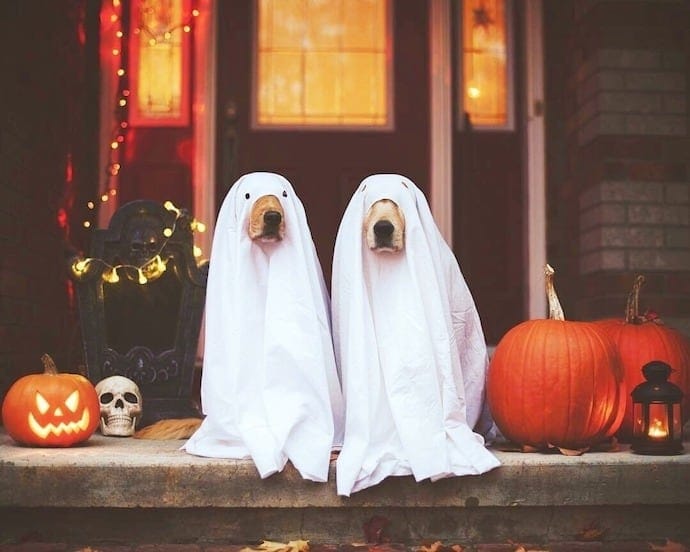 Source: Tumblr
Q: Why are ghosts so happy to ride in an elevator?
A: It raises their spirits.
3. Bone-appetit!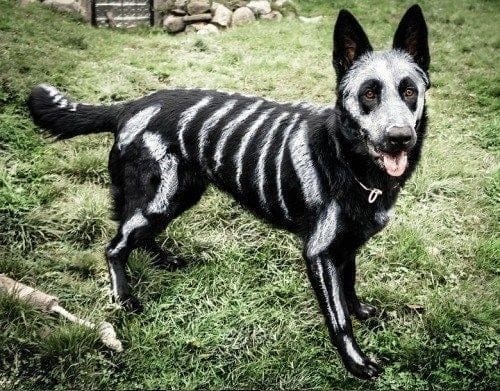 Source: Pinterest
This dog Halloween costume will send other pups howlin for Howl-o-ween. This dog is sure going to enjoy a treat for looking so spooky. Bone appetite!
4. Little Red Riding Hound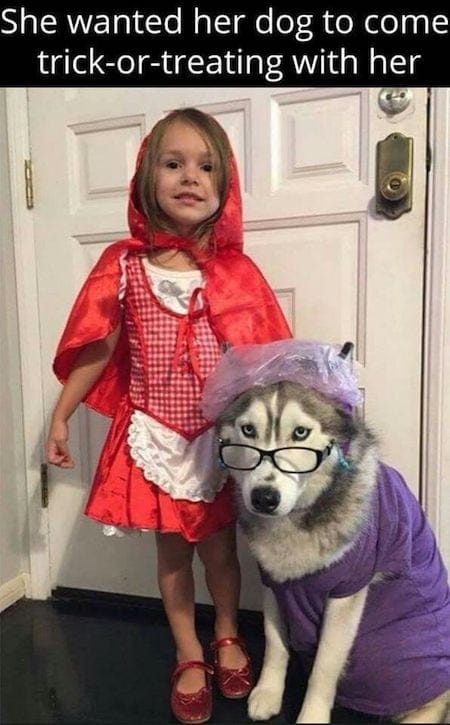 Source: Pinterest
Of course Halloween is a time for the whole family to dress up and enjoy scaring the pants off the neighbors. Have your pooch join in the pranks with this Little Red Riding Hood and Grandma duo, for a creepy canine take on a classic nursery rhyme.
5. Be-witching Wiener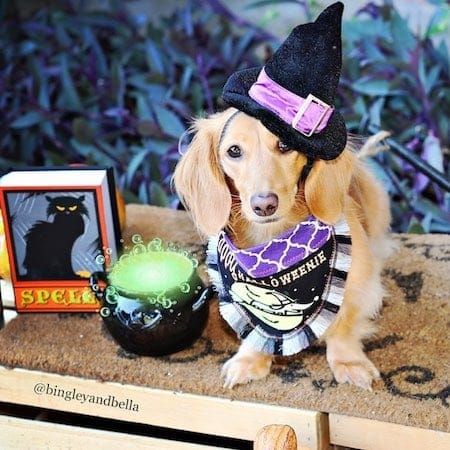 Source: Instagram
The long and short of it is that dog Halloween costumes don't have to be scary. This sausage dog looks bewitching and casts a spell on us with their take on a classic Halloween theme of witchcraft. We love this Hallow-weenie!
6. L'il Pumpkin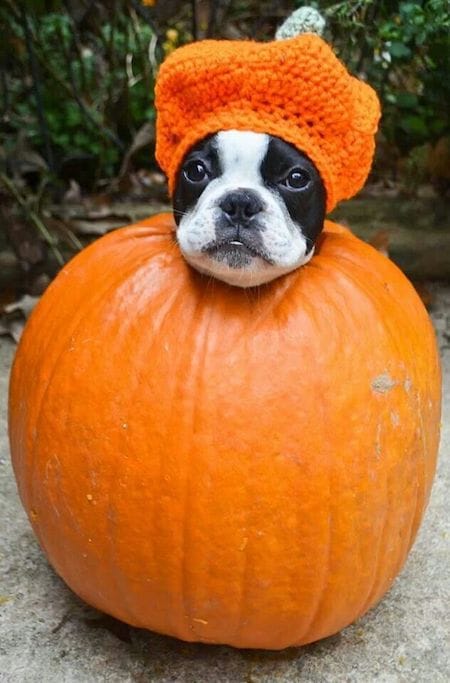 Source: Pinterest
Talk about cute, take a look at this pooch in a pumpkin. Maybe not the most practical of costumes, but it makes for a greet photo op-paw-tunity for the dog that wants to take part in Halloween but pre-furs to stay home.
7. Frankenstein's Hound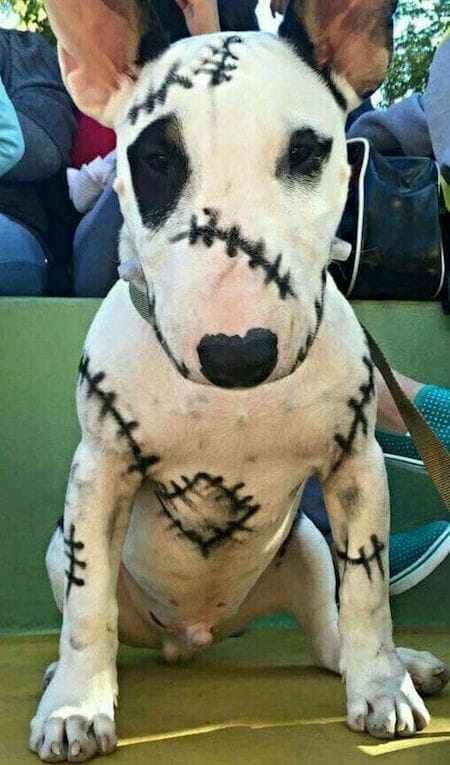 Source: Pinterest
Raise eyebrows with this easy dog Halloween costume requiring nothing more than eyebrow pencil. Speaking of which, why are all mummies workaholics? Because they're afraid to unwind. Boom!
8. A Pug-tastic Vampire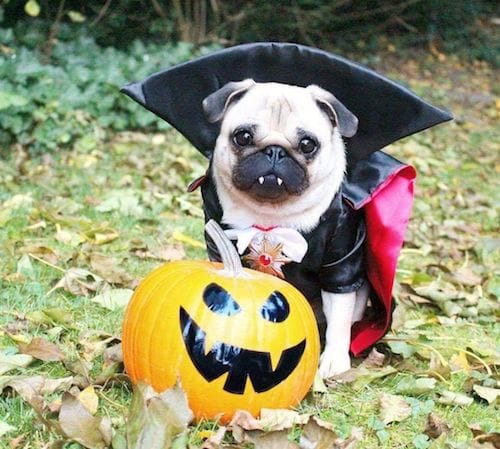 Source: Pinterest
For pug's sake, don't scare the kids with abso-pugging-lutely fur-bulous vampire costume. Oh, and while we're on the subject: Which newspaper is the favorite of vampires? The New York Times…because it has such great circulation.
9. Bat-Dog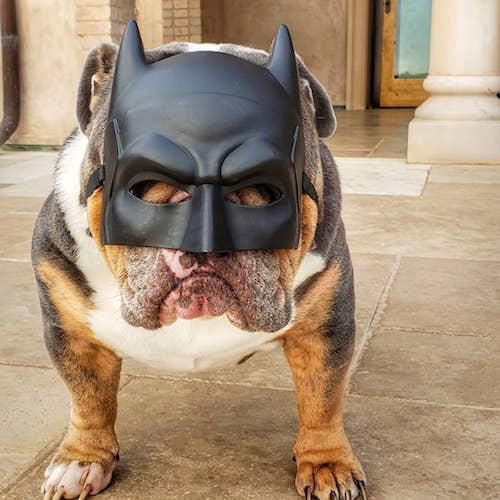 Source: Instagram
Bullie for Batman with this bulldog in a frightful mood.
What's the difference between Batman and a robber? Batman can go into a store without Robin!
10. Chew-Barker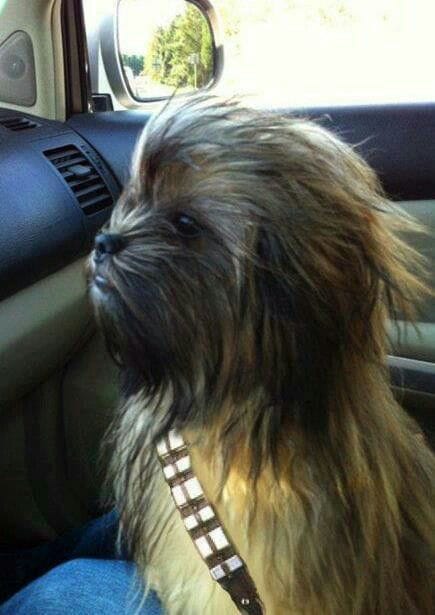 Source: Pinterest
OK, this isn't strictly speaking a dog Halloween costume, but it is a dog dressed up for Halloween…and totally paw-some, so who cares!
11. Hairy-spider Hound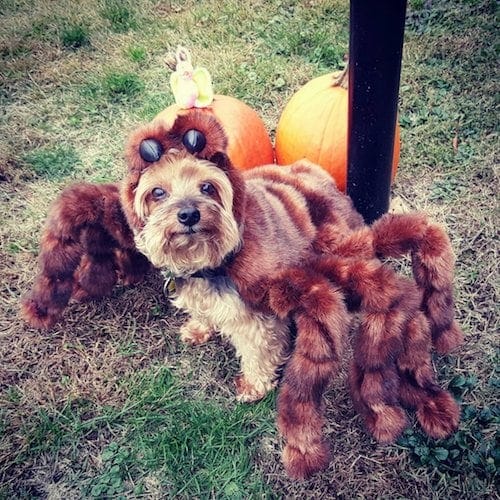 Source: Etsy
If spiders make you shudder, check out this tiny tarantula…if you dare. A furry four-legger that becomes a hairy eight-legger is truly a frightful sight.
12. Pug-a-chino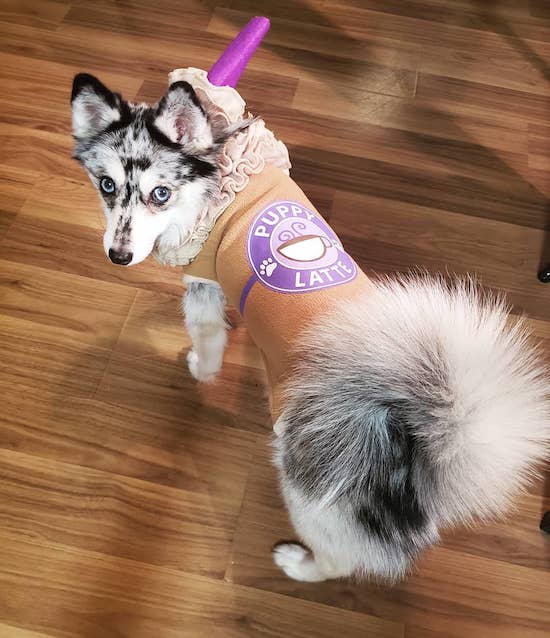 Source: Instagram
Did you order a pug-kin spice latte?
Don't get steamed up over creating your dog Halloween costumes, sit with a coffee and inspiration will strike.
13. Pumpkin Lantern Pooch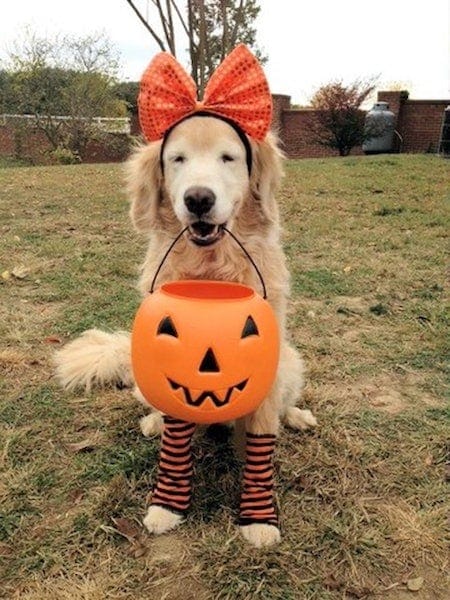 Source: Pinterest
Sugar and spice and all things nice, with this pooch pumpkin perfection.
Which makes us wonder, where do jack-o-lanterns live?
In the seedy part of town!
14. A Batty Idea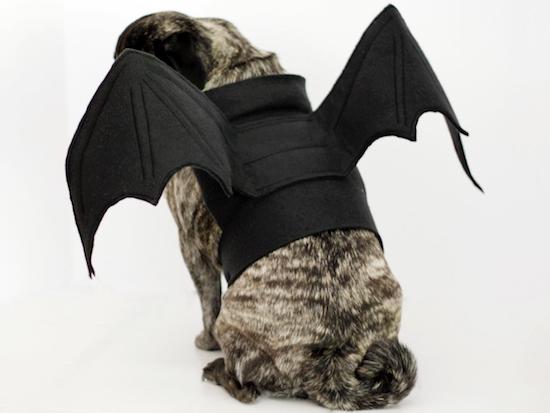 Source: DIY Network
You'd bat-ter believe your eyes with this paw-some bat costume.
And in case you're wondering, what's the first thing bats learn at school?
The answer is the alpha-bat!
15. Trump This!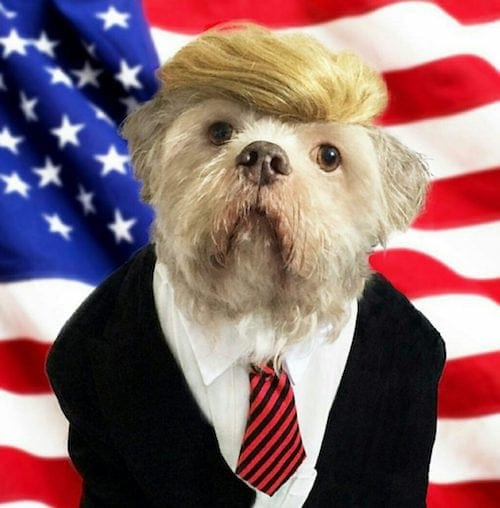 Source: Instagram
Last but not least, this dog Halloween costume proves that scary things don't just come out at night!
Trump this if you can!
Getting spooky with our pets during Halloween can be a load of fun. These moments with our pets are priceless. However, in taking care of our pets, we are bound to incur expenses for things like veterinary care (more so if it's due to an emergency), which come with a price (Spooky). Thankfully, there are options for financial security when it comes to owning a pet. For instance, Petcube's Pet Emergency Fund helps protect our pets during unexpected emergencies while providing a financial net for the veterinary expenses associated with it.
Subscribing with the Emergency Fund gives you upto $3000 for pet emergencies, covering upto 6 pets at an affordable rate. Pets are welcomed regardless of age, breed, and medical history. There's also no qualifications or credit checks, nor are there out-of-pocket expenses.Not to mention, a team of certified veterinarians are ready to provide 24/7 online consultations to guide you when your pet needs first aid or emergency triad.
As one of our dear blog readers, we are offering you an exclusive 27% off on Pet Emergency Fund subscriptions if you follow this link.
Raven the German Shepherd is caught on a Petcube pet camera getting ready for the spookiest pawty while his dad is away.
We'd love to see your pet pooches dog Halloween costumes. Post a picture and share the scare!
Was this article helpful?
Help us make our articles even better