Puppies are a huge responsibility and as a proud pawrent of a four-legged baby, you can feel overwhelmed and even scared if this is your first time as a newbie pet parent. A must-have for every pet parent is a pet monitor, not unlike a baby monitor, to look after your furbaby when you have to leave the room or home to tend to your life's work. Chances are your puppy will be needy, cling to you, cry a lot when alone (separation anxiety), chew on things it's not supposed to, and generally require constant attention. An interactive pet monitor keeps you connected when you can't be home 24/7.
Why it's important when they're small
Puppies are tons of fun, but they're also attention whores sometimes. It's not even that they need your attention all the time, but they might. They need guidance - they're only really little once and that's when they are most impressionable, forming habits (good and bad) and when training really matters. What your little pooch learns now might stay with them for the rest of their life. So it really makes sense to make sure you've got the best tools available that you can, including high tech solutions like a pet camera.
Entertain them and positively redirect their energy
If your adorable furbaby gets bored when you're not around or suffers from separation anxiety, a good pet monitor can help you combat those feelings. Beyond the camera feed, most of them come with 2-way audio so that you can first of all hear how they're doing, but some of the real power is that they can hear you too. So you can tell them to get off the couch! Gently nudge them to stop barking if needed. The best ones have an interactive element, like a treat dispenser or a laser pointer too - so you can actually have fun with them and redirect their attention and energy in a positive way.
More than a pet camera
If you're setting up a doggie camera, or a pet cam as we like to call it, then do your homework and find what works best for you and your puppy. A Petcube Play camera is a pet monitor tailored for the pet parent and will work best at every stage of your dog's life - from puppy to senior dog. Whatever you call it - puppy monitor, pet cam, or life saver, we understand the value that the right pet camera can bring to your home - peace of mind and 24/7 pet surveillance to make sure nothing is awry with your pup.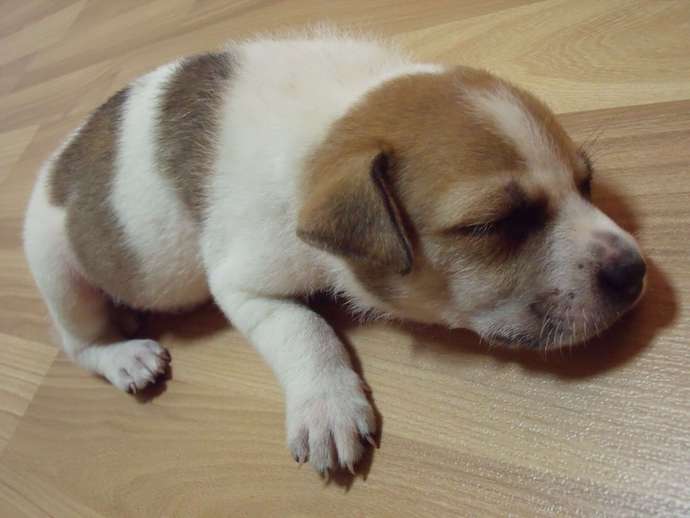 Pick a good spot for your pet cam
The Petcube Play or Petcube Camera make for an ideal pet monitoring system designed to sit on any flat surface, whether a low TV stand, table or shelf. Petcube pet monitoring devices feature a 138-degree wide angle lens, you can position a Petcube easily to capture the widest area possible. It's important to pick a good spot where your pup spends most of its time. Don't forget to section off an area of your home that has been puppy proofed with plenty of puppy pads. Both Petcube Play and Petcube Camera come with a standard tripod mount, if you want exactly the right angle and height.
Spy & interact with your personalized puppy monitor
You can spy on your unsuspecting puppy, or you can start with encouraging words to provide positive reinforcement to your four-legged baby. Interaction is also a great way to address signs of dog separation anxiety. If your puppy starts being destructive with frantic scratching, destructive chewing, howling, constant barking, excessive pacing, and excessive drooling, you'll be able to automatically capture video clips of their behavior with a Petcube pet monitoring device. You will also have coachable moments to stop puppy chewing when alone on your favorite pair of shoes or couch cushions, for example.
Play remotely through the pet cam
Petcube Play and Petcube Camera both come with a built-in laser pointer, so you can play laser chase with your high energy pup when you're out working or running errands. Petcube pet cam devices provide a great way for your furbaby to burn off energy, provide some relief when it comes to separation anxiety, and maybe just tire your baby out enough to take a much needed nap. Your Petcube pet cam is designed to handle double duty, so you can monitor your pup's progress.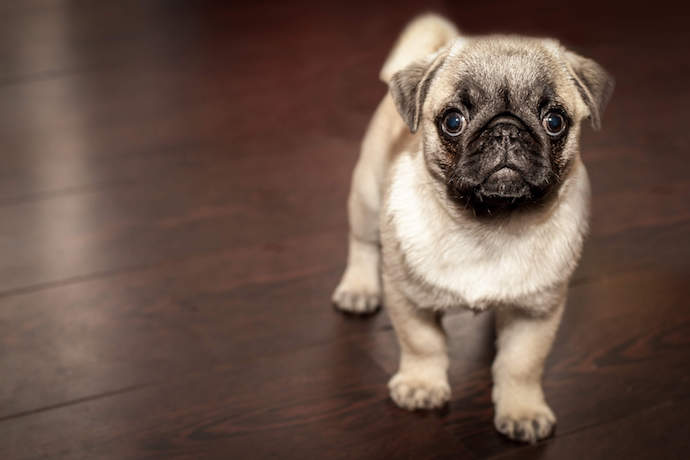 Pet monitoring in the dark
Puppies can be just as fussy at night. Your pup may continue to pace, whine and cry for you when left alone - yup, puppy separation anxiety can kick in. Whether you want your puppy to co-sleep with you is your choice, but if you're working on crate training your puppy, you can take advantage of night vision on the Petcube Play device. Pet monitoring works in low light and no light conditions. The video cloud recording feature on a Petcube pet monitoring device is continuous, so you reap all the benefits of 'knowing' what your pup has been up to while you've been sleeping soundly.
Keep your young pup safe
Petcube Play also has some awesome features that ensure your puppy stays out of trouble, acting like a security camera. Beyond night vision, it also has sound and motion alerts, which will notify you in real-time, for example, when your pet is awake and active. It also allows you to login and make sure they are OK at any time. We've had customers who have gotten notifications that have saved their pets from injury, emergency vet trips and worse. Sound and motion detection can also act as triggers, allowing you to capture video of everything your pet is doing when you're away - so you can replay later if (God forbid) something did happen.
Make the memories last forever
One of the best parts about having an HD camera at home is that it's a snap to capture video or still pictures! Anytime you're playing or interacting, you can capture some of their fun moments in real time, saving them right to your device or sharing them directly through the app to your social network of choice, including Facebook, Twitter and others. Petcube's cloud video history feature also allows you to get a snapshot over the last 4 hours of what your pet's been up to, even when you're not having fun with them - and Petcube Care subscriptions take that one step farther by giving you 10 or 30 days of video history.
Was this article helpful?
Help us make our articles even better