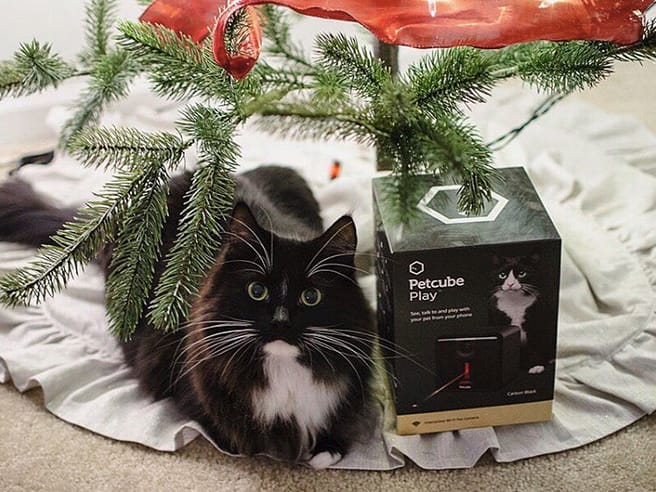 Photo by JacknPico
Your feline and canine friends are dreaming of spending more time with you this new year. Give them the gift they'll love the most - a Petcube. Choose between the next-gen Petcube Play 2 or the treat-dispensing Petcube Bites 2 camera. Just check out what the media says about these products.
"Makes sure you never have to spend time without your cat, offering a controllable laser and 1080p video camera so that you can play with Mr. Mittens from anywhere in the world."
The Verge Holiday Gift Guide 2016 - The Verge
"A camera that sends a live feed from your home to your smartphone, with a built-in mic and speaker for two-way 'conversations.' You can even control a laser beam for the rascal to chase." 18 gadget gift ideas for animal lovers - Stuff
"The video feature allows owners to keep an eye on their pets when they're out of the house, and the two-way audio feature allows for more conversational updates."
Ultimate Holiday Gift Guide for Pet Owners - Fortune Magazine
"With Petcube, she'll be able to watch, talk to, and hear her pet when not home. Not only will you be gifting her with a physical item, but you'll be giving her so much less stress when she's away from home and wondering if her dog is destroying the couch." Gifts for Her: 22 Ideas for Every Woman in Your Life - USA Today
"For those days when nothing but playing with your cat will make you feel better, and you're stuck at an airport or in the office...Remotely play a game of laser tag with your cat by tracing your finger on your phone's screen." Tech Gift Guide: What to Buy for the Pet Lover - NBC News
"What Your Favorite Celebrity Pet Wants For Christmas."
Your Favorite Pet Celebrities Have Spoken and This is What They Want for Christmas - PopSugar
"No matter where your travels take you, stay connected to your BFF with Petcube. The Wi-Fi-enabled camera lets you watch, communicate, and entertain (control the red laser for an endless game of chase) – all from an app on your smartphone." Go Wild with 17 Travel Gifts for Pets - Travel & Leisure
"The real fun is its app-controlled laser toy, which shoots at different spots in the room. Fetch that!" 4 Products Every Dog-Friendly Office Should Consider - Entrepreneur
Read more posts about the holidays:
Was this article helpful?
Help us make our articles even better