Petcube Bites
HD pet camera that monitors and flings treats
See, talk, play, and reward your pet remotely. Play fetch from your phone
Best in Show
Outclasses the competition in design, durability, and smarts
Sophistication and Utility
Stylish pet camera with a high capacity container, holds up to two pounds of treats.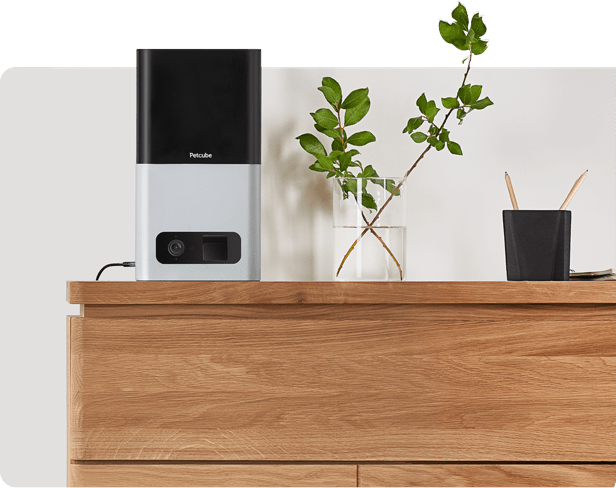 Game Play and Training Aid
Test your pet's agility by flinging treats varying distances, up to 6 feet.
Fling treats varying distances,
up to 6 feet
High capacity container, holds up
to two pounds of treats
Toss treats automatically
at scheduled times
Stream in 1080p HD
video with 138° wide angle view
Automatically reorder treats
via the Petcube app
Сloud-based video recording
& timeline history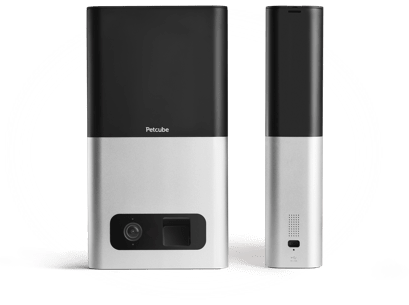 TECH SPECS
Low treat volume notification
138° wide angle view
3x digital zoom
2-way audio to hear & speak
Night vision with infrared LED
Sound and motion alerts
Healthy Treats
Play fetch and train with wholesome, crunchy dog and cat treats
Easy to fill
Simply open the container lid to load treats.
Easy to Clean Up
The detachable treat container is dishwasher safe (up to 130'F), or you can wash it by hands
We've partnered with Wellness®, so enjoy a complimentary sample of Wellness treats that comes with Petcube Bites.
Petcube Bites treat cam is compatible with a variety of treat brands. Use crunchy treats with dimensions of 1" or less.
Say Hello
And sit, stay, and good boy!
2-Way Audio
See, hear, and talk from your phone.
Night Vision
Spy on your bestie in the dark.
Beautiful Inside and Out
Brilliant Design for Your Brilliant Home
Houston, we need more treats
Get notified when supply runs low
Easily reorder treats when you receive a low volume notification.
Petcube Bites+

Order via the Petcube App by connecting your account with
Amazon Dash Replenishment.
Easily reorder treats when you receive a low volume notification.

Order via the Petcube App by connecting your account with Amazon Dash Replenishment.
Sleek design that comes in 3 color options
Suits any room style or decor:
Hang on the wall using the mounting kit, or place on a table or shelf.
What is Petcube Care?
Petcube Care gives you peace of mind and 24/7 cloud storage for video captured through your Petcube device.
10-Day Video History
$10/month, or $100/year plan ($20 savings)
50% off each additional plan
30-Day Video History
$30/month, or $300/year plan ($60 savings)
50% off each additional plan
Features
Petcube
device only
Petcube device
+ Petcube Care

24/7 live streaming video

Free 4-hour video history

See activity from the last 4 hours in the Petcube App

24/7 video timeline history

10-Day or 30-Day Video History

(24/7 video cloud recording)

Triggered video recording

(Sound / motion disturbances)

App notification alerts

(Sound / motion disturbances)

Create video clips and share

Share live stream with family, friends, or with Petcube community
Petcube Gift Card Terms and Conditions
The following are the terms and conditions applicable to all Petcube Gift Cards, except as otherwise provided by law.
Petcube Gift Cards may only be redeemed toward the purchase of eligible goods provided by Petcube, Inc. ("Petcube") and its affiliates on https://petcube.com, or its affiliated websites. Petcube Gift Cards may not be redeemed for the purchase of any products or services of Petcube or otherwise, except as indicated by these terms and conditions. The Petcube Gift Cards do not expire and may be redeemed for eligible purchases notwithstanding any stated expiration date.
Except as required by law, the Petcube Gift Cards are not redeemable for cash, are not eligible for return, cannot be applied as payment to any account, cannot be used to purchase additional Petcube Gift Cards, and cannot be used for purchases for shipment to countries that we do not ship to or for any other products or services as determined by Petcube in its sole discretion. If you have received your Petcube Gift Card through the purchase of a promotional bundle, and you return the other elements of the promotional bundle via the Petcube return program, you do not need to return the Petcube Gift Card. Instead, the Petcube Gift Card associated with the promotion will be automatically cancelled.
The risk of loss and title for a Petcube Gift Card passes to a purchaser ("you") upon receipt of the Petcube Gift Card by the purchaser or designated recipient, or our delivery to the carrier, whichever is applicable. Petcube is not responsible if any Petcube Gift Card is lost, stolen, destroyed or used without your permission.
Petcube has the right to close customer accounts and bill alternative forms of payment if a fraudulently obtained Petcube Gift Card is redeemed and/or used to make purchases on https://petcube.com or any affiliated website.
WE MAKE NO WARRANTIES, EXPRESS OR IMPLIED, WITH RESPECT TO PETCUBE GIFT CARDS, INCLUDING WITHOUT LIMITATION, ANY EXPRESS OR IMPLIED WARRANTY OF MERCHANTABILITY OR FITNESS FOR A PARTICULAR PURPOSE. IN THE EVENT A PETCUBE GIFT CARD IS NON-FUNCTIONAL, YOUR SOLE REMEDY, AND OUR SOLE LIABILITY, WILL BE THE REPLACEMENT OF SUCH GIFT CARD. CERTAIN STATE LAWS DO NOT ALLOW LIMITATIONS ON IMPLIED WARRANTIES OR THE EXCLUSION OR LIMITATION OF CERTAIN DAMAGES. IF THESE LAWS APPLY TO YOU, SOME OR ALL OF THE ABOVE DISCLAIMERS, EXCLUSIONS, OR LIMITATIONS MAY NOT APPLY TO YOU, AND YOU MAY HAVE ADDITIONAL RIGHTS.
Petcube may modify these terms and conditions at any time at our discretion, and any change shall be noted on these terms and conditions. The terms and conditions found at https://petcube.com/docs/terms-of-use/ apply.
When you purchase, receive or redeem a Petcube Gift Card, you agree that the laws of the State of California, without regard to principles of conflict of laws, will govern these terms and conditions and your use of the Petcube Gift Card. All terms and conditions are applicable to the extent permitted by law. If any part of these terms and conditions is deemed to be invalid or otherwise unenforceable or illegal, the balance of these terms and conditions shall remain in effect and shall be construed in accordance with its terms as if the invalid or illegal provision, or the invalid or illegal portion of a provision, were not contained herein.
Any dispute or claim relating in any way to Petcube Gift Cards shall be resolved by binding arbitration, rather than in court, except that you may assert claims in small claims court if your claims qualify. The Federal Arbitration Act and federal arbitration law apply to this agreement.
The arbitration will be conducted by the American Arbitration Association ("AAA") under its rules, including the AAA's Supplementary Procedures for Consumer-Related Disputes. Payment of all filing, administration and arbitrator fees will be governed by the AAA's rules. Petcube and you agree that any dispute resolution proceedings will be conducted only on an individual basis and not in a class, consolidated or representative action. If for any reason a claim proceeds in court rather than in arbitration Petcube and you each waive any right to a jury trial. Petcube and you also agree that you or we may bring suit in court to enjoin infringement or other misuse of intellectual property rights.
Revised 07.07.2017
Buy now, pay later
Petcube and Affirm have teamed up to provide easy financing with no hidden fees on interactive pet cameras.